FREE Standard Shipping on all orders, December 7th-18th! T's & Cs Apply
FREE Shipping on all orders, December 7th-18th! T&Cs Apply
Brain Cognition
Energy & Vitality
Healthy Stress Response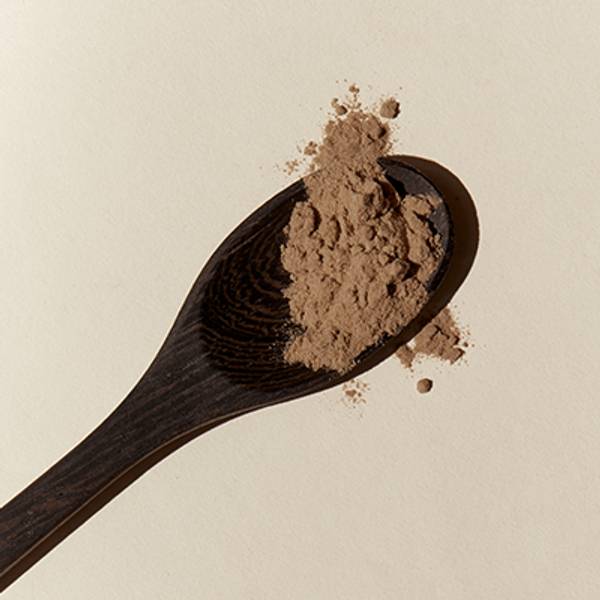 NEW FORMULA!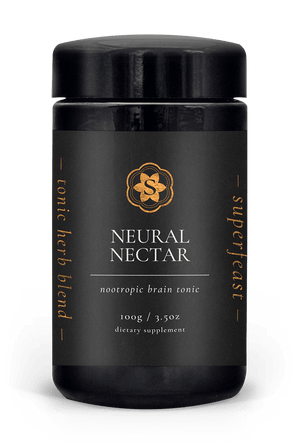 Description
Neural Nectar is designed to ensure the elixir of life continues to flow into your grey matter, long into old age.
Neural Nectar is a combination of ancient, highly adaptive nootropic herbs specifically blended to enhance the longevity and performance of the brain in these modern times, designed to cultivate mental energy, acuity, and memory.
The use of nootropics is especially important these days due to the high levels of pressure being put on our minds due to endless stimuli and environmental stressors. This uniquely adaptive nootropic blend has purposely been crafted to work to support and nourish the brain and all five organs - The Lungs, Kidney, Liver, Heart, and Spleen.
According to the traditions, harmonising the flow of Qi in the organs is vital for overall cognitive function and mental health. Ancient Taoists and Yogis would use these herbs to support the brain and its functions, as well as to enhance emotional and mental well-being. The Taoists placed a lot of value on agile thinking and a quick wit; think of the wise old Masters of the lineage.
Nootropics or 'smart drugs' as they are so commonly referred to, are substances that enhance the cognitive powers of the brain. While these substances can be synthetically manufactured, they also exist naturally in many plants, particularly herbs, several of which are present in our Neural Nectar blend.
Ingredients
Mucuna pruriens (Mucuna)
Ginkgo biloba (Gingko) 
Hericium erinaceus (Lion's Mane)
Paeonia lactiflora (White Peony)
Astragalus membranaceus (Astragalus)
Sourcing
All herbs in this formula are sourced Dì Dào from herb-producing regions of China.
Sourcing herbs from their spiritual homeland is born from the Taoist philosophy Dì Dào. 
Dì Dào poetically translates as 'the way of the Earth' and shows us where to harvest herbs if we wish to experience the herb's true Spirit. From its 'original place' or 'spiritual homeland', a method that results in a product that is both full spectrum and medicinally robust.
Contraindications
Not suitable if pregnant or breastfeeding. 
Not suitable if taking psychiatric medication. 
Not suitable for those with legume or culinary mushroom allergies.
Ginkgo may have a blood thinning effect (as it increases blood circulation) so those on blood thinning medication are advised to be very cautious with incorporating ginkgo into their lifestyle and should seek the guidance of a health practitioner.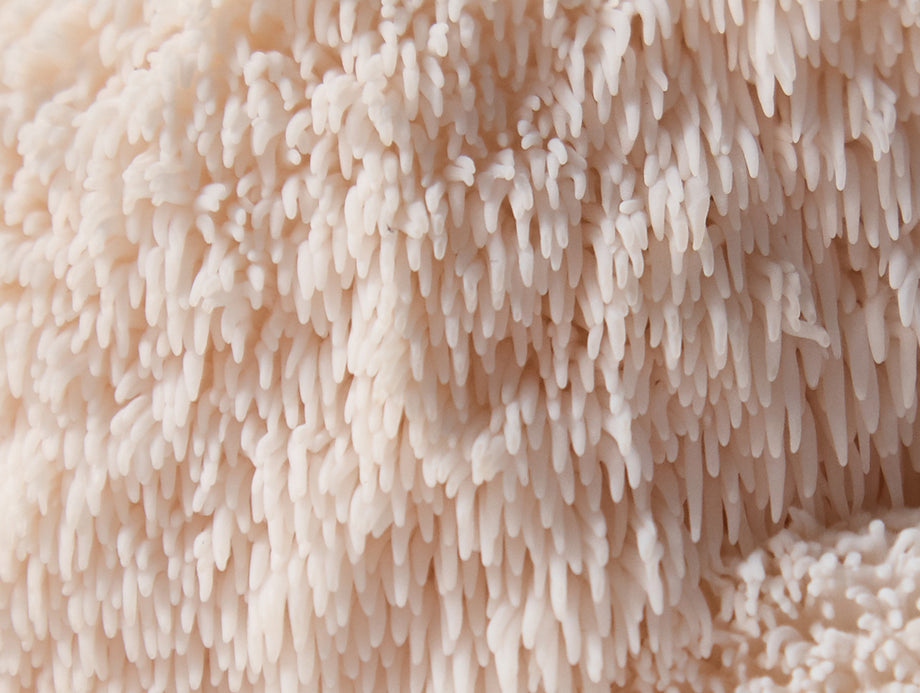 Brain Circulation
Nootropic herbs, such as those found in Neural Nectar, tonify our body's foundational ability to keep tissue young and supple and support consistent blood flow to the brain. 
It is the Ginkgo biloba in particular, which reduces 'stickiness' in the blood by opening up blood vessels and increasing circulation in the brain. This potent botanical stimulates cerebral circulation, thins the blood and increases the dilation of the blood vessels. These actions all allow increased oxygen and nourishment to the brain. Ginkgo's ability to improve circulation and blood flow in the brain makes it a useful and powerful nootropic. 
White peony encourages systemic circulation, especially to the brain, in fact, activation of the hippocampus (part of the brain that stores new information) occurs while using white peony.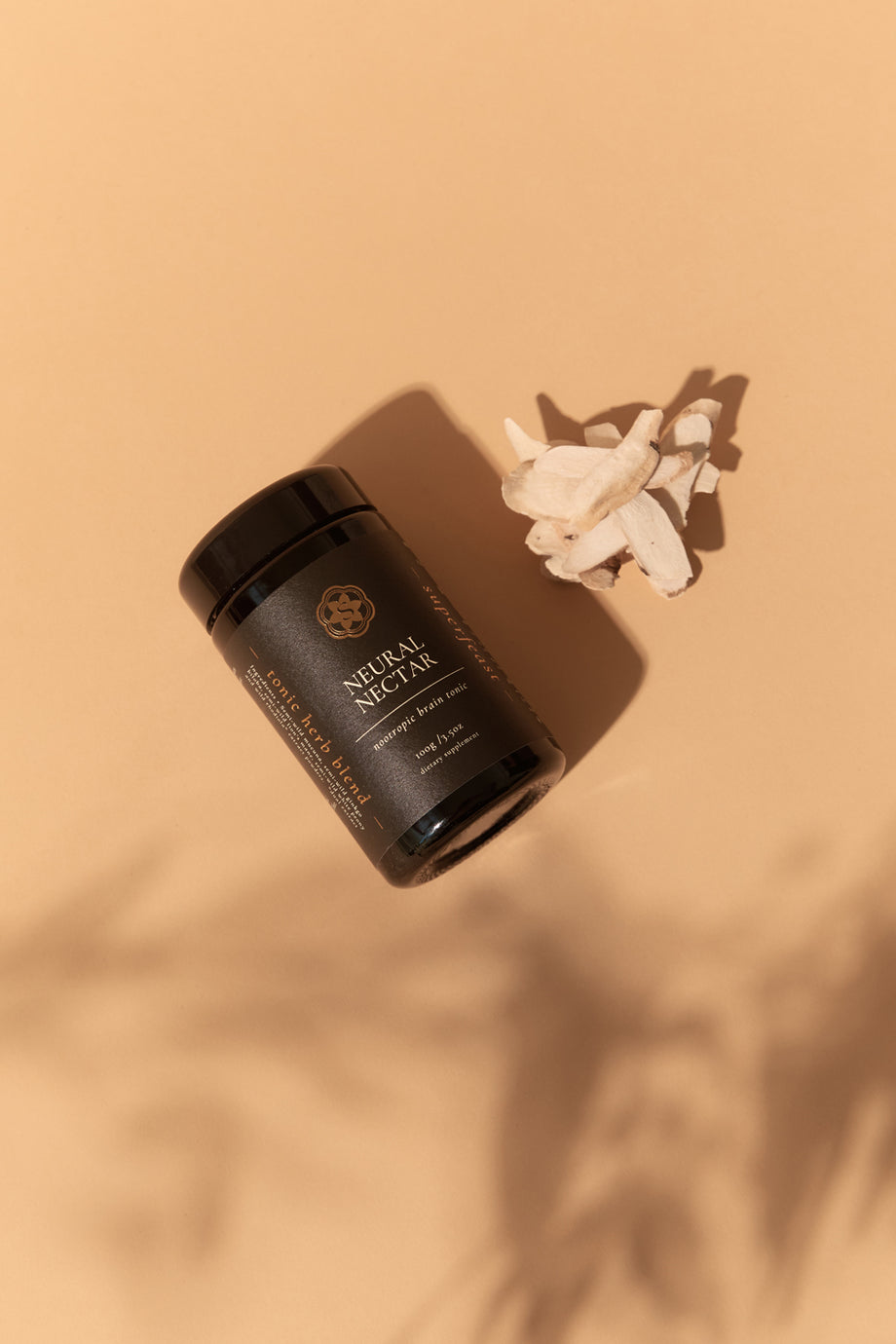 Mental Stamina
Ginkgo biloba enhances cognition by increasing levels of acetylcholine, the neurotransmitter most closely associated with learning, as well as dopamine, the neurotransmitter associated with motivation and reward. Further, a number of studies and clinical trials have shown that Ginkgo biloba markedly improves memory.
Spatial working memory has been shown to be positively affected in rat subjects via white peony extracts. Plus research has also demonstrated that lion's mane encourages the formation of both nerve growth factor and brain-derived neurotrophic factor. These factors support healthy myelin actions, allowing the transport and fluidity of neuronal cell messaging. Rhodiola has been shown to affect improvements in memory and learning, during animal experiments.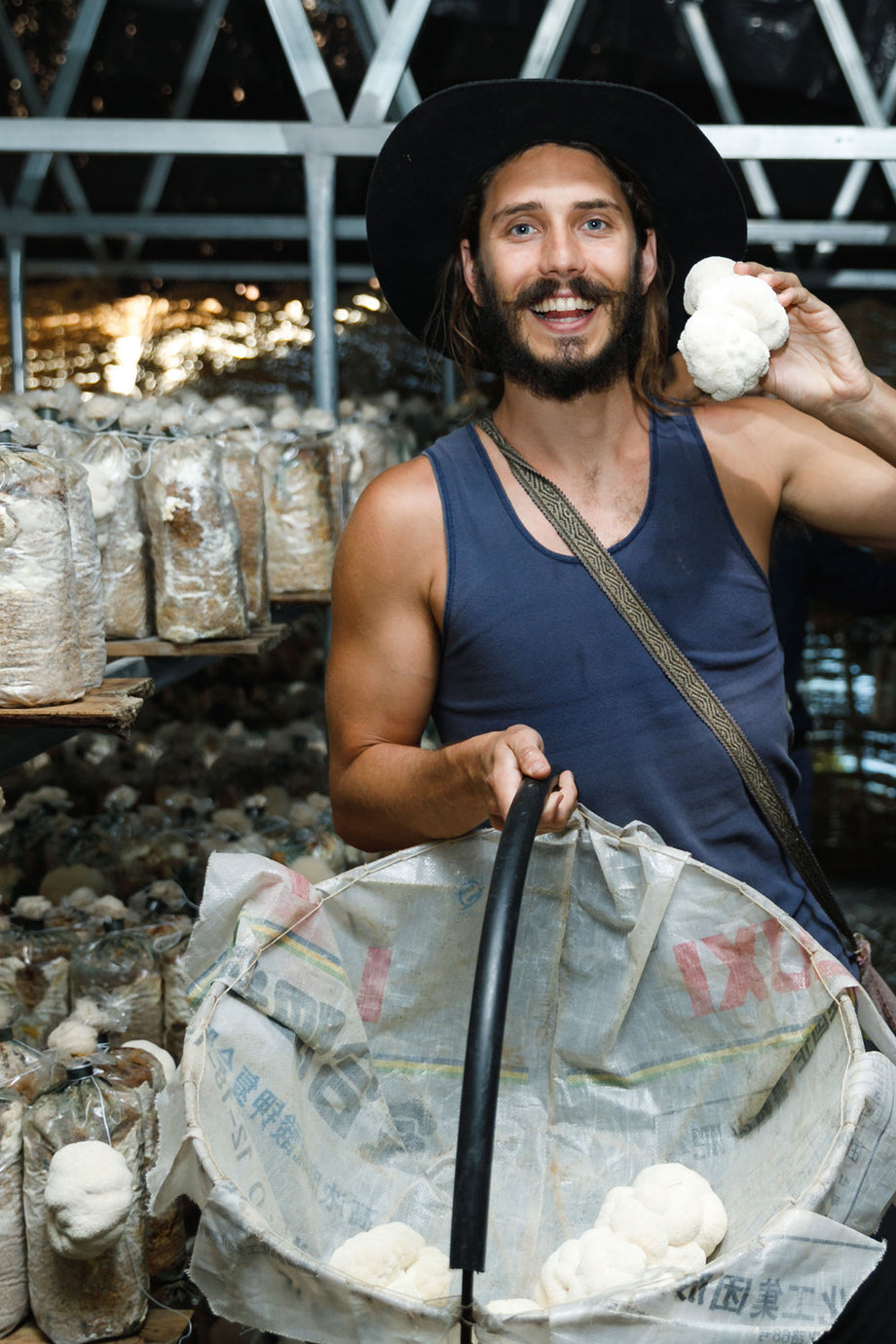 Neurodegeneration
Neural Nectar was formulated with one very focused goal in mind, to prevent neurodegeneration of the brain and enhance longevity. 
Mucuna has been observed to reduce the tremors that occur in conditions like Parkinson's disease; it's thought to be due to the presence of L-dopa (a precursor of the neurotransmitter dopamine). Research has suggested that L-dopa can cross the blood-brain barrier and undergo its conversion to dopamine. Dopamine is a neurotransmitter that plays a major role in motivation, pleasure, and emotions and is essential for sleep, memory, mood, mental functions, and calming the nervous system.
Research studies and clinical trials have indicated that ginkgo biloba can slow down mild age-related non-Alzheimer's cognitive decline and significantly reduce cognitive deterioration associated with Alzheimer's disease and other forms of dementia.
Our Neural Nectar blend is abundant in antioxidants and terpenes, making it a powerful anti-inflammatory, with neuroprotective effects on the brain and bodily systems. Being a potent antioxidant blend, brain tissue is protected and preserved. Ginkgo biloba has been shown to enhance certain neuropsychological/memory processes of cognitively intact older adults, 60 years of age and over.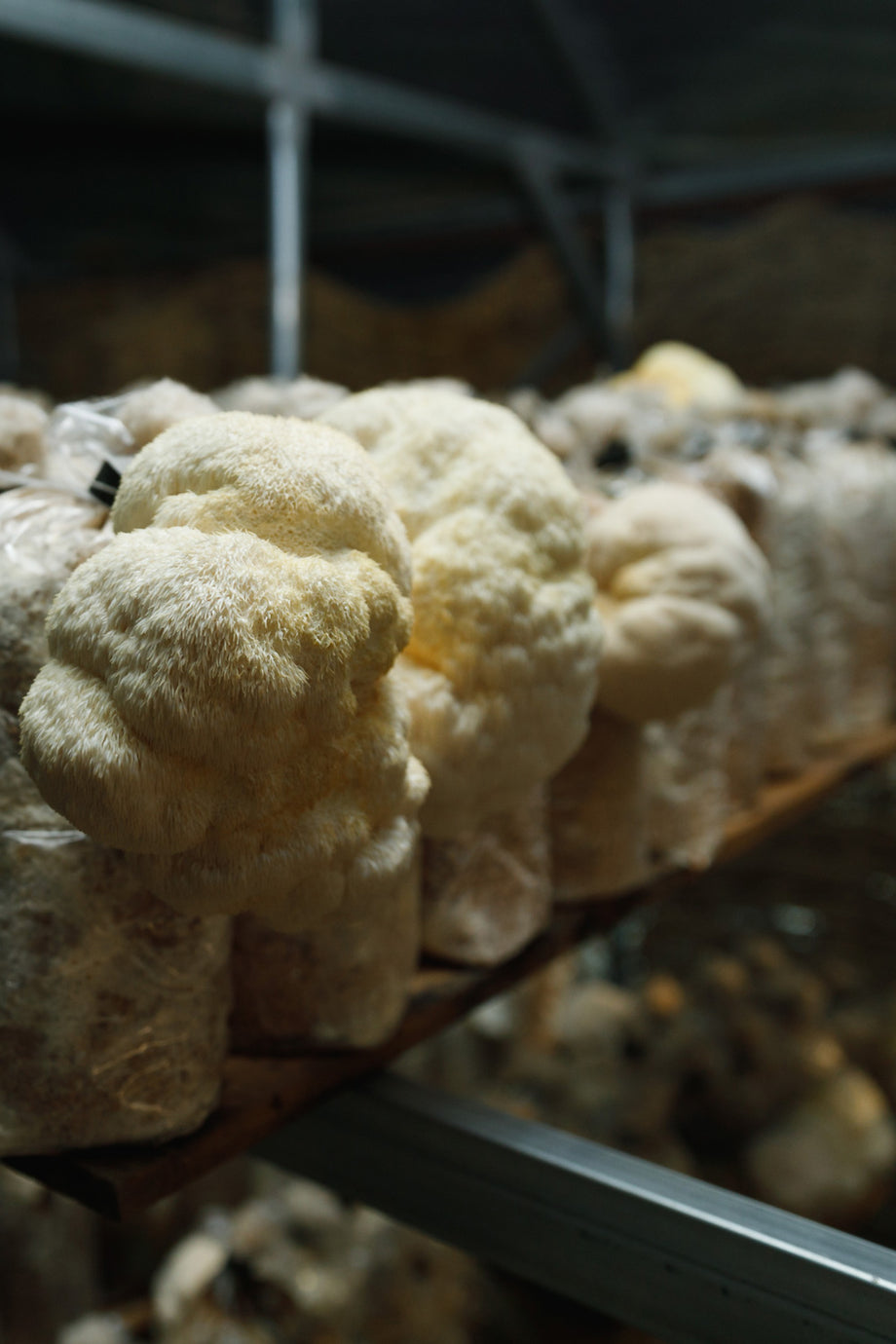 Neural Nectar Through the Taoist Lens
According to the ancient Taoist philosophy, the brain's health is an accumulation of all the five Yin organs: the Lungs, Heart, Spleen, Liver and Kidneys. Essentially, the essence and capacity of these organs ensure a strong foundation for a healthy brain. 
This unique adaptogenic nootropic blend has purposely been crafted by Mason (founder of SuperFeast), to work both directly on the brain, and also, to support and nourish all five organs. According to the traditions, direct effects on the brain are key but support for organs is vital for overall brain health. 
As we mentioned earlier, Ginkgo enhances circulation directly to the brain, but it also works specifically on the Heart and Lungs. Lion's Mane provides direct support and nourishment to the Spleen and mucuna is a direct precursor to dopamine, but is also a potent Yang Jing herb. Astragalus is also a potent Qi herb, supporting the circulation of Qi and Blood throughout the body and to the brain.
So as you can see, our Neural Nectar blend has several elements working directly on the brain, providing vital neural support. Still, to remain in line with our Taoist philosophy, this blend also supports all of the five major organs of the body.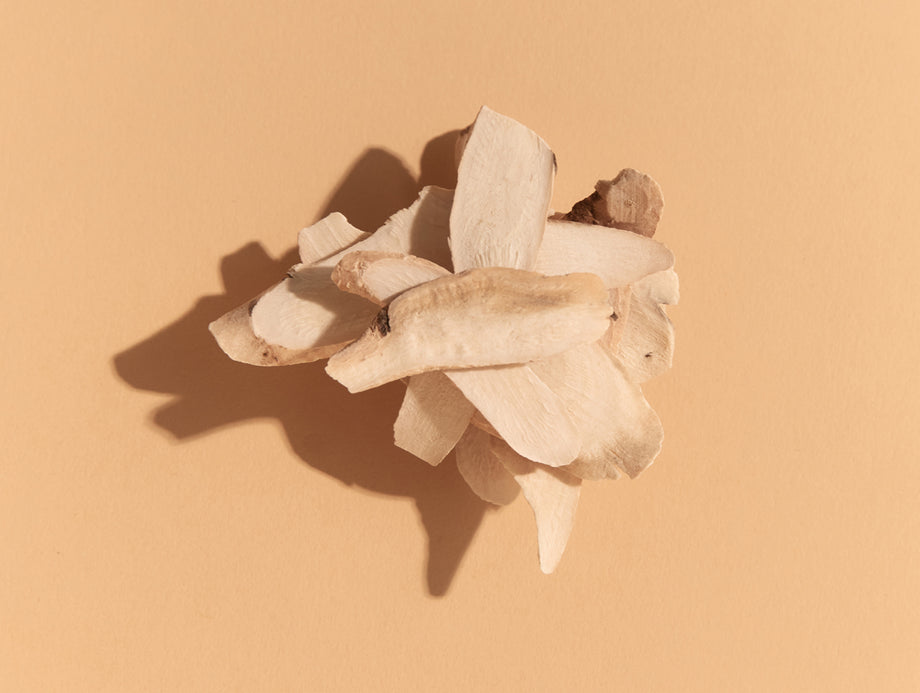 Tonification / Treasures
Tonification 
In ancient Taoist medicine, tonic herbs and medicinal mushrooms were used to nourish and tonify specific systems within the body. These systems correlate with the natural elements, and their direct effect can be classified as either Major or Minor.
Major - Spleen Earth, Kidney Water
Minor - Liver Wood, Lung Metal 
Treasures
When there is harmony between the body systems and elements, we cultivate the expression of health known as our Treasures. 
Major - Qi, Yang Jing
Minor - Shen
Serving Suggestion
Time of day
Whatever feels best for you! You can enjoy the Neural Nectar any time throughout your day.
Dosage
Generally, we recommend taking the herbs daily in small doses, to begin with. This allows you to develop an understanding and acknowledgment of how the herbs are unfolding their medicinal magic for you. Follow the dosage instructions on the package, or start with 1/8 - 1/2 teaspoon per day, adjusting the dose if you feel it necessary within your unique body system.
Doses can be taken as high as two teaspoons per day, however, most people find their sweet spot with 1/2 to one teaspoon per product, per day. We call this sweet spot your "lifestyle dose". We don't recommend taking more than two tablespoons of herbs a day. These extracts are potent, and you want to take care not to overload the body with too much of a good thing.
Frequently Asked Questions
Can I take Neural Nectar whilst pregnant?
Tonic herbs are generally warming, building, and nourishing. In the context of health optimisation and the Taoist tradition, tonic herbs are not directly used to treat individual symptoms, but instead to create harmony and strength within the system as a whole.
In this regard, we generally only recommend our Reishi and Eucommia Bark during pregnancy as there is quite a lot of empirical use of these herbs in pregnancy in Traditional Chinese Medicine and Taoist Tonic Herbalism. 
To learn more about the tonic herbs best to take during pregnancy, read this article.
As pregnancy is a very individual journey, we recommend checking in with your healthcare provider when starting on any new herbs or supplements as they will have a more comprehensive scope of your medical history.
Can I take Neural Nectar while breastfeeding?
We do not recommend Neural Nectar while breastfeeding as Mucuna, a herb present in the blend has been shown to inhibit prolactin. We suggest using Lion's Mane instead of Neural Nectar while breastfeeding.
Brain Cognition
Energy & Vitality
Healthy Stress Response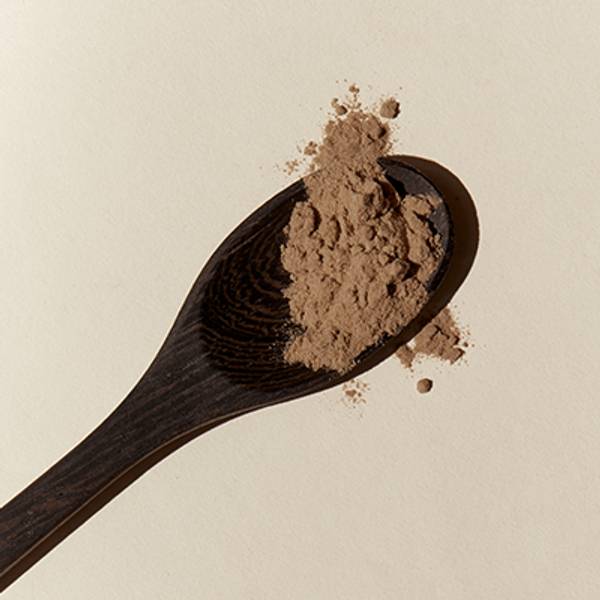 NEW FORMULA!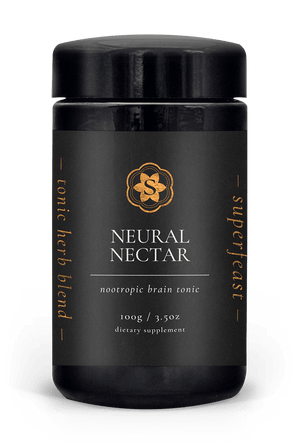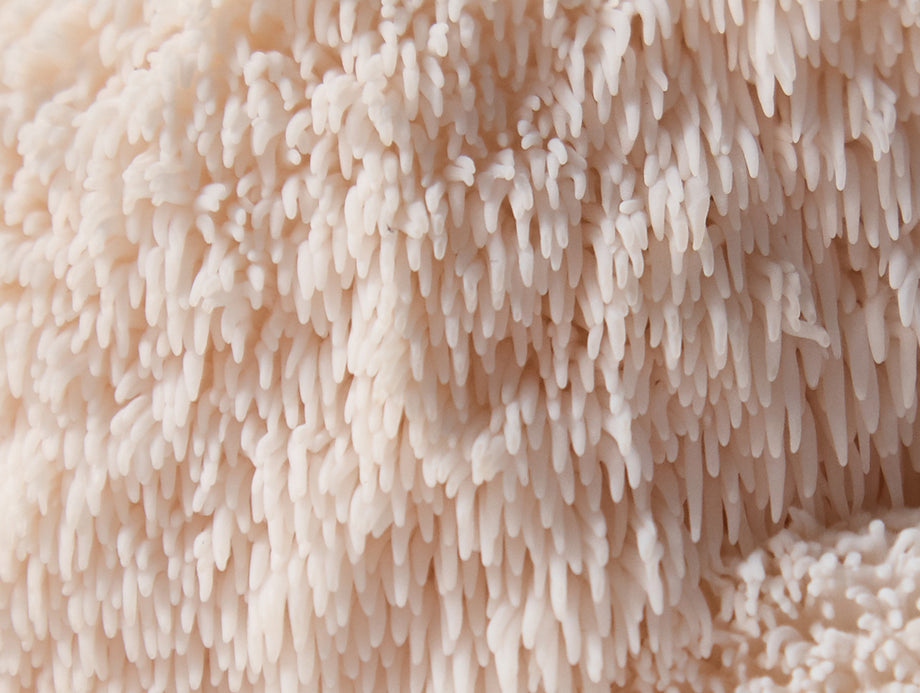 Neural Nectar and Its Incredible Nootropic Benefits
Bringing stimulation to the brain is a huge topic right now and with good reason; People want greater memory cognition, they need to retain information better and have stronger recall, they want clearer thinking and quicker wit.
Read Article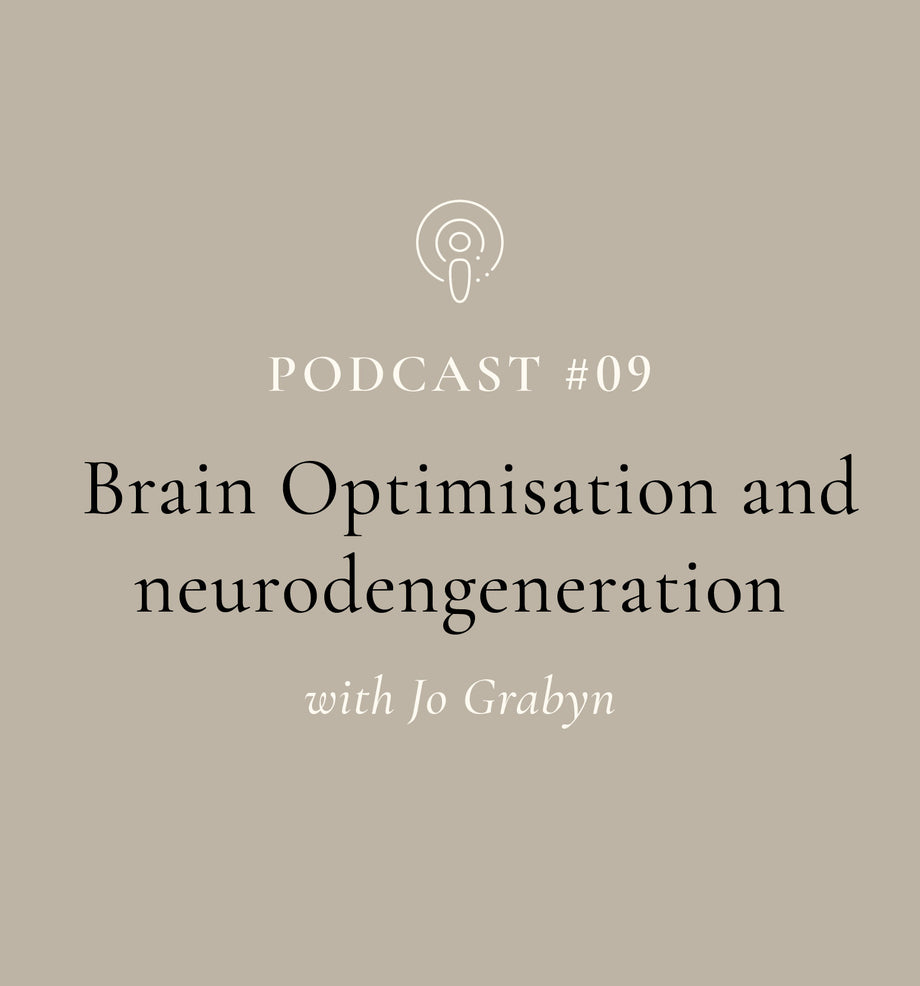 Brain Optimisation and Neurodegeneration with Jo Grabyn (EP#9)
Modern medicine has yet to get to the root cause of the premature ageing of the brain. One of the amazing distinctions to come out of this interview is how there are SIX general types of Alzheimer's, not just one. Mason and Jo explore how lifestyle and environmental factors play major roles in creating these diseases/symptoms.


Listen Now