FREE Standard Shipping on all orders, December 7th-18th! T's & Cs Apply
FREE Shipping on all orders, December 7th-18th! T&Cs Apply
Deep Sleep
Digestive Health
Energy & Vitality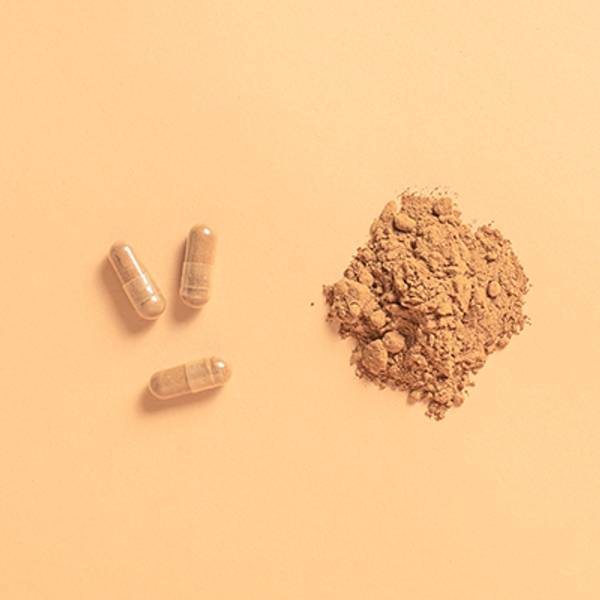 NEW PRODUCT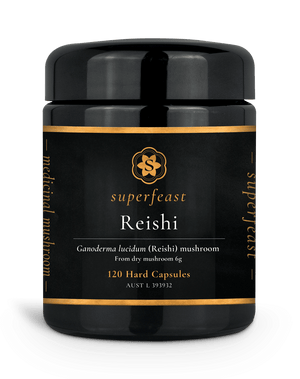 Description
Regarded by ancient herbalists as the 'mushroom of immortality,' reishi is traditionally used in Chinese medicine to support healthy immune system function and promote a healthy stress response. A famous Shen tonic, reishi is recommended to calm and balance the Spirit, and to enhance sleep quality. It strengthens the Heart, Kidneys, Lungs, and Liver - it is one of those special herbs that work on all Three Treasures (Jing, Qi, and Shen), as well as all the five Taoist organ systems. 
In China, reishi is known as ling zhi, which means 'spirit plant' or 'tree of life mushroom.' The Chinese character for ling zhi is composed of three characters that represent a shaman praying for rain. The Latin translation of Ganoderma is 'gano' (shiny) 'derma' (skin).
Reishi is extremely rare in the wild and was once reserved for use amongst emperors and royalty only. Immortalised all throughout Chinese art, temples, statues, and paintings, reishi mushroom was held in the highest esteem among Chinese royalty and is surrounded by many legends over the past 4 millennia. Kuan Yin, known as the goddess of healing, was occasionally depicted carrying a reishi mushroom. This polypore was extremely prized amongst the Orient and often hung above doorways as a protector.
Reishi is high in beta-glucans and over 100+ distinct varieties of polysaccharides. Triterpenes are the compounds in reishi responsible for the bitter taste that reishi possesses. Triterpenes are only extracted via ethanol and hot water; this is why we dual-extract SuperFeast Reishi.
Ingredients
Ganoderma lucidum (Reishi Mushroom)* from dry fruiting body
10:1 extract powder
*dual-extract
Non active ingredients • bamboo excipient (Phyllostachys nigra extract); vegetable capsules (purified water, hypromellose).
Sourcing
All herbs in this formula are sourced Dì Dào from herb-producing regions of China.
Sourcing herbs from their spiritual homeland is born from the Taoist philosophy Dì Dào. 
Dì Dào poetically translates as 'the way of the Earth' and shows us where to harvest herbs if we wish to experience the herb's true Spirit. From its 'original place' or 'spiritual homeland', a method that results in a product that is both full spectrum and medicinally robust. 
Contraindications
No contraindications have been reported in the medical literature concerning the consumption of reishi mushroom. 
If you are on blood thinners or blood pressure medication, please check with your prescribing doctor if reishi is appropriate for you.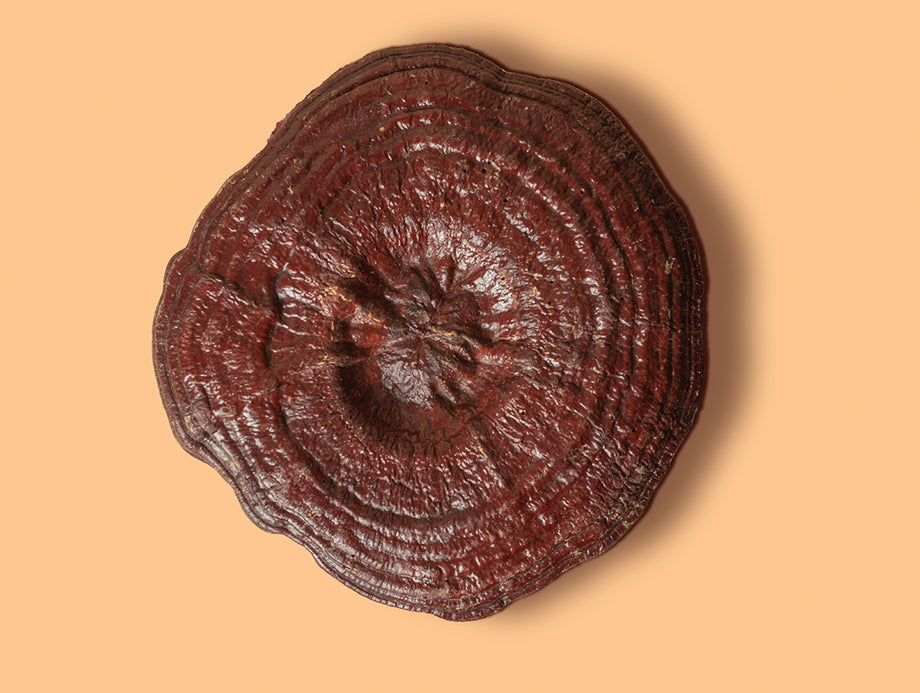 Immunity
Reishi strengthens the immune system by enhancing monocyte, macrophage and T lymphocyte activity (these are all immune cells). Furthermore, reishi has been shown to increase the longevity and strength of white blood cells (WBC), supporting both quality and quantity. Reishi has further been shown to protect from radiation and has anti-angiogenesis activity (meaning it inhibits the growth of new blood vessels). The increase of WBC is particularly interesting with regards to colds and flu, reishi can be effective in preventing but also shortening the lengths of flu.
Reishi not only stimulates the immune system once it is weakened, but more so, reishi helps to 'wake up' the immune system prior to full disease, actually preventing it. So how does reishi work in the body? It is thought to be the high polysaccharide content in reishi that lends itself to its potent immune-modulating benefits. For those with Candida albicans, reishi has been shown to help regulate the overgrowth of candida in the body. Both clinical and traditional use suggests that reishi may be beneficial in a range of immune-related conditions, like acute and chronic viral conditions such as Epstein Barr Virus, rheumatism, chronic pneumonia and even HIV.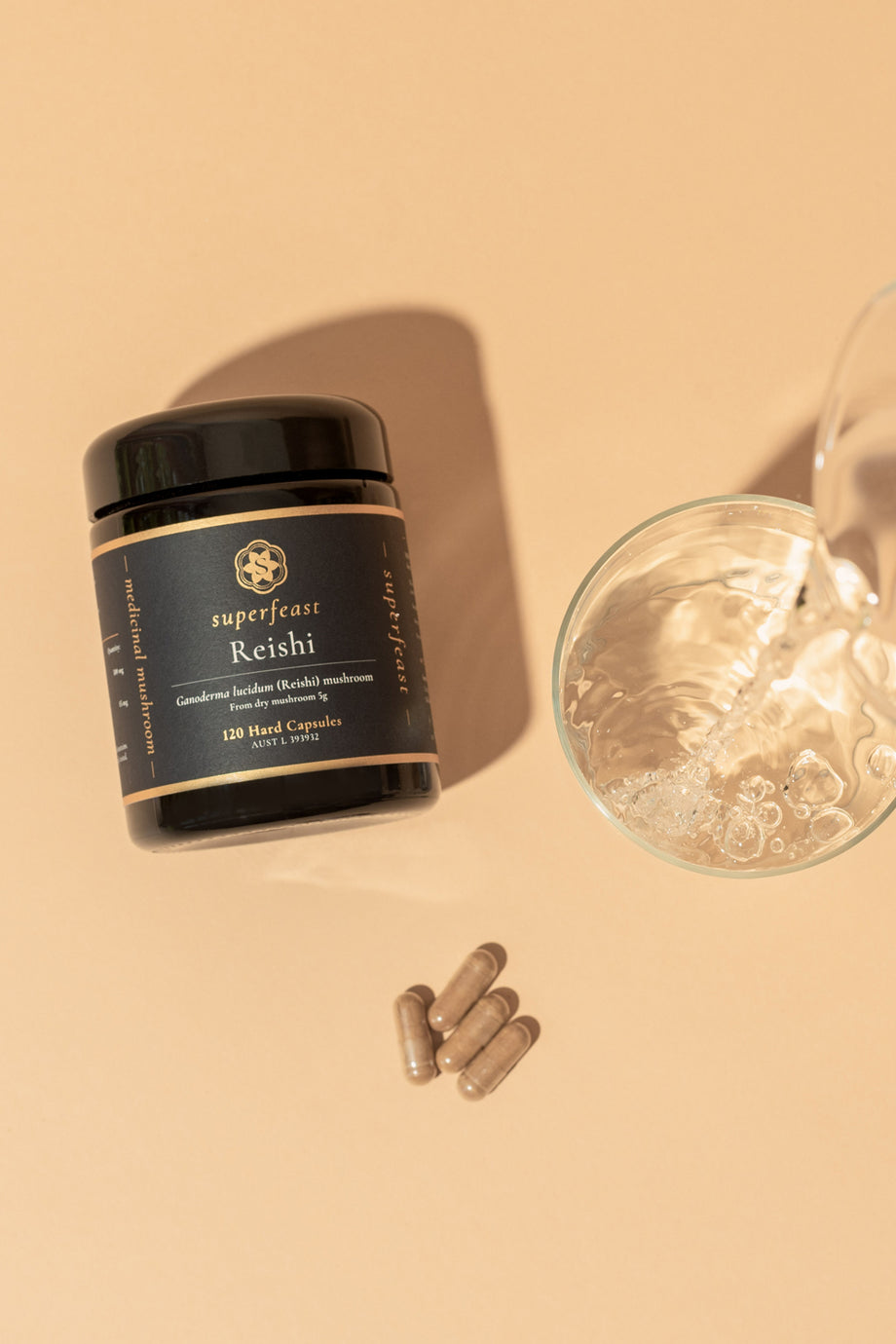 Cardiovascular Health 
Through a Taoist lens, Reishi has been revered as a Shen tonic, nourishing Heart Firem however over recent years it has also been recognised through the Western lens for its cardioprotective effects. This is thought to be attributed to the mushroom's antioxidant and anti-inflammatory properties, as heart cells are particularly vulnerable to oxidative stress and damage. These properties have also been shown to reduce LDL cholesterol, improve HDL and regulate blood pressure in some studies.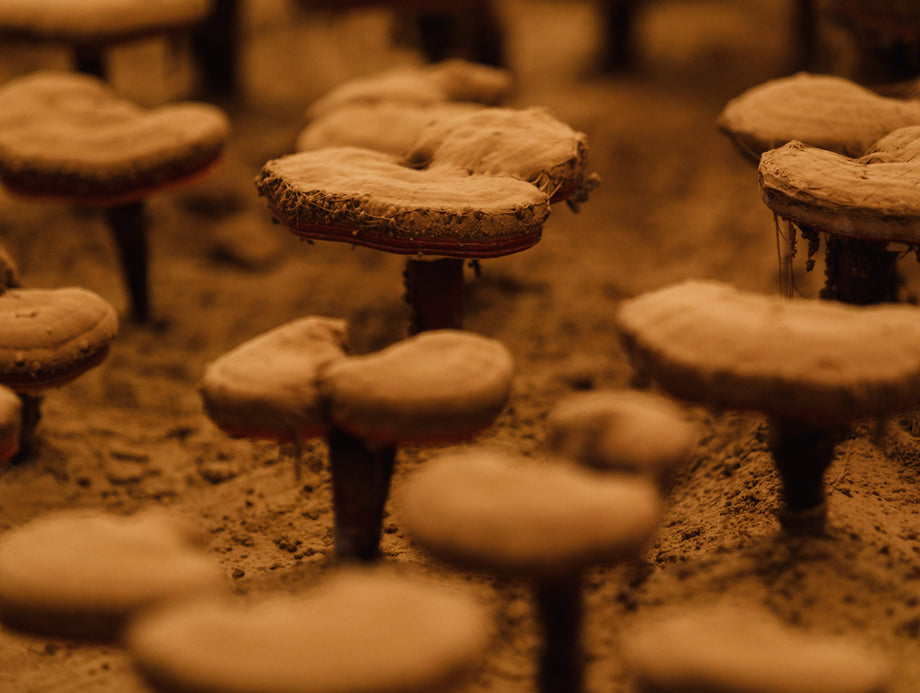 Nervous System Support
Acting as an adaptogen, reishi provides an individual with protection from various biological, environmental and social stresses. The adaptogenic triterpenes in particular have a harmonising effect on both the immune system and circulatory systems, thus helping with mental tension, memory and general stress. Reishi works as an antioxidant against free radicals, and the ganoderic acid provides anti-inflammatory effects for cells, leading to an overall decrease in physical stress to the body. 
Reishi has a calming effect and can relax the central nervous system, helping with insomnia, anxiety and general restlessness, promoting feelings of peacefulness. Reishi can also be particularly effective during menopause if anxiety is present. To promote a deeper, more restful night's sleep, Reishi is a wonderful tonic to have before bedtime. 
Those who take reishi notice a peacefulness that arrives with its use, accumulating over time as she strengthens the nerves of the body. That's why she's seen as the greatest anti-stress herb and has been used for thousands of years to calm the mind, improve memory, strengthen the nerves, sharpen focus, build willpower and ease tension.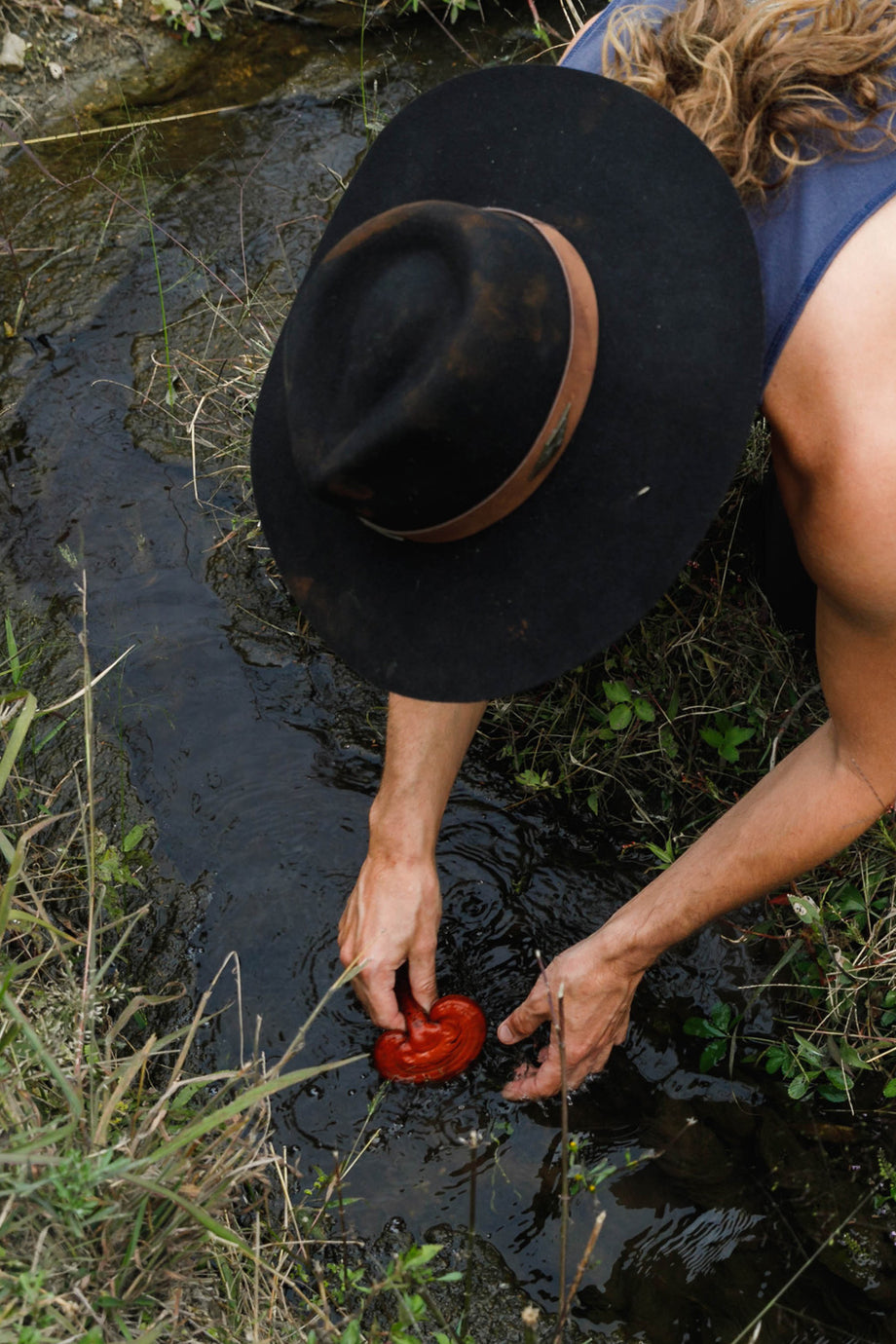 Allergies
Reishi has shown to be an effective antihistamine, helping to reduce the severity of asthma, hay fever and other histamine-mediated allergic responses. In histamine-mediated allergic responses, the treatment focus is to decrease the inflammatory response  (reversing a T-Helper 1 to T-Helper 2 shift). Reishi (specifically the compound ganoderic acid) has been shown to restore a harmonious balance between these T helper cells, regulating the histamine release. Reishi's immune-modulating actions also help to upregulate innate and adaptive immune responses. A clinical study in China involving more than 2,000 patients with chronic bronchitis was treated with reishi. Within two weeks, 60-90 per cent of patients showed significant improvement, with older patients and those with asthma showing significant improvement.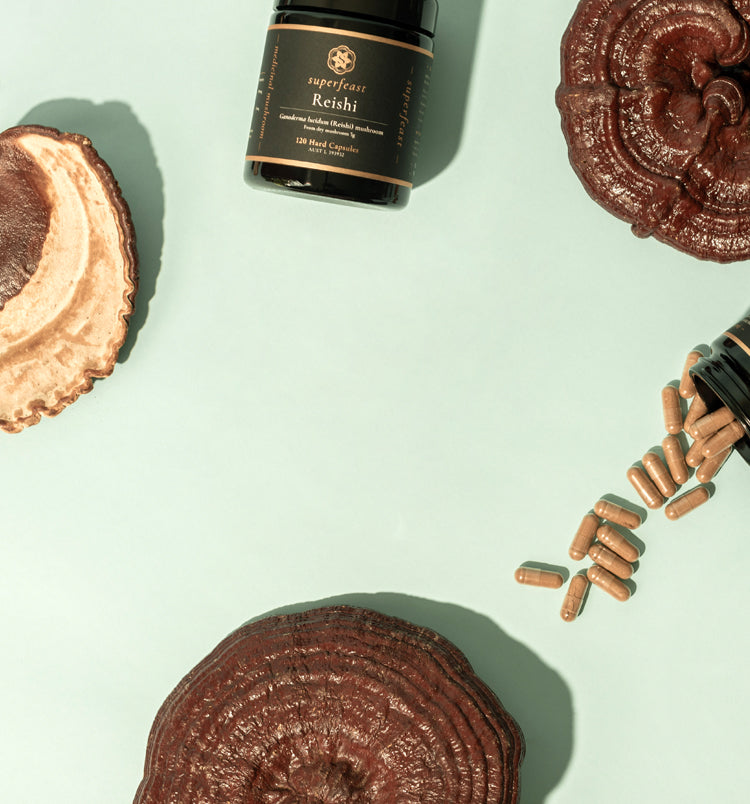 Pregnancy 
There is a rich history of use and empirical knowledge of Reishi in pregnancy, providing a calming anchor for mothers during pregnancy, as well as during the birthing process. Reishi is used to fortify immunity, adaptability, and hormone health and offers the nervous system deep support. '
In Eastern philosophy, there is a concept of "reishi babies", this is a beautiful quality observed in babies whose mothers took reishi during and after pregnancy. In Eastern philosophy, there is a concept of "reishi babies", this is a beautiful quality observed in babies whose mothers took reishi during and after pregnancy.
Serving Suggestion
Time of day
Whatever feels best for you!
You can enjoy Reishi any time throughout your day.
Dosage
Adults, take 1 capsule daily, or as directed by your healthcare practitioner.
Frequently Asked Questions
Can I take Reishi whilst pregnant?
Yes, Reishi is safe to take during pregnancy. 
Tonic herbs are generally warming, building, and nourishing. In the context of health optimisation and the Taoist tradition, tonic herbs are not directly used to treat individual symptoms, but instead to create harmony and strength within the system as a whole.
In this regard, we generally only recommend our Reishi and Eucommia Bark during pregnancy as there is quite a lot of empirical use of these herbs in pregnancy in Traditional Chinese Medicine and Taoist Tonic Herbalism. 
To learn more about the tonic herbs best to take during pregnancy, read this article.
As pregnancy is a very individual journey, we recommend checking in with your healthcare provider when starting on any new herbs or supplements as they will have a more comprehensive scope of your medical history.
Can I take Reishi while breastfeeding?
Yes, you can use Reishi whilst breastfeeding. 
We always suggest introducing new herbs slowly and in low doses, this allows the body to adjust and benefits to unfold at a pace relevant to your individual system.
Deep Sleep
Digestive Health
Energy & Vitality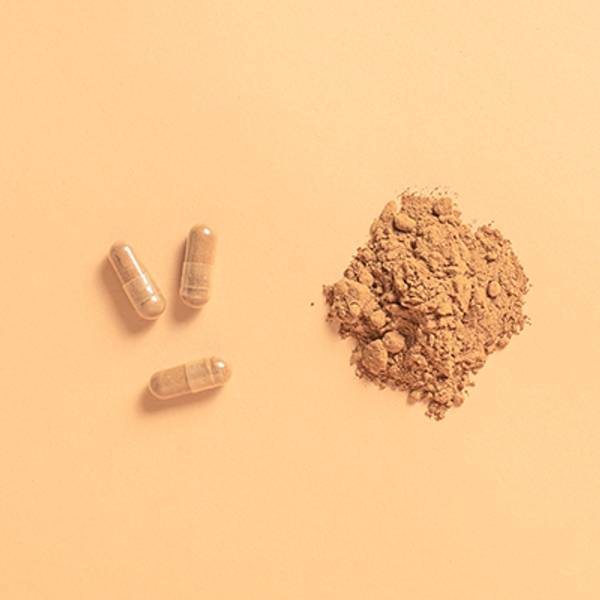 NEW PRODUCT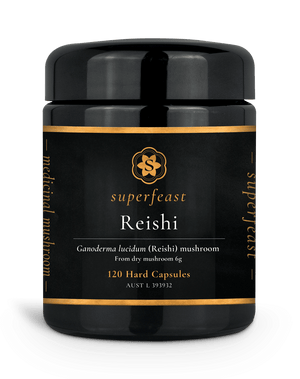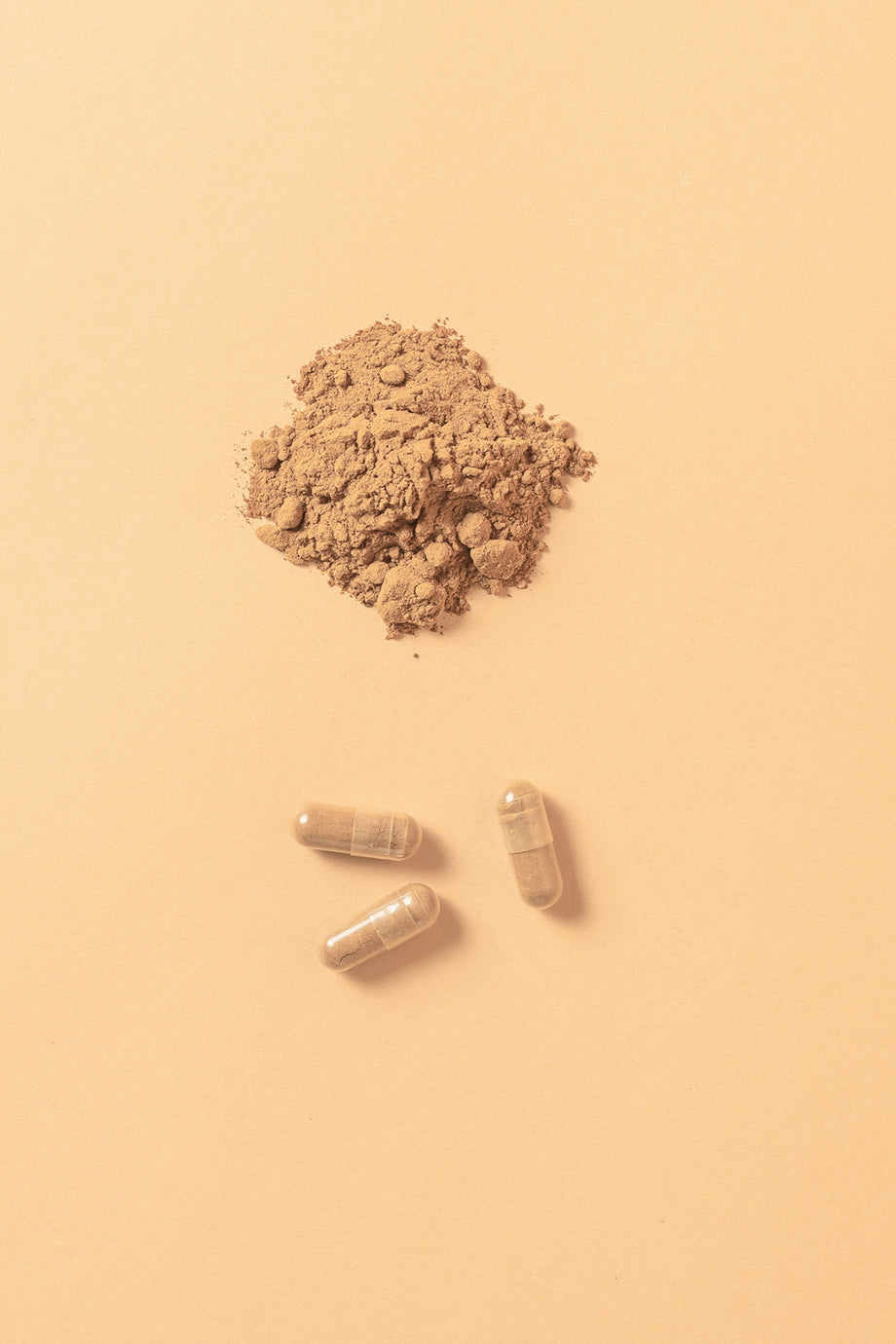 Reishi Mushroom and Its Incredible Benefits
Reishi is one of the most revered medicines in history. Known as Ling zhi in China, the folklore surrounding this magical adaptogen describes the reverence the ancient Daoists had for this life-enhancing mushroom.
Read Article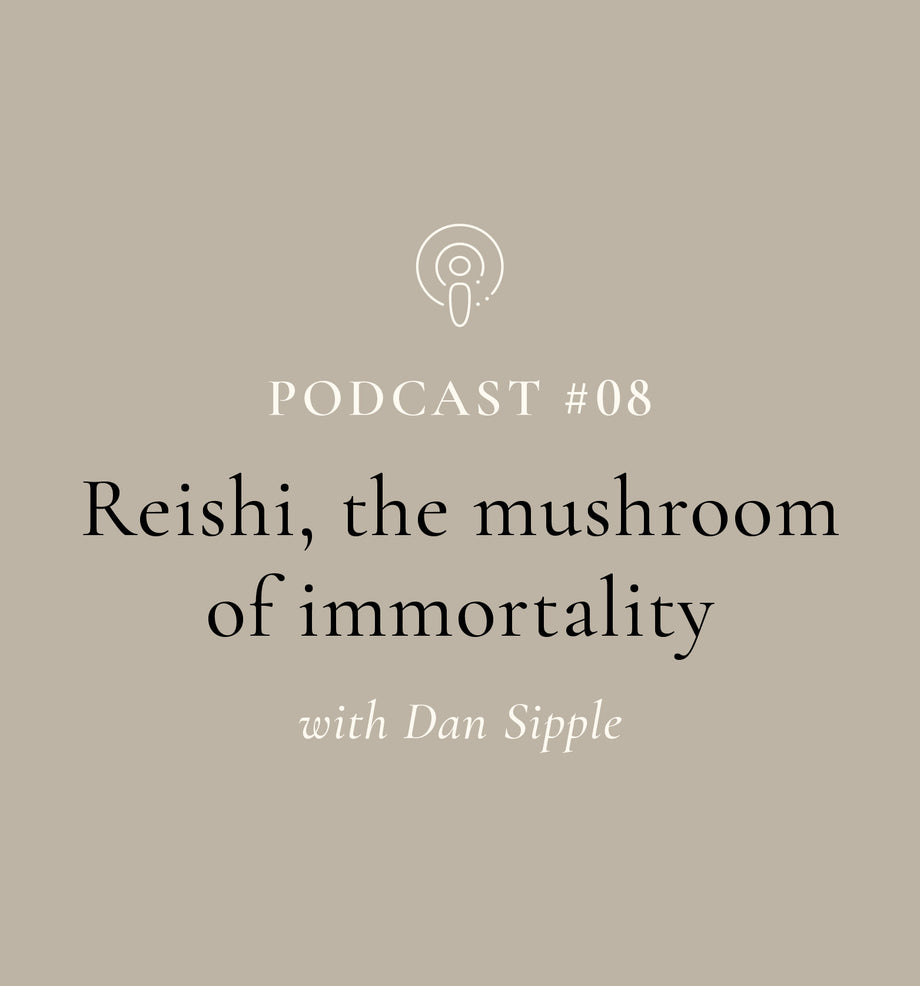 Reishi, Mushroom of Immortality Dan Sipple (EP#8)
Mason and Tahnee come together on the podcast today to take a dive deep into the wonders of Qi, the second Treasure in the Taoist system. 
Listen Now