Free shipping to AU and NZ on orders from $150.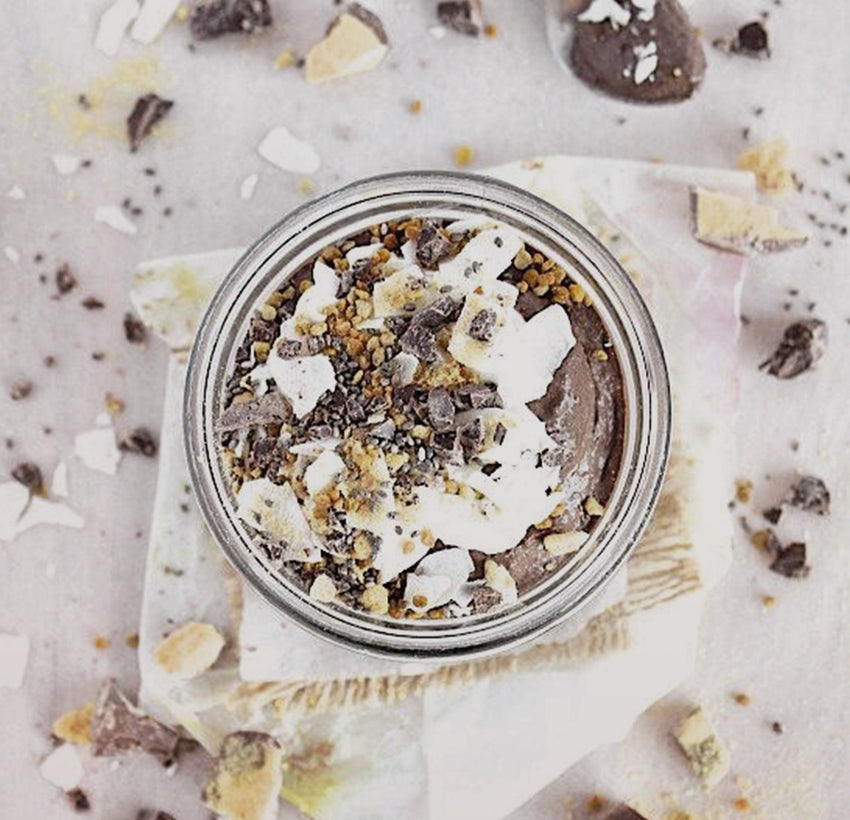 Chocolate Honeycomb Chia Pudding
Dessert for breakfast anyone? Feel amazing knowing that you are loving yourself hard with this delicious pudding.
Description
Dessert for breakfast anyone? Feel amazing knowing that you are loving yourself hard with this delicious pudding. Reishi works to tone all three treasures; Jing, Qi and Shen and supports the health and longevity of the cardiovascular system, immune system, nervous system, gut, liver, kidneys and lungs. Reishi and Tremella added to this recipe makes approx 2 serves of all natural, thick and creamy, subtly sweet, deliciously indulgent, velvety smooth, seriously chocolatey, secretly healthy, honey spiked chia pudding. Yummmm!
Ingredients
Core Ingredients
Other Ingredients
1 tsp of Tremella

1 tsp of Reishi

1/4 cup of coconut yogurt (or Greek style yogurt)

1/2 cup unsweetened vanilla almond milk (or milk of choice)

3 tbsp of chia seeds

1 tbsp of coconut butter

1 tsp of honey - use The Golden Ratio Honey to keep it vegan friendly

1-2 tsp of cacao nibs

1 tsp of vanilla extract or 4-6 drops of Vanilla Cream Stevia - I use Sweet Leaf Stevia

A pinch of salt

Optional add-ins

1-2 tsp of bee pollen

1 tsp of maca - optional for hormone balance

1-2 scoops of collagen - I ♥ Vital proteins unflavoured collagen peptides - Nutra Organics & Further Foods (Use EMS10 - to get 10% off) for protein and gut healing goodness

1/4 tsp of raw earth stevia - for extra sweetness

Optional but recommended for serving:

2 teaspoons of dark chocolate (or cacao nibs), roughly chopped

Coconut yogurt (or yogurt of choice)

Chia seeds

Honeycomb
Method
Step 1
Place all pudding ingredients except for cacao nibs & bee pollen, if using, into a small bowl or jug and stir to combine.
Step 2
Cover and refrigerate for at least 4 hours, (or overnight). Make sure you go and give it a little stir every now and again to remove any lumps and just to make sure those cheeky little chia seeds haven't settled at the bottom of the bowl.
Step 3
Once your pudding is nice and thick, place the mixture into your food processor or blender and process until smooth and creamy. If you don't have texture issues like me you can skip this step and simply stir and serve as is. Taste and adjust sweetness if necessary, you could adding a little extra honey or stevia/vanilla if you like your pudding on the sweeter side.
Step 4
Pour your pudding mixture into cute little cups or bowls , stir through cacao nibs and bee pollen, and place it back in the fridge for at least 30 minutes chill and re-set before serving (it gets a little warm and the consistency thins out with the friction created while blending).
Step 5
To serve, top with coconut yogurt (or yogurt of choice),if using, sprinkle with chocolate (or cacao nibs) and some extra cheeky chia seeds and bee pollen if desired.
Next Recipe
Jing Zinga
Perfectly refreshing JING recipe to welcome in summer for our friends in the southern hemisphere, or wave goodbye for our friends in the north. Either way you slice it, this watermelon infused refresher will leave both your adrenals and your...
Read more