Free shipping to AU and NZ on orders from $150.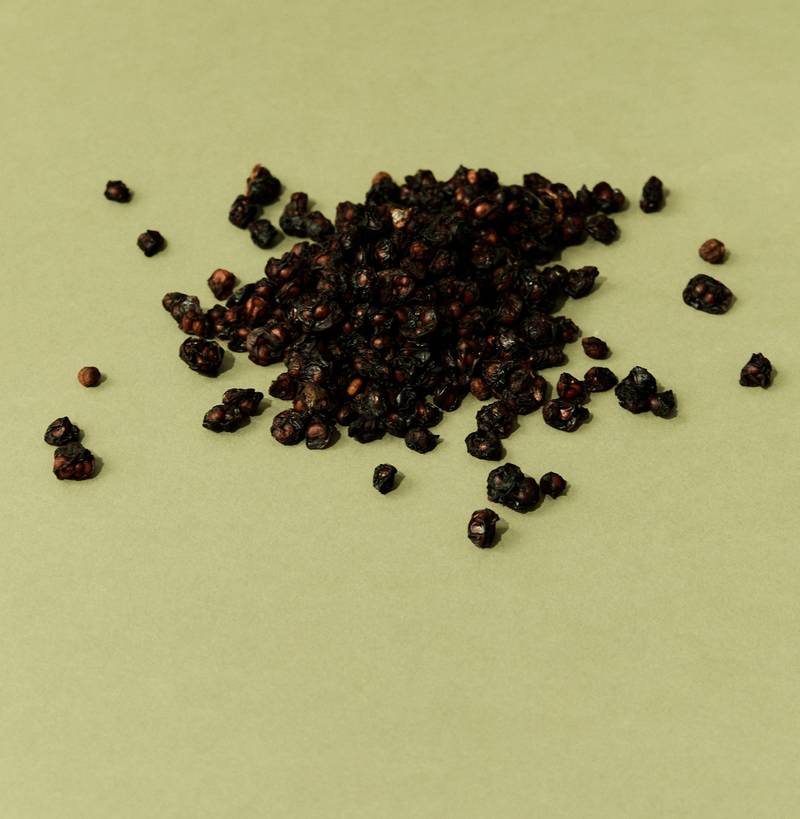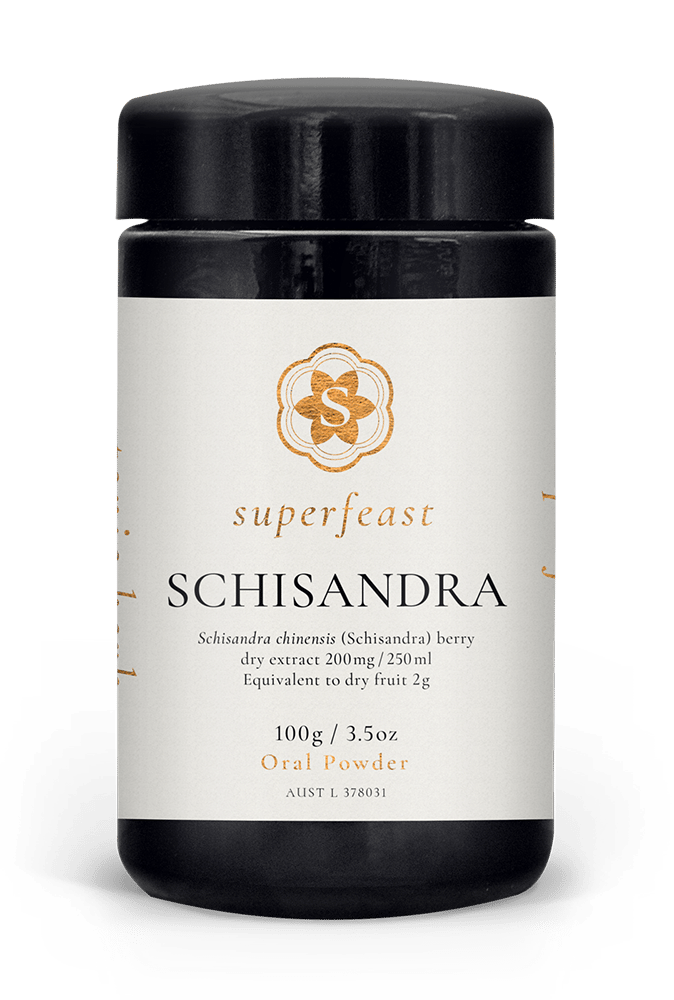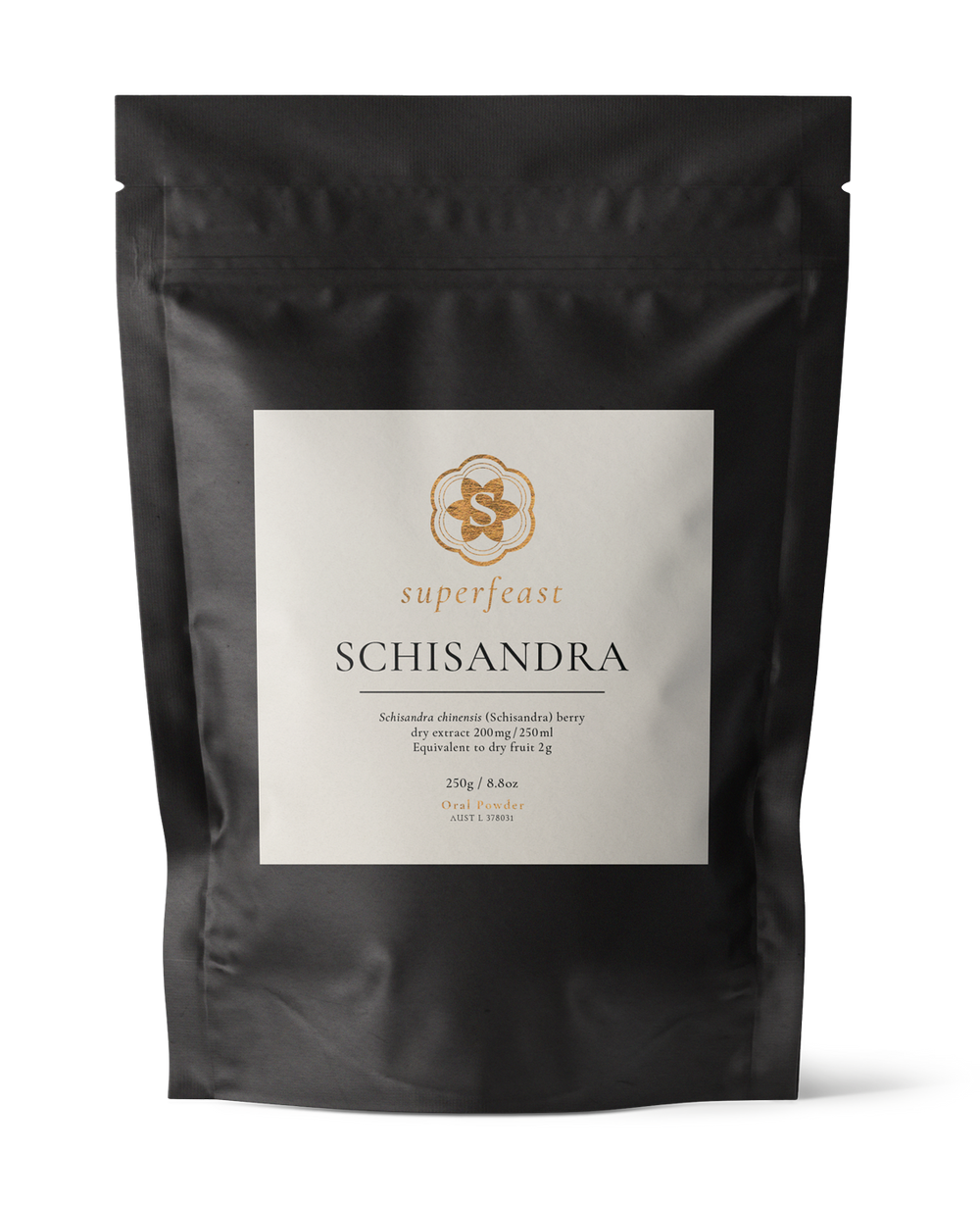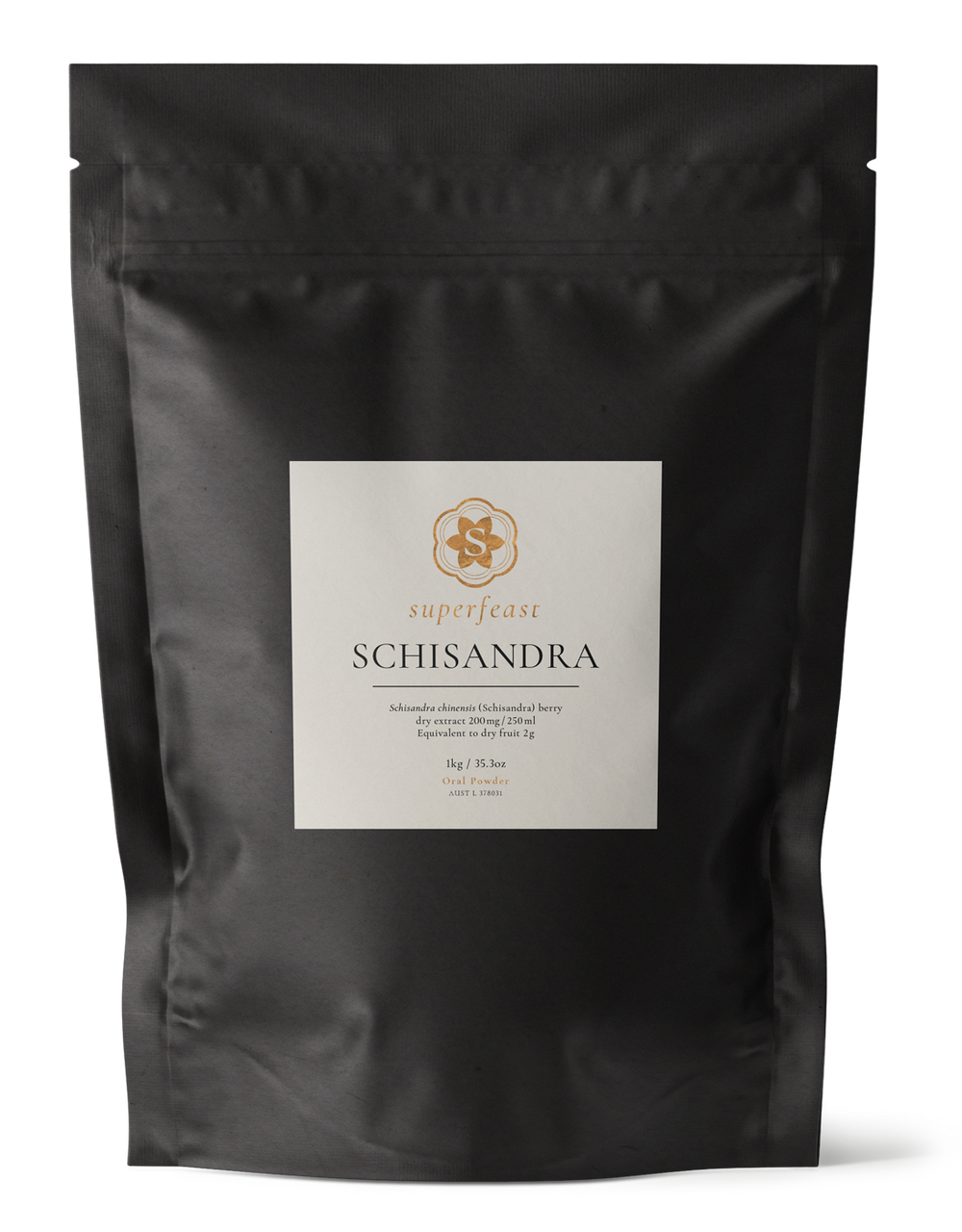 Di Dao
Vegan
Paleo
Gluten Free
Di Dao
Vegan
Paleo
Gluten Free
"I drink this every morning and have felt more calm and at peace. My liver feels better and I have also stopped relying on coffee and this has been my pick me up!" Fong T.
Description
One of the top herbs in the Taoist system, schisandra is known for its ability to harmonise the flow of Qi through the five systems of the human body. It is especially revered for its effects on the Kidney and Liver systems. This nourishing highly adaptive herb helps balance the nervous system, improves brain function, elevates immunity, and through its effects on the overall harmony of the body, assists those who consume it in remaining youthful, both in appearance and physiology.


In folk herbalism, it is said that if taken for 100 days consecutively, schisandra purifies the Blood, brings sharpness to the mind, optimises memory, rejuvenates and astringes Kidney Essence (Jing), and supports reproductive function in both men and women. Schisandra also supports the Lung Qi, and may assist in harmonising Lung dysfunction.


In China, schisandra is known as wu wei zi, a name which translates to "five taste fruit," named after the incredible flavour profile of the berry that has all five tastes: salty, sweet, sour, bitter, and pungent. Each taste/flavour corresponds to a major system within the body, and thus why schisandra is known for its capacity to influence/enter all five major systems of the body: the Liver, Lungs, Kidneys, Heart, and Spleen. This is why it is considered one of the ultimate herbs in Taoism; schisandra is able to regulate the entire system, and thus protect all Three Treasures of the body (Jing, Qi and Shen).


Also known as a 'beauty berry' of the Orient, schisandra was used by ancient Chinese royalty to preserve youthfulness, enhance physical radiance, boost desire, and as a potent reproductive tonic. Schisandra has an excellent capacity to regenerative Water Qi in the Kidneys, thus building primary essence and rejuvenating sexual fluids. For our intention to age with grace, with a twinkle in the eye and our unique beauty radiating from within, we can't think of a herb that has our backs more than schisandra does.
Traditionally used in Chinese medicine to:
Support healthy stress response in the body
Relieve weariness/tiredness/fatigue/feeling of weakness
Enrich/nourish/tonify/fortify/strengthen kidneys
Sourcing:
Our carefully dual-extracted schisandra is sourced Dì Dào (地道) from China's Changbai Mountains.

Contraindications:
Caution use in those with an active peptic ulcer. Caution use in pregnancy - schisandra may cause uterine contractions and is useful postpartum to assist healing.

Store below 30°C in a cool, dry place.
Keep out of reach of children.
Packed in Australia from imported ingredients.
Talk to a TCM practitioner/health professional if you are unsure if this medicine is right for you.



Ingredients
AUST L 378031
Schisandra chinensis (Schisandra berry*)
Equivalent to dry fruit 2g

200mg / 250ml
10:1 extract powder
*dual-extract
Delivery & Returns
Our products are packed in eco-conscious materials and shipped via, Australia Post or Aramex (depending on your location) from our Mullumbimby, NSW warehouse. For Express orders, we use StarTrack Premium.
For more information on shipping, refer to our Frequently Asked Questions page under "Orders & Delivery'.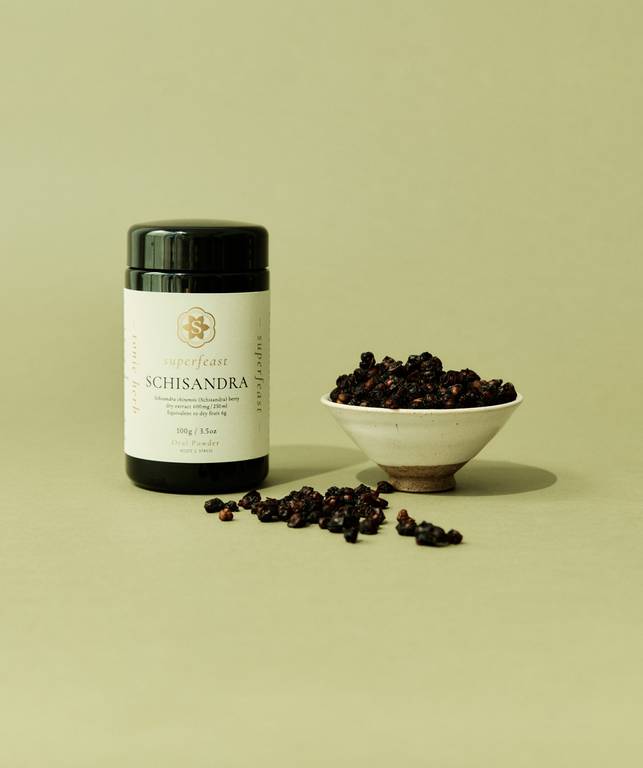 Health Benefits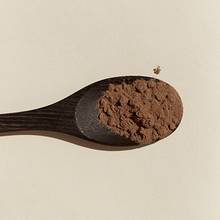 Beauty & Radiance
Detoxification
Energy & Vitality
Healthy Stress Response
Libido
Reproductive Health
Systems
In ancient Taoist medicine, tonic herbs and medicinal mushrooms were used to nourish and tonify specific systems within the body. These systems correlate with the natural elements, and their direct effect can be classified as either Major or Minor.

Major | Liver Wood | Kidney Water | Lung Metal | Spleen Earth | Heart Fire

Treasures

When there is harmony between the body systems and elements, we cultivate the expression of health known as our Treasures.

Major | Yin Jing | Qi | Shen | Blood
Serving Suggestion
Adults, mix 200mg in 250ml warm water & drink immediately.
Stir into hot water or plant milk for an instant tonic tea. Works well in hot or cold drinks, broths and meals.
Servings per size | 100g Jar = 77 | 250g Bag = 192 | 1kg Bag = 769
Our Process
Schisandra Berry Sourcing
Our SuperFeast Schisandra is sourced from China's Changbai Mountains. Many people ask why we chose to source our schisandra from China. Di Dao is the reason!! Di Dao means original source. Schisandra chinensis is a deciduous woody vine in the Magnoliaceae family and is native to Northern China and Eastern Russia. It is now grown in many place in the world including Japan, Korea, and North America. Schisandra is well-researched by Chinese and Russian scientists and is used clinically as well as in their folk medicines.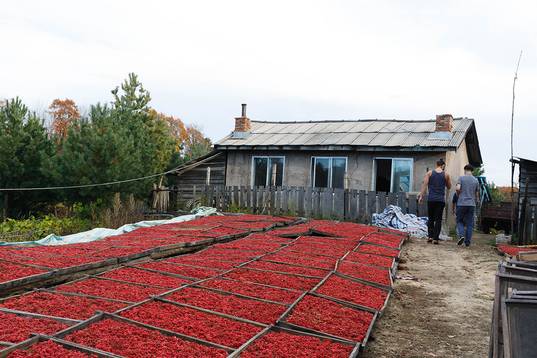 Schisandra Berry Constituents
SuperFeast schisandra berries are harvested at one year old, and must contain a minimum 2% schisandrins (though we don't standardise our herbs and belief that a full-spectrum extract is more useful than one that seeks specific chemical consituents). Schisandra also contains: sesquicarene, phytoestrogens, Ddeoxyschizandrin, schizandrol, stigmasterol and lingans (schisandrin and gomisin A). Fresh berries are a source of vitamins C and E.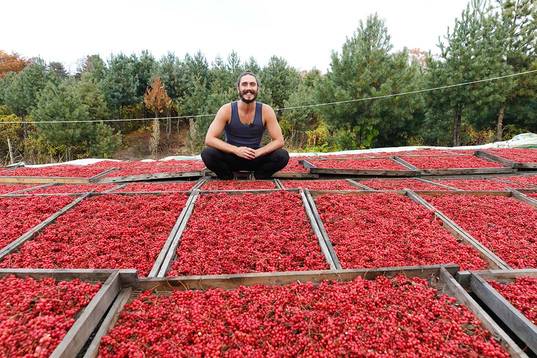 Schisandra Harvesting and Selection
Rather like grapes, schisandra berries can be made into juices, wines, teas, desserts, and can be eaten dried or fresh. Sun-dried berries are used in traditional Chinese medicine, and SuperFeast schisandra is harvested by hand and sun-dried to ensure traditional methods of cultivation are upheld. Berries ripen in late summer or early autumn. They are harvested when fully scarlet red - quite the sight to see!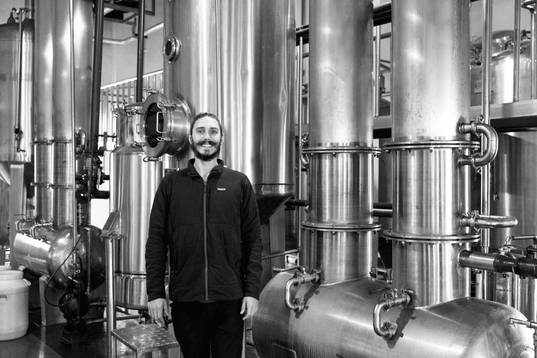 Schisandra Processing
SuperFeast Schisandra is dual-extracted (water and organic rice alcohol) and spray dried to ensure a high-quality herbal extract. We export in a GMP facility in China, where the herbs are tested by fingerprint chromatography to ensure the correct origin, as well as for heavy metals, pesticides, aflatoxins and moulds. This extract is then shipped to our Australian TGA packing facility where it is tested again (to verify it meets TGA standards) and then is packaged for sale. SuperFeast Schisandra meets the stringent TGA standards for herbal quality and is one of the few products in the Australian market to do comply with TGA requirements.
Our Process
Schisandra Berry Sourcing
Our SuperFeast Schisandra is sourced from...
Schisandra Berry Constituents
SuperFeast schisandra berries are harvested at...
Schisandra Harvesting and Selection
Rather like grapes, schisandra berries can...
Schisandra Processing
SuperFeast Schisandra is dual-extracted (water and...
recipes
recipes
Berry Refreshing Beauty Blitz
It's high summer here in Byron Bay, and we've been keeping cool with this beautiful and very (berry) refreshing and beautifying summer frappe. It's a pretty simple mix of our fave summer fruits blitzed in a blender to create a refreshing...
Read more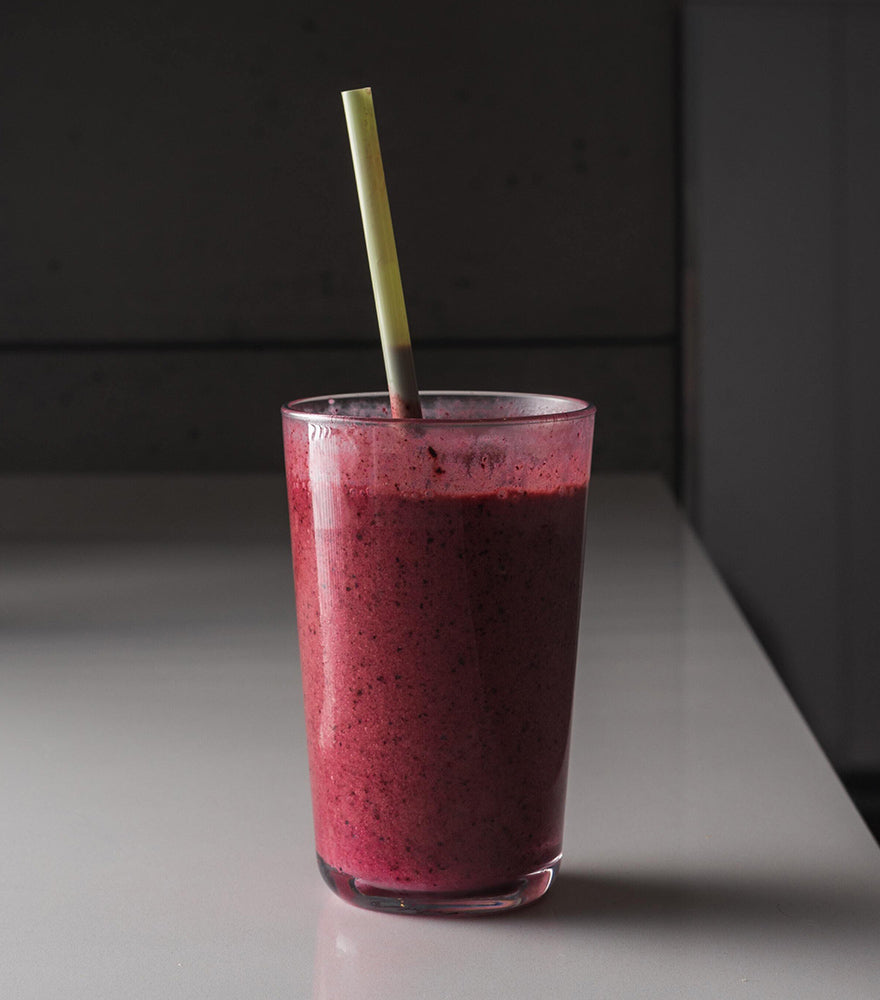 recipes
Schisandra Rejuvenation Tonic
Schisandra is such a highly revered tonic herb from preserving youth to supporting beautification. But, it's the Liver where this adaptogen really works its magic. This makes it the perfect elixir to try if you are feeling hungover and to also use as a...
Read more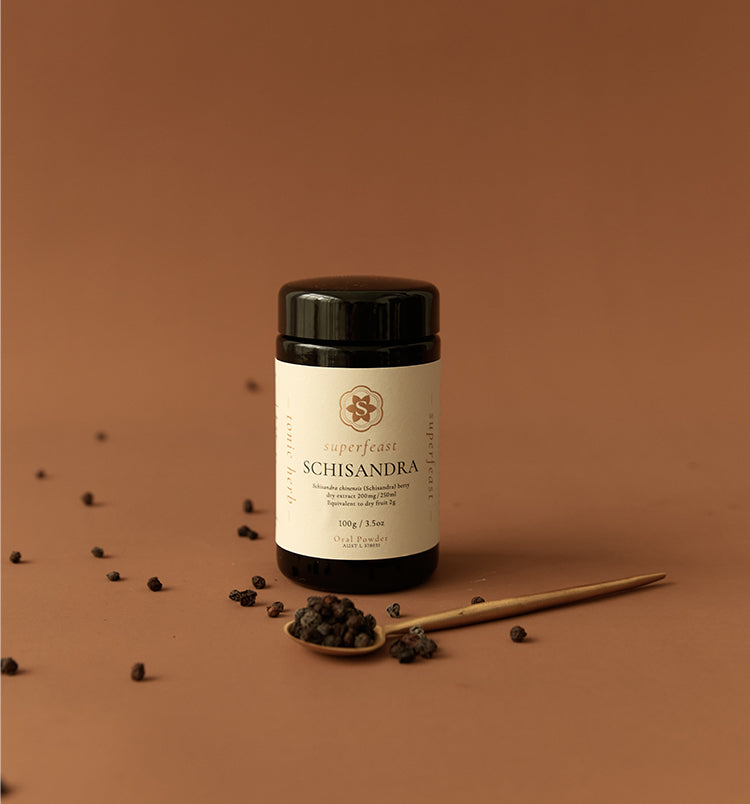 LOVED BY OUR COMMUNITY...
Love
"I love adding this to my morning lemon water and have found my skin looks brighter after drinking it for the last few months. One of my favourites so far." Amy
The Luminous Schizz.
"I'm half way through the 100 days of schizzzzz berry: more than anything I can really see the difference in my skin...... it's very luminous and smooth .... and being 3 months postpartum and breastfeeding I didn't expect looking so healthy! So I truly attribute this clarity to schizzzz because it hasn't been this shiny for ages!" Olga K.