Free shipping to AU and NZ on orders from $150.
About SuperFeast
Tonic Herbs with Integrity. Since 2011.
In 2011, Mason Taylor's passion for health and his desire to access the world's best supplements, herbs and medicinal mushrooms led to the creation of SuperFeast.
From humble beginnings in his mum's garage, SuperFeast has grown into Australia's leading supplier of Dì Dào (地道) tonic herbs and mushrooms.

Mason founded the business in the family home in suburban Gladesville, Sydney. In those days, the dream to become a mushroom and tonic herb company was so huge that it seemed impossible. Drawing inspiration from the herbalists that Mason adored, alongside his experience with longevity-enhancing supplements, SuperFeast began offering a range of obscure health products.
Janesse's Story
Six months into the birth of SuperFeast, Mason's mother Janesse suffered a debilitating stroke. The months following involved emergency care, rehabilitation and the slow adjustment to a new way of life.

SuperFeast would never have existed without Janesse.

To this day we ensure that the charitable spirit and love for life that Janesse has is always preserved in SuperFeast's business operations and message. Janesse remains an ongoing

inspiration to all of us at SuperFeast - she is still recovering but maintains a zest for life and a great sense of humour, and is a daily consumer of SuperFeast's offerings.

After his mum's aneurysm, Mason made a conscious decision to become thoroughly dedicated to SuperFeast and its mission to prevent as much degeneration and illness as humanly possible while promoting flourishing health. It was with this new energy that the tonic herbs and mushrooms were included in the SuperFeast range.
"She convinced me to start the company and follow my passion; she also thought of the name and gave us our first little bit of capital". Mason Taylor.
Mason Taylor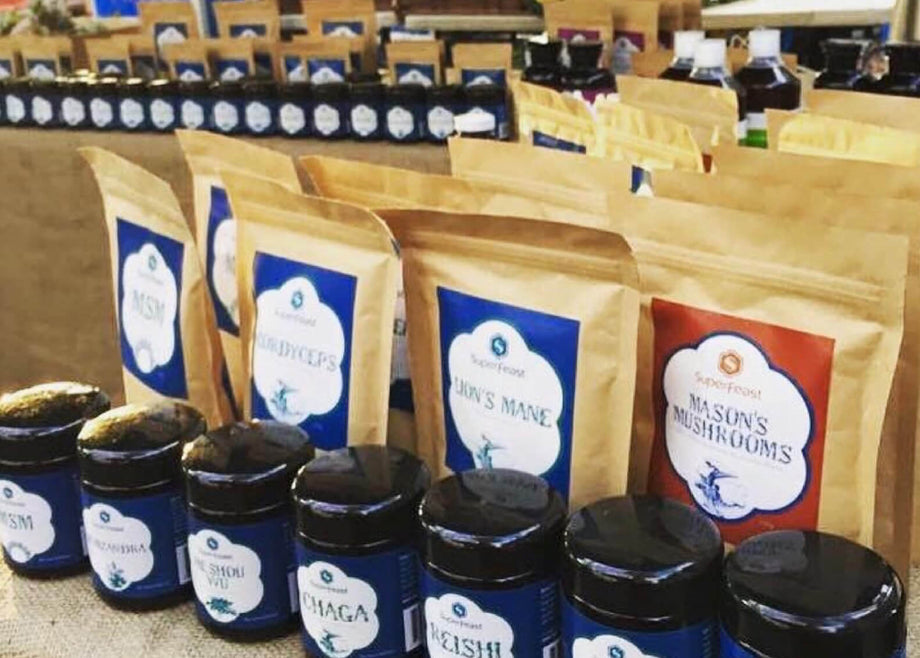 The Markets; SuperFeast's first store.
In 2012, Mason took SuperFeast to the Frenchs Forest markets on Sydney's Northern Beaches, where for over 3 years he talked to thousands of people and built the foundations of the SuperFeast community. Mason also ran numerous workshops and public talks teaching what was then an extremely obscure topic: medicinal mushrooms, adaptogens and Taoist herbalism. It became more and more clear that the Taoist tonic herbs were something that would make a huge impact, so Mason began the process of expanding the SuperFeast herbal range. While sourcing the mushrooms and herbs Mason had the intention to only share herbs of the highest quality for himself and his family that would stand the test of time for the rest of their lives. Mason was also inspired by his mother's recovery; he originally sourced lion's mane to assist her healing and later formulated Neural Nectar for her.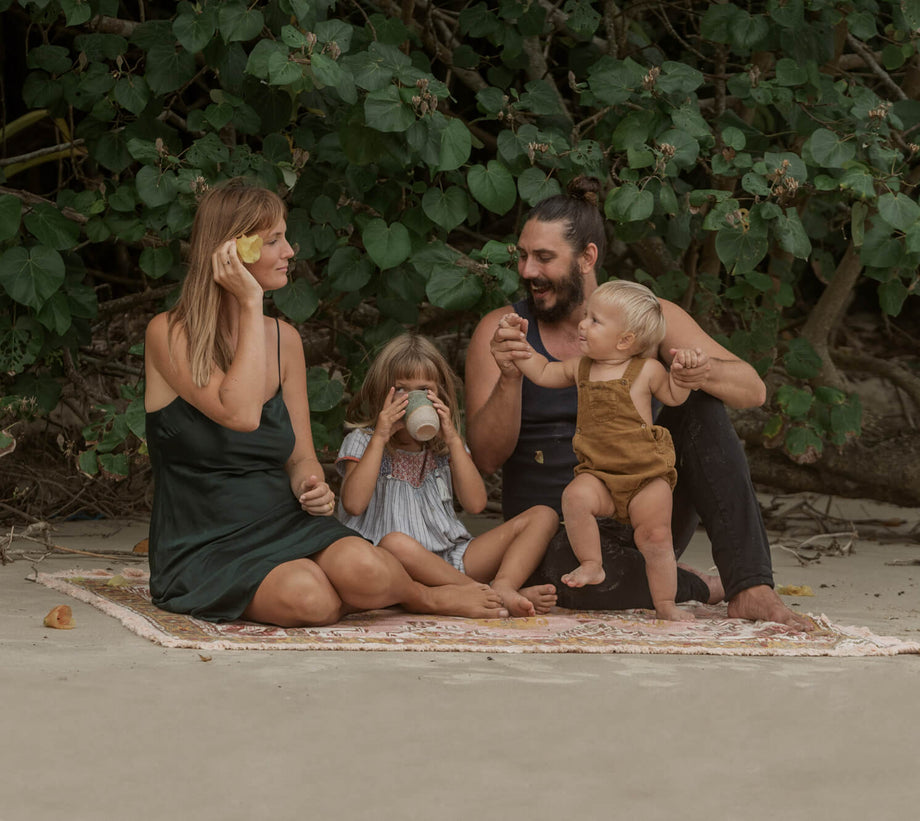 The SuperFeast Family Grows
From late 2015 to early 2016, Mason moved SuperFeast from Sydney to Byron Bay, where he really began to see his mission take root. Tahnee joined the team shortly after this move, as their romantic and professional reunion was the perfect combination to take SuperFeast to its fullest expression. Baby Aiya was born in late 2016 and as a bit of a cosmic joke, the business started to take off not long after!

At that time SuperFeast was a very small team working in a double garage, and as baby Aiya grew into the world, so did the SuperFeast family. All of a sudden the world woke up to medicinal mushrooms and adaptogens and SuperFeast charged ahead, educating people about Taoist herbalism and the philosophy behind it.
SuperFeast finally graduated to a proper warehouse in the Byron Bay industrial estate in 2017, and then again in 2019 when we moved to our current home in Mullumbimby. Fast forward to today the SuperFeast family continues to grow and so does Mason and Tahnee's family with baby Leo entering the world in 2022.

SuperFeast has the absolute best team of beautiful humans who love the herbs deeply and live in integrity with the philosophy of Taoism. It is because of this group of people that SuperFeast will never deviate from its essence and core message as the business expands into the future.

"To this day SuperFeast is 100% family owned and we pride ourselves on being a family business. This allows us to move forward with the same grassroots values that were presented on day one".
- Mason Taylor.