Free shipping to AU and NZ on orders from $150.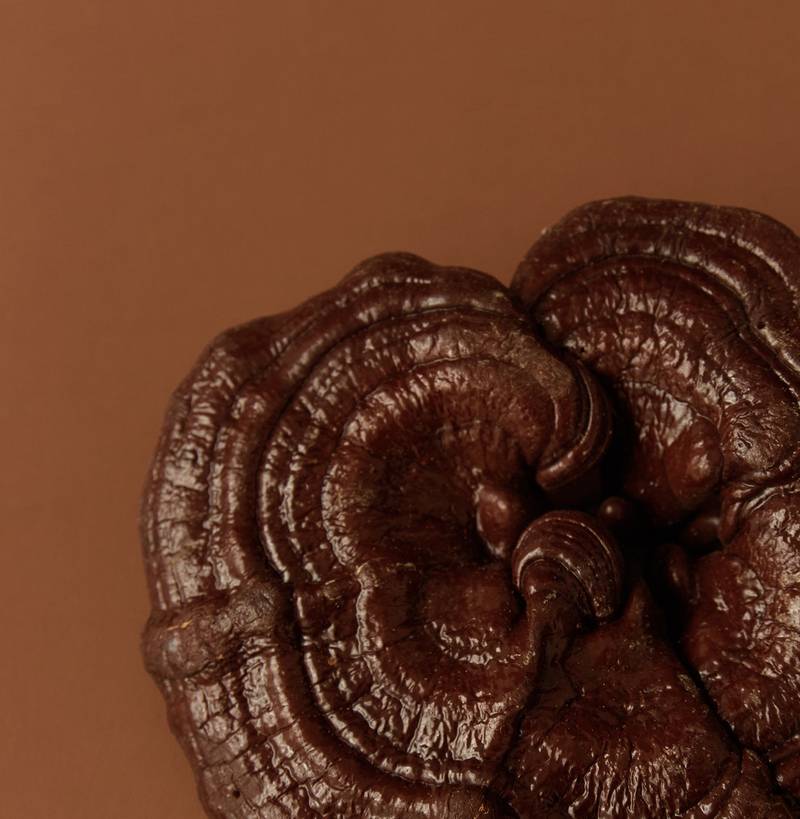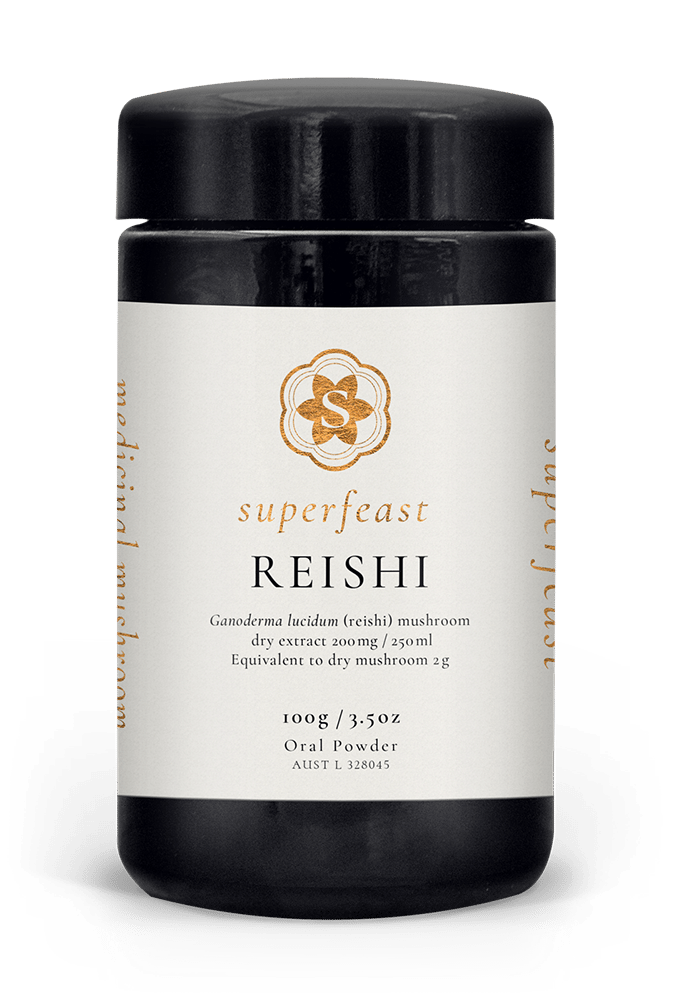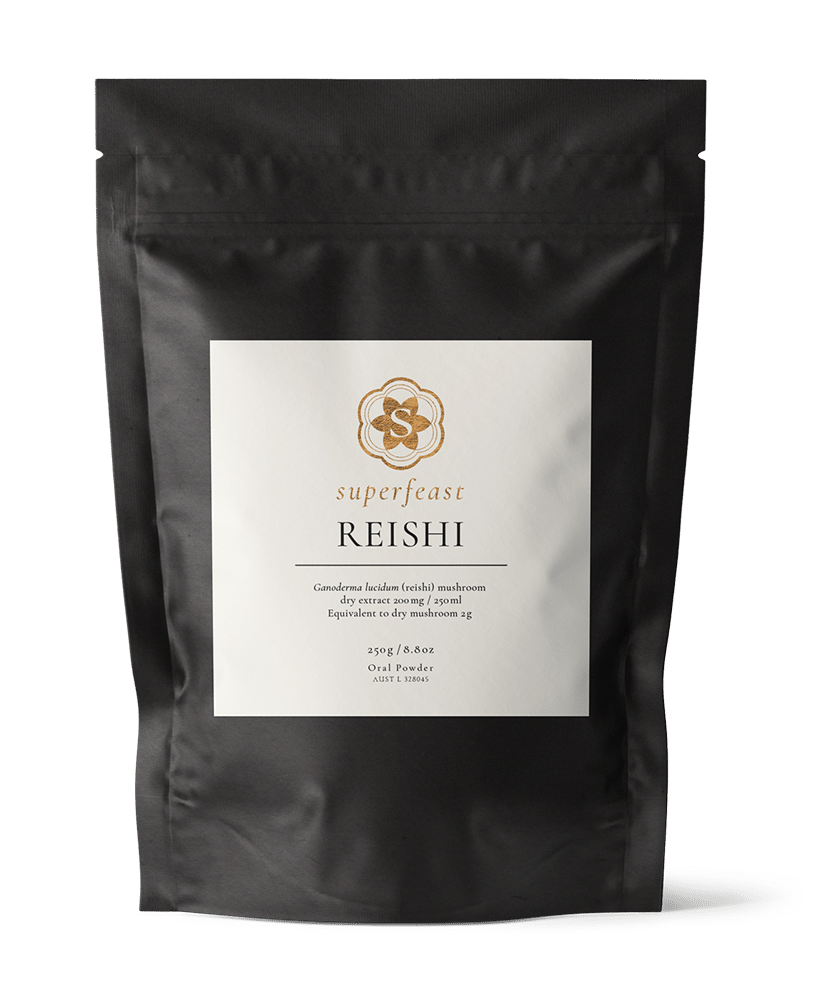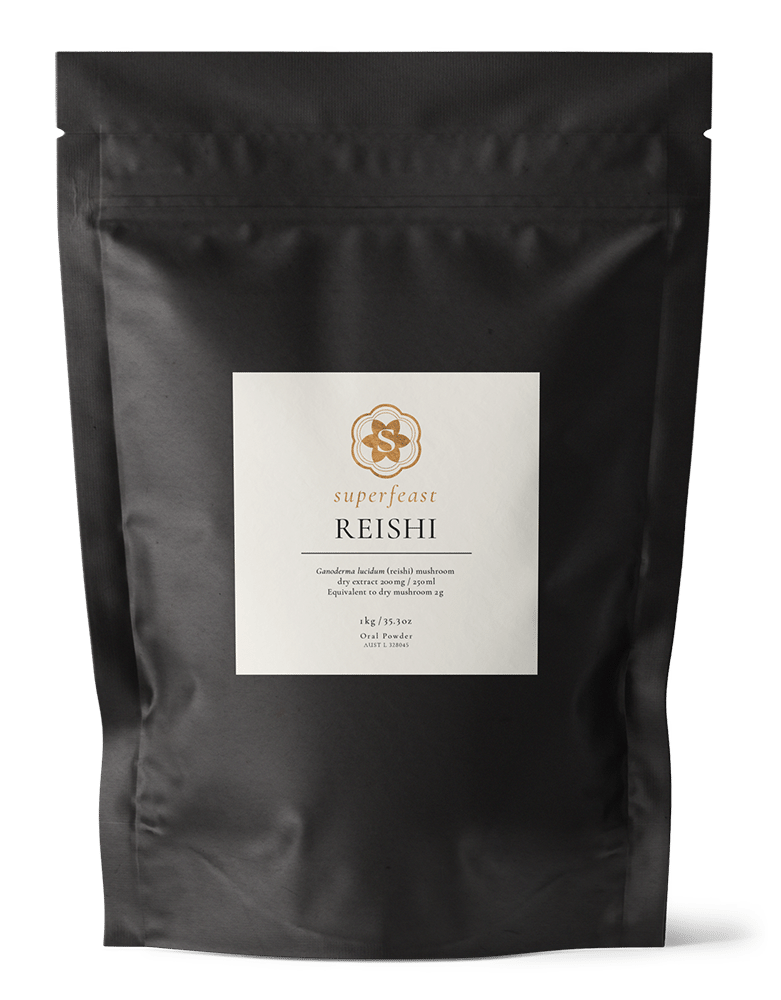 Di Dao
Vegan
Paleo
Gluten Free
Di Dao
Vegan
Paleo
Gluten Free
"Reishi has become a beautiful, deeply nourishing nightly ritual for me. Along with meditation it has been a huge key in reducing insomnia and anxiety - I can truly feel the difference in my nervous system if I skip a day." Catherine W.
Description
Regarded by ancient herbalists as the 'mushroom of immortality,' reishi is traditionally used in Chinese medicine to support healthy immune system function and promote a healthy stress response. A famous Shen tonic, reishi is recommended to calm and balance the spirit, and to enhance sleep quality. It strengthens the Heart, Kidneys, Lungs, and Liver - it is one of those special herbs that work on all Three Treasures (Jing, Qi, and Shen), as well as all the five Taoist organ systems.
In China, reishi is known as ling zhi which means 'spirit plant' or 'tree of life mushroom.' The Chinese character for ling zhi is composed of three characters that represent a shaman praying for rain. The Latin translation of Ganoderma is 'gano' (shiny) 'derma' (skin).
Reishi is extremely rare in the wild and was once reserved for use amongst emperors and royalty only. Immortalised throughout Chinese art, temples, statues, and paintings, reishi mushroom was held in the highest esteem amongst Chinese royalty and is surrounded by many legends over the past 4 millennia. Kuan Yin, known as the goddess of healing, was occasionally depicted carrying a reishi mushroom. This polypore was extremely prized amongst the Orient and often hung above doorways as a protector.
Reishi is high in beta-glucans and over 100+ distinct varieties of polysaccharides. Triterpenes are the compounds in reishi responsible for the bitter taste that reishi possesses. Triterpenes are only extracted via ethanol and hot water; this is why we dual-extract SuperFeast Reishi.
Traditionally used in Chinese medicine to:
Balance spirit
Support healthy immune system function
Improve sleep quality / deep sleep
Sourcing:
SuperFeast Reishi is carefully dual-extracted and sourced Dì Dào (地道) from the Dabie Mountains in China. See full sourcing details below.
Contraindications:
No contraindications have been reported in the medical literature concerning the consumption of reishi mushroom. If you are on blood thinners or blood pressure medication, please check with your prescribing doctor if reishi is appropriate for you. Reishi is considered safe to take during pregnancy and breastfeeding; please consult your healthcare provider before adding reishi to your herbal regime during these sensitive times.
Store below 30°C in a cool, dry place.
Keep out of reach of children.
Packed in Australia from imported ingredients.
Talk to a TCM practitioner/health professional if you are unsure if this medicine is right for you.


Ingredients
AUST L 328045


Ganoderma lucidum
(Reishi Mushroom)*
from dry fruiting body 2g

200mg / 250ml
10:1 extract powder
*dual-extract
Delivery & Returns
Our products are packed in eco-conscious materials and shipped via, Australia Post or Aramex (depending on your location) from our Mullumbimby, NSW warehouse. For Express orders, we use StarTrack Premium.
For more information on shipping, refer to our Frequently Asked Questions page under 'Orders & Delivery'.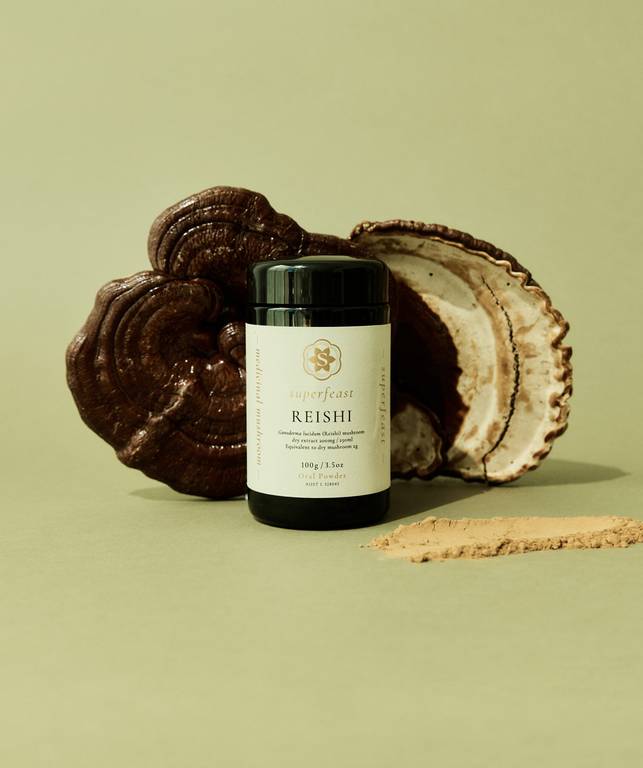 Health Benefits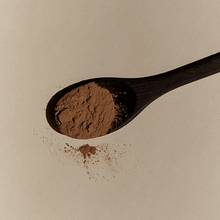 Deep Sleep
Digestive Health
Energy & Vitality
Healthy Sleep Cycle
Healthy Stress Response
Support Immunity
Systems
In ancient Daoist medicine, tonic herbs and medicinal mushrooms were used to nourish and tonify specific Organ systems within the body. These Organ systems correlate with the natural elements, and their direct effect can be classified as either Major or Minor.

Major | Heart Fire | Liver Wood | Lung Metal

Minor | Kidney Water

Treasures

When there is harmony between the body systems and elements, we cultivate the expression of health known as our Treasures.

Major | Yin Jing | Qi | Shen
Serving Suggestion
Adults, mix 200mg in 250ml warm water & drink immediately. Take three times a day.
Stir into hot water or plant milk for an instant tonic tea. Works well in hot or cold drinks, broths and meals. We love it in warm plant milk before bed with honey. Always use a dry spoon.
Servings per size | 100g Jar = 83 | 250g Bag = 208 | 1kg Bag = 833
Our Process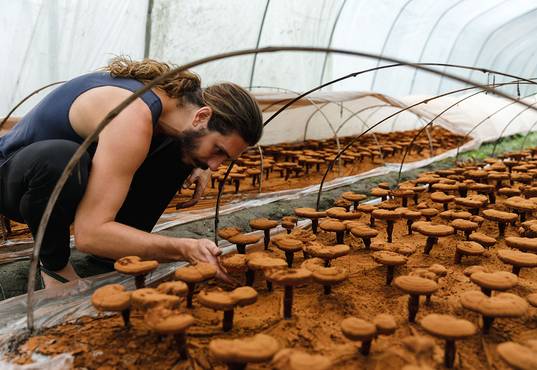 Reishi Mushroom Sourcing
Our SuperFeast Reishi is sourced from China's Dabie Mountains. Many people ask why we chose to source our reishi from China. Di Dao is the reason! Di Dao means original source and the Daoists of ancient China were the first to experiment with reishi - it has been known in China for at least 2000 years and regularly features in China's art, including in depictions of Daoist Heaven.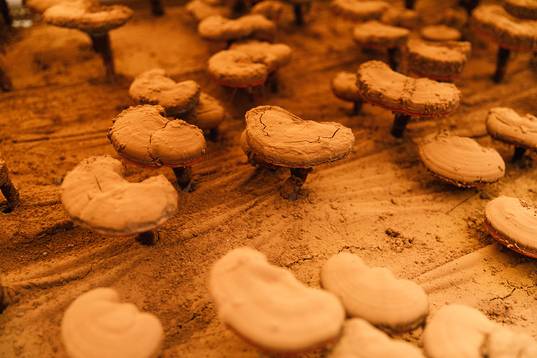 Wood-Grown Reishi Mushroom
SuperFeast Reishi is grown according to Di Dao principles on mature oak tree duanwood. The herb is harvested after 1 year. Reishi grows best in high-mountain areas. We only use the fruiting bodies and our reishi tests to a minimum of 20% polysaccharides (though we generally prefer not to focus on isolated compounds, as the art of herbalism involves the growing, processing, and imbibing of the whole herb, not just chasing specific ingredients).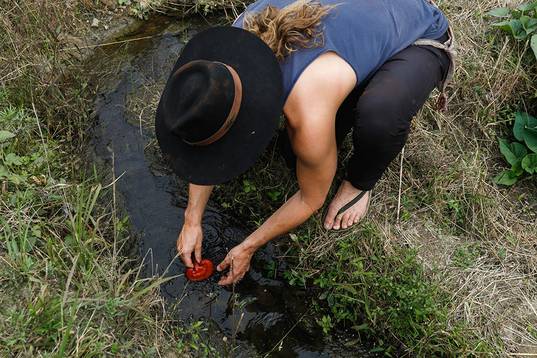 Connected to Nature
SuperFeast Reishi, while cultivated (wild sourcing is not sustainable for commercial use), is still connected deeply to the elements of the Dabie Mountains. Watered with spring water and exposed to temperature fluctuations and changes allow for the herb to become adaptive and strong, qualities that are important when ingesting this beautiful herb.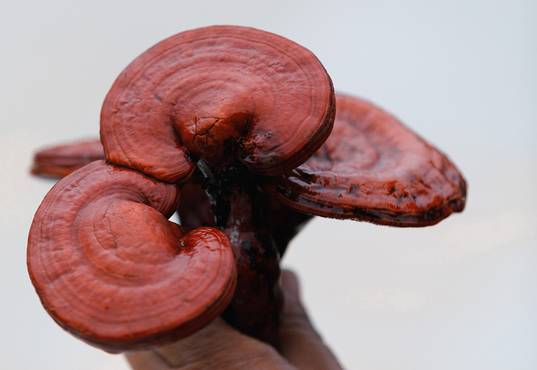 Processing
SuperFeast Reishi, like all our herbs, goes through a process of extraction before it ends up in your morning smoothie. First the reishi is sun-dried (weather permitting), then transferred to our manufacturing facility where it goes through a process of dual-extraction. This means we use an organic rice-based alcohol and hot water to extract the medicinal goodness from the fruiting body of the mushroom. This resultant extract is dried, then sifted to ensure a uniform powder. We test our products in China AND in Australia to ensure they are of the highest purity. SuperFeast Reishi meets the stringent TGA standards for quality.
Our Process
Reishi Mushroom Sourcing
Our SuperFeast Reishi is sourced from...
Wood-Grown Reishi Mushroom
SuperFeast Reishi is grown according to...
Connected to Nature
SuperFeast Reishi, while cultivated (wild sourcing...
Processing
SuperFeast Reishi, like all our herbs,...
recipes
recipes
Superhuman Chai Cacao Truffles
These oh so delicious Truffles are an immune boosting powerhouse. Packed with the added herb goodness of Cordyceps, Reishi, Chaga and Lions Mane, you are sure to feel, calm, clear and vibrant. Enjoy!
Read more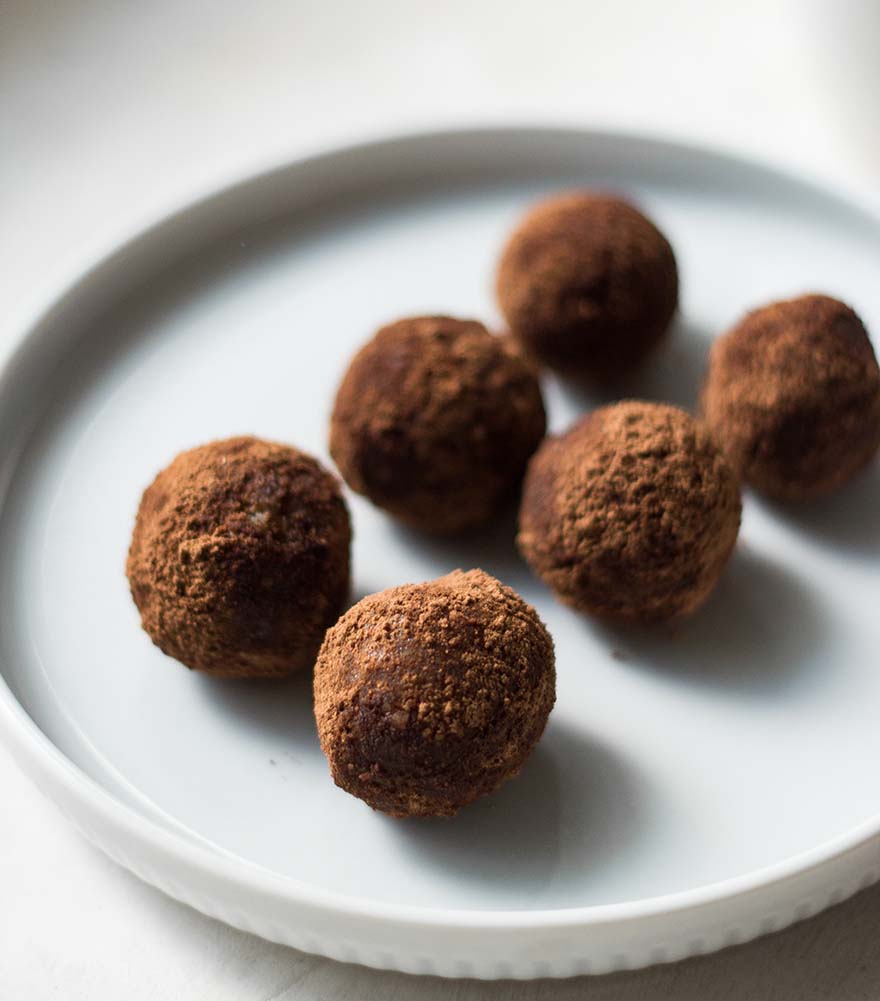 recipes
Potent Hydrating Mushroom Face Cream
Including both tremella and reishi, what a perfect way to infuse some tonic herb magic into your skin care routine. This recipe is all natural and we strongly suggest you use 100% organic materials to make this beautiful face cream. Check...
Read more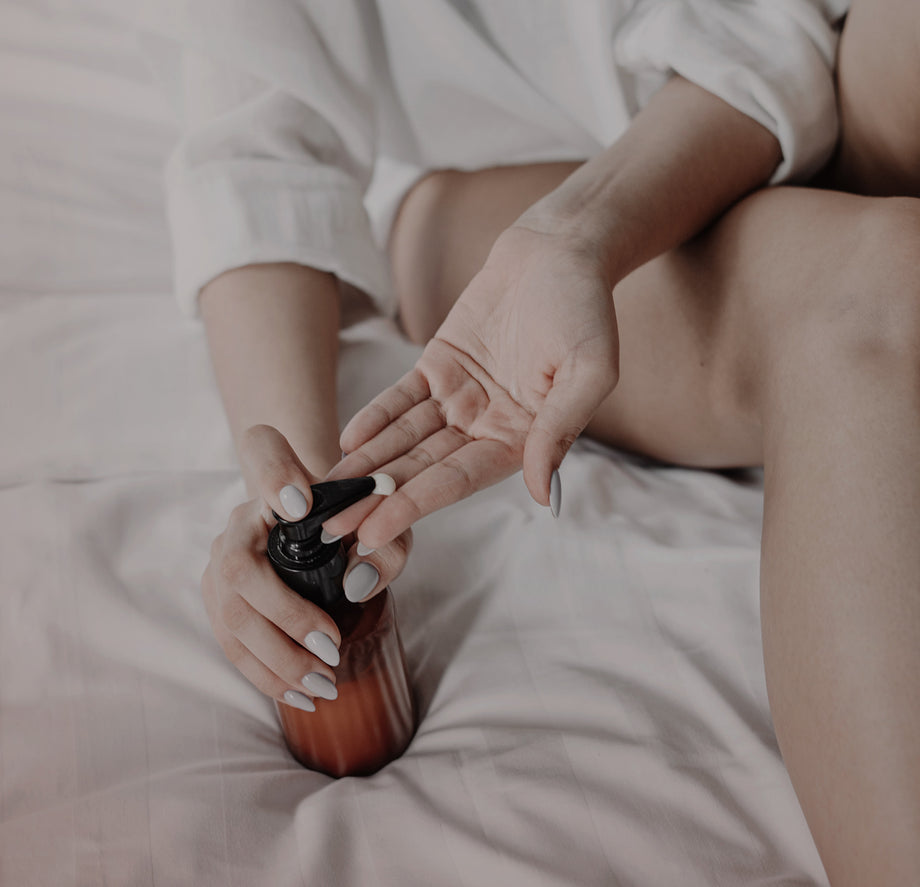 LOVED BY OUR COMMUNITY...
Yay! Sleep
"I have struggled with sleep over the years. Reishi Tonic has been a blessing. I am going through perimenopause early. This tonic has helped with my sleep quality. I have even started my husband on this. I purchase this product on going." Stacey N.
Finding Calm
"Another herb that should be in everyone's medicinal toolbox especially if suffering from anxiety disorders. I find it truly useful to aid my intense anxiety by calming my spirit when drunk as a warm tea during a panic attack." Deborah Dewar
Cannot live without Reishi
"How grateful I am to have discovered this incredible little adaptogen. It has transformed my life. Prior to taking SuperFeast reishi, I would suffer with anxiety on the daily. It was overwhelming and crippling. Every morning after my cup of hot water, I have a chai latte with reishi and SuperFeast tremella. And go about my day anxiety free, better able to deal with stress. Highly, highly recommend this wonderful product. I'm also breastfeeding, so Bub enjoys the amazing benefits too. Thanks Mason, Tahnee and the SuperFeast team for making my life so profoundly better" Hayley