Free shipping to AU and NZ on orders from $150.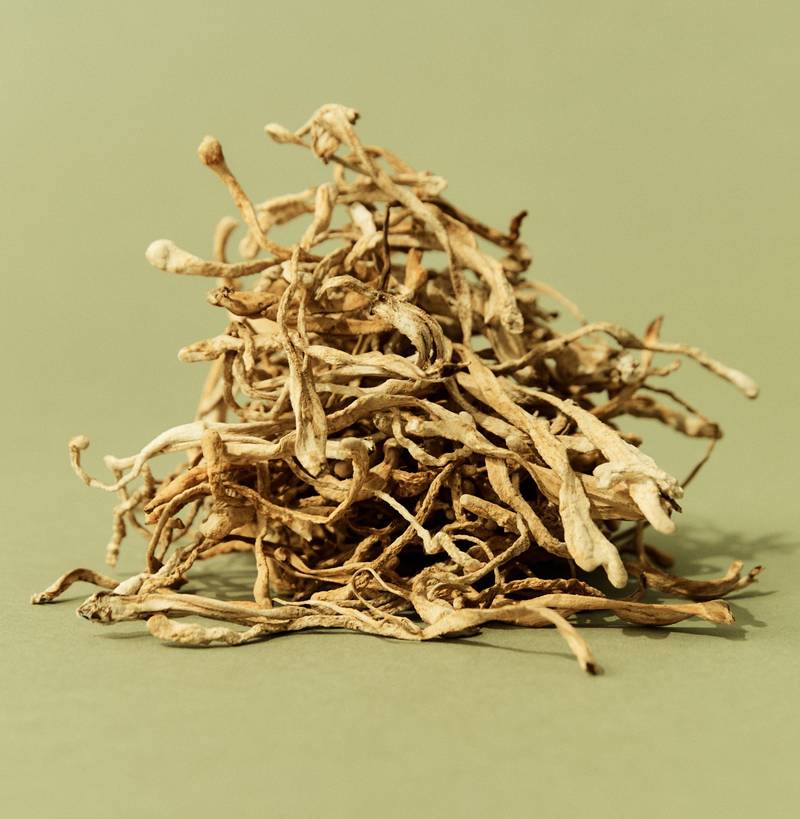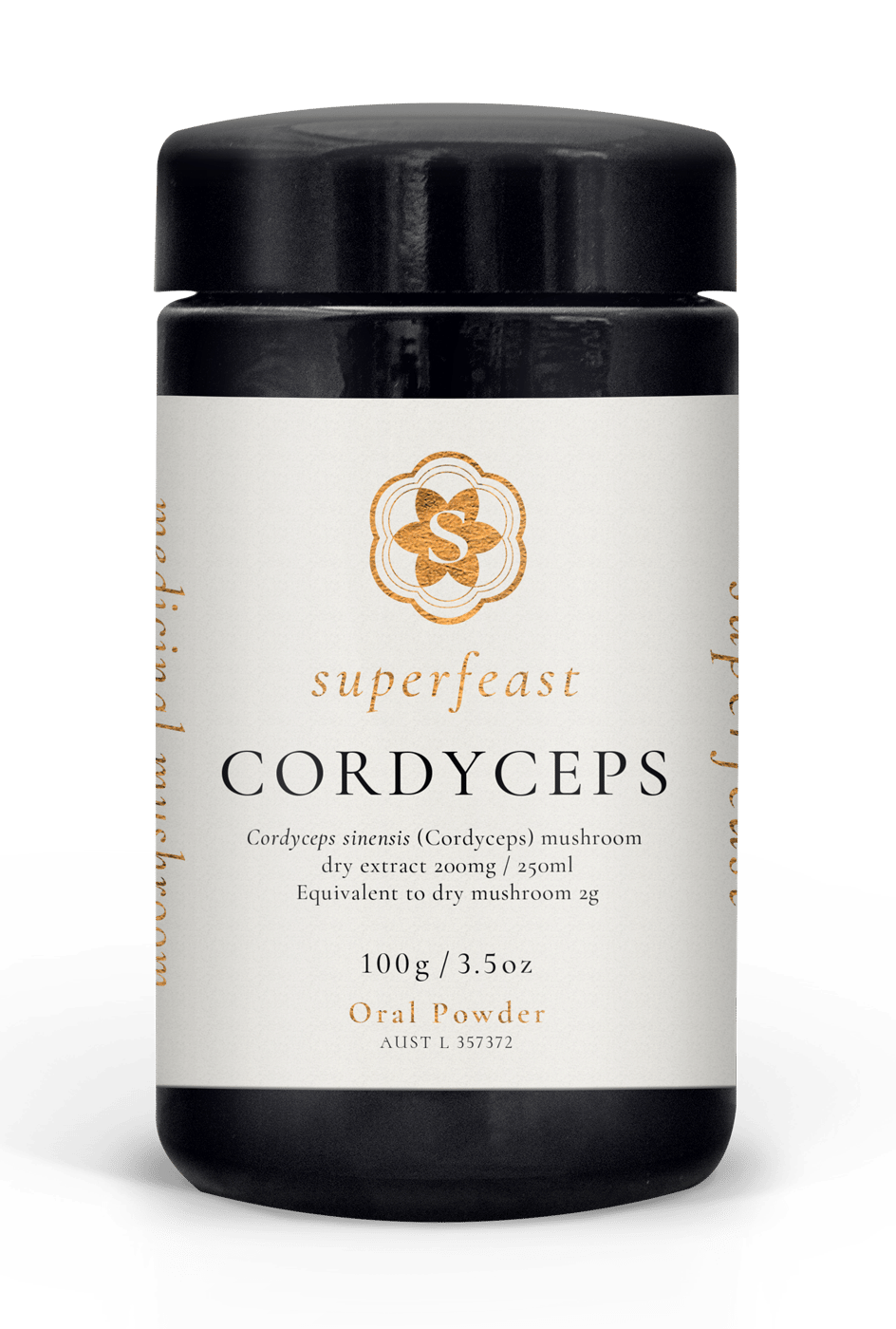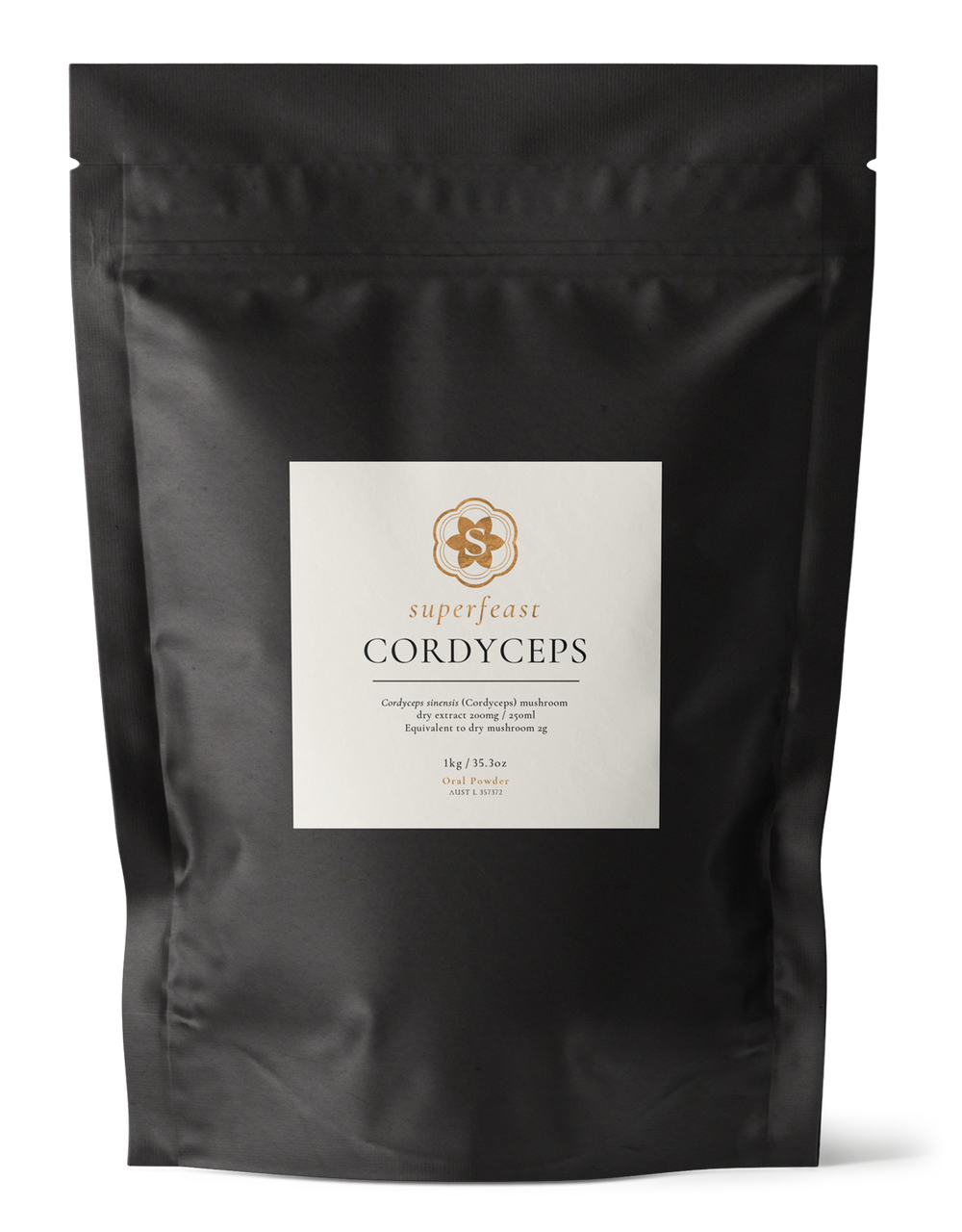 Di Dao
Vegan
Paleo
Gluten Free
Di Dao
Vegan
Paleo
Gluten Free
"Cordyceps is one of the most important lung tonics for me, I take it regularly and always feel the strength and power it brings to my Respiratory system. Much love to all at SuperFeast." Debra D.
Description
Cordyceps is traditionally used in Chinese medicine to tonify and strengthen the Lungs, nourish and fortify the Kidneys, and enhance general health and wellbeing.
Cordyceps is considered a life-enhancing herb as it nourishes both the Yin and Yang, and it is revered as an absolute superior herb in the Taoist Tonic Herbal tradition.
In the Taoist herbal tradition, cordyceps is also used to increase physical performance; we reduce our recovery time after exertion and cultivate an overall robust feeling in the body, mind, and spirit when using this mushroom. It's also an immunological powerhouse and a great herb to strengthen our capacity for the ultimate source of life and energy - the breath!
We love to use cordyceps to help combat coughs and phlegm; it's a great ally for preventing cold and flu and in the stages of recuperation (just avoid if you have an active fever - see Contraindications below).
Wild cordyceps (C. sinensis) are rare and expensive to source; wild cordy is also quite an extreme herb! Fully wild cordyceps consist of a blade-like mushroom body growing from the head of a caterpillar; yep, this fungus uses caterpillars as its host. We use a vegan cultivated form of Cs-4 cordyceps - see Sourcing below for full details.
Traditionally used in Traditional Chinese medicine to:
Enrich/nourish/tonify/fortify/strengthen Kidneys
Help enhance/promote general health and wellbeing
Tonify/nourish/strengthen/replenish Lungs
Sourcing:
SuperFeast Cordyceps is produced via a unique liquid fermentation process. Due to the prohibitive cost of wild cordyceps, the Chinese developed a cordyceps mycelium which they now grow in liquid fermentation tanks.
This pure mycelium product is known as Cs-4 and this is what we use at SuperFeast. We choose this style of cultivation as it is the closest in effects to wild cordyceps and can be grown in a liquid broth, rather than on grain, which taints the end product. Our grower has a unique and secret (vegan) broth recipe that makes our Cs-4 cordyceps stand out from the rest; try it and you'll see what we mean.
Contraindications:
Not to be used when experiencing an acute fever.
Store below 30°C.
Keep out of reach of children.
Packed in Australia from imported ingredients.
Talk to a TCM practitioner/health professional if you are unsure if this medicine is right for you.
Ingredients
AUST L 357372


Cordyceps sinensis
(Cordyceps CS-4)
from dry hyphae (mycelium) 2g
200mg / 250ml
10:1 extract powder
Delivery & Returns
Our products are packed in eco-conscious materials and shipped via, Australia Post or Aramex (depending on your location) from our Mullumbimby, NSW warehouse. For Express orders, we use StarTrack Premium.
For more information on shipping, refer to our Frequently Asked Questions page under 'Orders & Delivery'.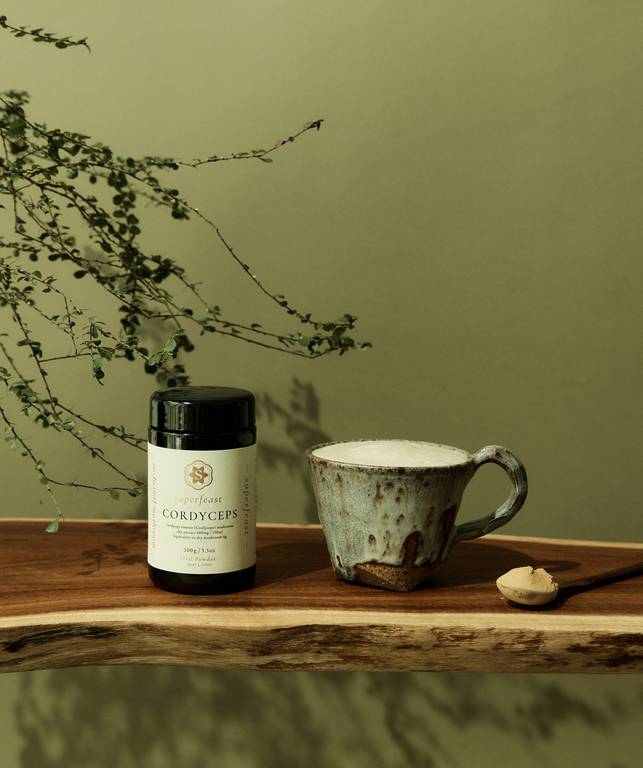 Health Benefits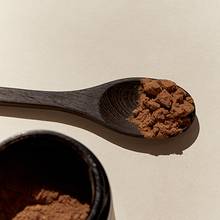 Stress
Energy
Fatigue
Hormones
Jing
Kidney
Lungs
Qi
Systems
In ancient Taoist medicine, tonic herbs and medicinal mushrooms were used to nourish and tonify specific systems within the body. These systems correlate with the natural elements, and their direct effect can be classified as either Major or Minor.

Major | Lung Metal | Kidney Water

Major | Spleen Earth

Treasures

When there is harmony between the body systems and elements, we cultivate the expression of health known as our Treasures.

Major | Yin and Yang Jing | Qi
Serving Suggestion
Adults, mix 200mg in 250ml warm water & drink immediately.
Equivalent to approx 1/4 tsp per day. Take three times a day.
Stir into hot water or plant milk for an instant tonic tea. Works well in hot or cold drinks, broths and meals.
Servings per size | 100g Jar = 93 | 250g Bag = 179 | 1kg Bag = 714
Our Process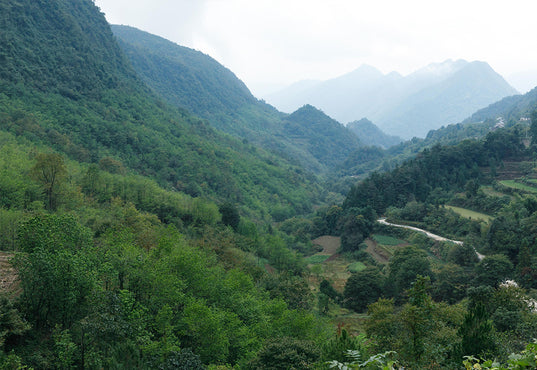 Sourcing
Sourcing herbs from their spiritual homeland is born from the Taoist philosophy, called Di Dao (地道). Di Dao poetically translates as the 'way of the Earth,' and shows us where to harvest herbs if we wish to experience the herb's true Spirit. From its 'original place' or 'spiritual homeland', a method that results in a product that is both full spectrum and medicinally robust.
The relationship that the herb's growth cycle has developed with the atmosphere, bacteria, insects, mycelium, tree networks and stars of its Di Dao location is something that has been observed and discovered over a very long time, and we feel it deserves acknowledgement, respect and conservation. 
Di Dao is the classification given to the highest quality herbs in China, and describes the core sourcing philosophy that we practice here at SuperFeast.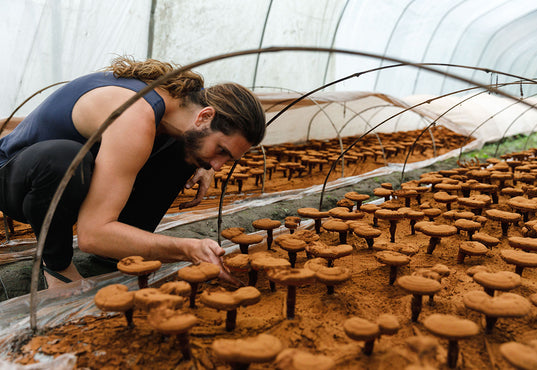 Extraction
SuperFeast herbs are expertly extracted by trained herbalists using unique and patented techniques, specific to the herb. These techniques are also ancient, as old as herbalism itself - water, organic rice alcohol, time and pressure create your extracts. Modern techniques like spray-drying help preserve the quality and integrity of the extracts. It's the best of ancient meets modern.
We don't follow a pharmaceutical model, we don't isolate, we don't standardise, herbs are treated uniquely.
We extract following the Hou Huo (火候) technique, the art of decocting / extracting a herb specifically through adjusted heat, menstruum & length of time. This term roughly translates to heat control; crucial moment; maturity. The practicing tonic herbalists, who use this technique while extracting your herbs, combine their expertise with the relationship they have with the ancient herbs & Taoist philosophy.
All leading to the superior herbal experience that those in our community know & love.Unless otherwise noted, all our products are 10:1 extracts.
See our FAQs and Blogs for more on our extraction processes.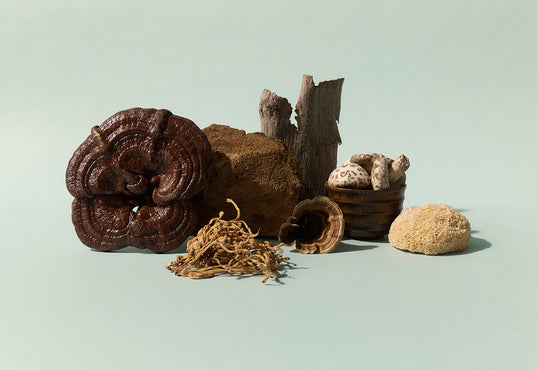 10:1 Extraction Ratio
This standard ratio of ours means we use 10 kilos of dry herb to create 1kg of extract powder. This is a traditionally-used extract ratio used in Classical Chinese Medicine. We like this ratio as it allows us to create a product which contains the maximum possible array of naturally occurring medicinal components in their innate and natural ratios. At this ratio there is little waste from what we extract, so we have a true full-spectrum powder without having to eliminate any of the unknown or lesser known compounds that are symbiotic to the herb's effects.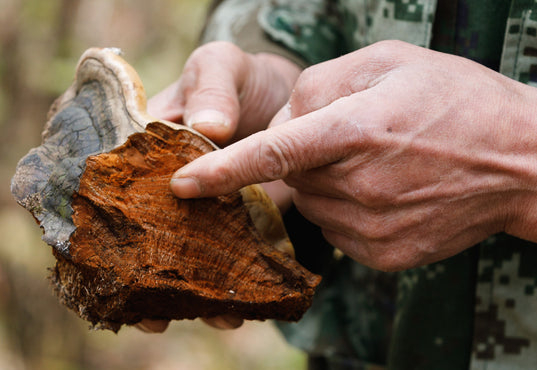 Full Spectrum vs. Standardisation
There is a tendency in Westernised herbal medicine to focus on isolating or increasing active ingredients in herbal products and drugs. Taoist (and traditional) herbalists focus instead on using only whole plants and natural extraction mediums and menstruums (solvents) like water (or tea, or broth) and alcohol/fat (tinctures, wines, oils, etc.) to extract every element possible from the herb. This intention comes from a desire to keep the herb completely unified where possible, and this is the same philosophy and method we apply to our SuperFeast products.
Each herb has hundreds, if not thousands, of bioactive compounds that contribute to the full scope of the herb's medicinal benefits, and it takes a lot of care to ensure as many of these are present in the extraction as possible. It is through these full-spectrum extractions in ancient times that Taoists were able to identify that these herbs were in fact tonic, and could aid us in cultivating vibrancy within our body and mind.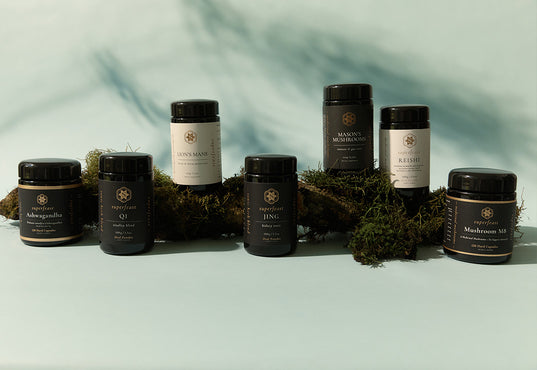 Storage Information
Remember you've bought the highest quality 100% pure herbal extract, there's no additives or starches added to absorb moisture. To keep your herbs super fresh and ready to rock, we advise keeping them stored in a cool dry space. Ideally your kitchen pantry. Always leave your desiccant (the little white pillow in your jar or bag) in there to absorb moisture.
If you, like us, live in a humid climate, we advise taking extra special care when storing your herbs. Bulk bags can be kept in the freezer in a sealed container. If keeping bags outside the freezer, just ensure you push the air out before sealing and they will stay fresh.
It is best to maintain a consistent herbal practice once the seal is removed, this will minimise the chance of your herbs hardening.
If you are in a humid area, and you only have a small amount of herb left on your jar, it is recommended to occasionally shake the jar to prevent clumping and setting.
NOTE: Capsule products are less fussy, though should still be kept dry and stored in a cool place to ensure longevity.
Our Process
Sourcing
Sourcing herbs from their spiritual homeland...
Extraction
SuperFeast herbs are expertly extracted by...
10:1 Extraction Ratio
This standard ratio of ours means...
Full Spectrum vs. Standardisation
There is a tendency in Westernised...
Storage Information
Remember you've bought the highest quality...
recipes
recipes
Cordy Na Na Smoothie
The perfect pre or post work-out smoothie packed with all the elements you need to heal your gut and cool yourself down. Full of healthy fats with the macadamia nuts plus your digestive system will love the soothing effects of mucilaginous marshmallow root. Your...
Read more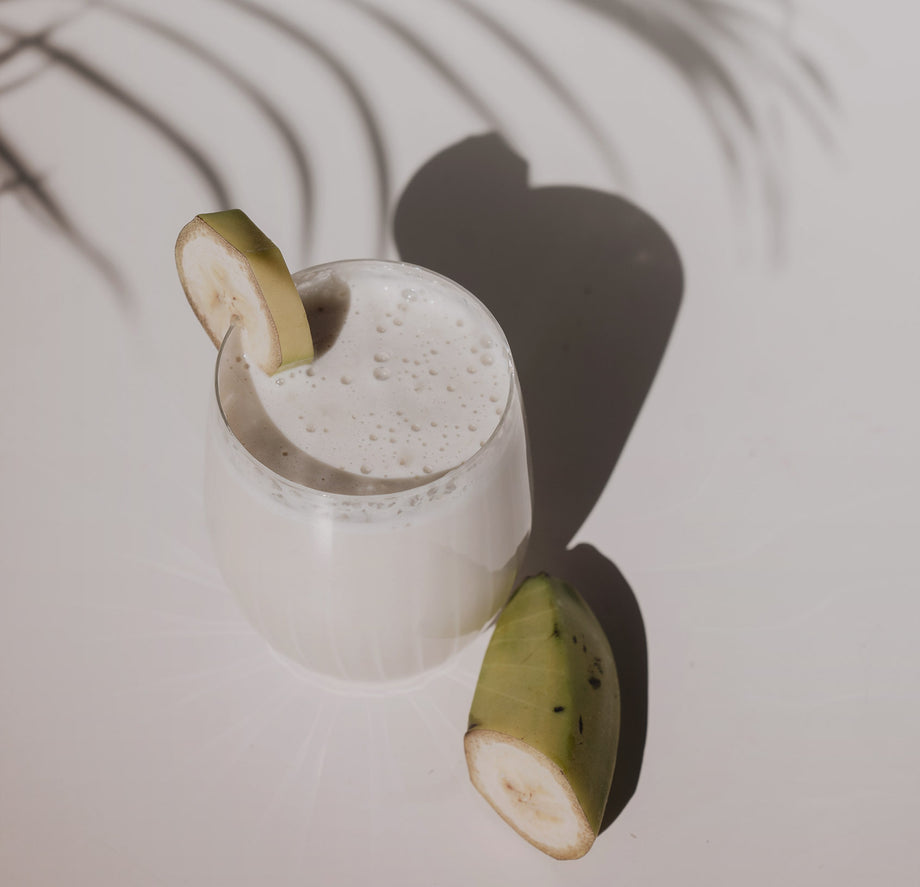 recipes
Nourishing Cordyceps Congee
Congee is medicinal and nourishing, the ultimate healing food. Rice is simple to digest, and the broth that it is cooked in, combined with the herbal accompaniments, pack a high nutritional punch for such a simple meal. We love adding...
Read more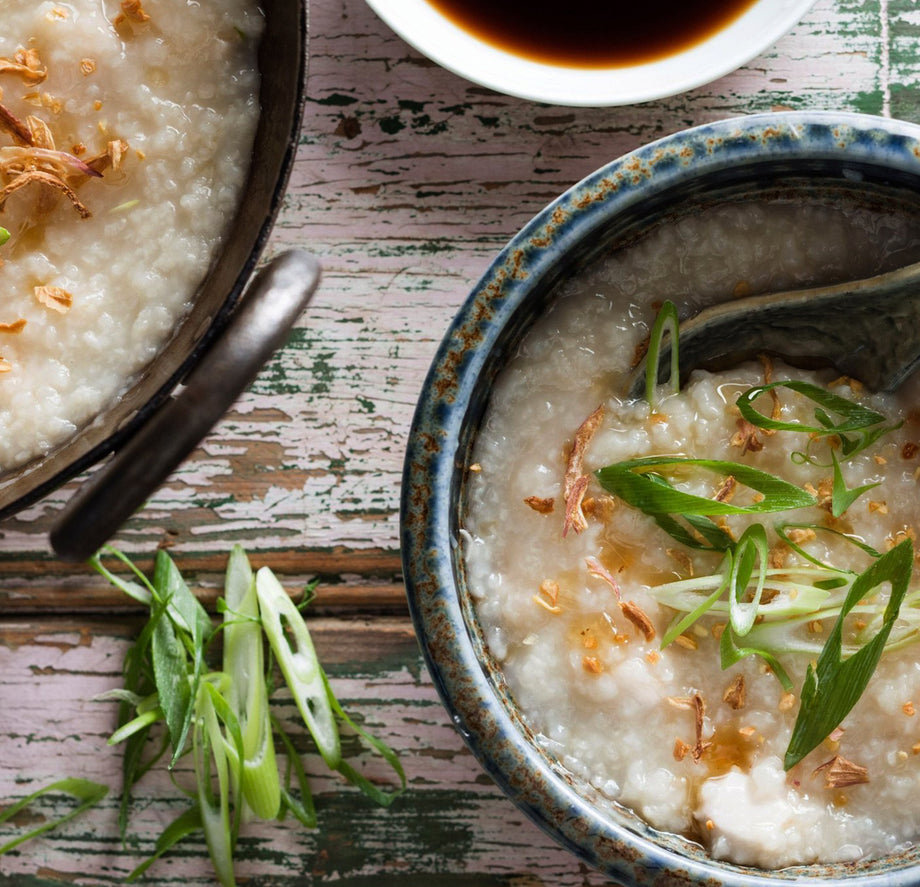 LOVED BY OUR COMMUNITY...
Beast mode on!
"Cordeyceps is an athletes dream! Stamina & endurance is next level, it's like an Insta-boost. LOVE it in a Early Grey tea, delish!" Michelle D.
I don't know how I lived without this!
"My energy levels are up, my vibrational set point has been rising steadily and my ability to cope with stress has improved ten fold. I WILL NEVER STOP TAKING THIS! Thank you so much to the SuperFeast team for their amazing products!" Tel B.
Amazing shrooms...
"Absolutely loving incorporating cordyceps into my daily routine! I use this (plus Lion's Mane) mixed into a shot of coffee as a pre-workout before hitting the gym and OMG it works wonders! Energy, stamina and focus are 100%, no jitters. Keeps me going throughout the day too." Sarah L.