FREE Standard Shipping on all orders, December 7th-18th! T's & Cs Apply
FREE Shipping on all orders, December 7th-18th! T&Cs Apply
Summer Salad of nectarine and goats curd
Level:
Easy
Time:
10 mins
Serves:
2
Light, refreshing and full of flavour, this beautifying salad is the taste of Summer.
Description
This sweet and refreshing salad of nectarine, heirloom tomatoes, yellow beans, oregano, goats curd and beauty blend is perfect those balmy Summer evenings. Inspired by ancient Daoist tonic herbal wisdom, the Beauty Blend brings vitality to skin, hair, nails, and fascia. This salad will nourish the body from the inside out.
Ingredients
Core Ingredients
Other Ingredients
1 Nectarine, removed from stone and cut irregularly

3 heirloom tomatoes, skin on, core out and cut however you would like

Generous handful of yellow beans with bottoms off

Sprig or two of fresh oregano leaves

2 heaped tsp of goats curd

1 Tbsp olive oil

2 tsp reserve sherry vinegar or apple cider vinegar
Method
Step 1
Blanch the yellow beans in boiling salted water until tender (about a minute or so) and then immerse in iced water to stop them overcooking.
Step 2
Drain the beans and place in a mixing bowl with the cut up nectarine and heirloom tomatoes, some of the oregano leaves and toss with the olive oil, sherry vinegar, salt and pepper to taste. You can do this in advance to let the fruits macerate and get to know each other - you'll end up with a better result.
Step 3
Mix the Beauty Blend into the goats curd and slather across the base of a serving dish using the back of a spoon. You want this to be a bed that collects all the juices from the delicious salad.
Step 4
Place the macerated salad atop the goats cheese. Finish with extra pepper and some more oregano leaves. Enjoy.
Featured in this recipe
Detoxification
Glowing Complexion
Hormonal Health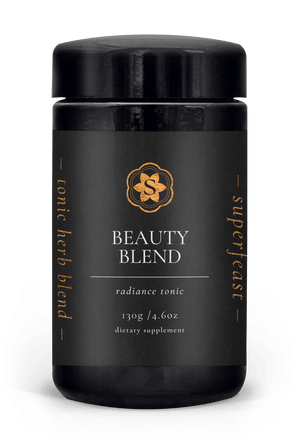 Next Recipe
A Classic Vinaigrette
This simple beautifying vinaigrette is a staple for fresh and herbaceous salads. Beauty Blend is a superior liver-loving formula, enhancing the ability of the Liver system to cleanse the Blood, increasing the body's capacity to eliminate toxins, and cultivating vibrancy and lightness. Recommended...
Read more