Free shipping to AU and NZ on orders from $150.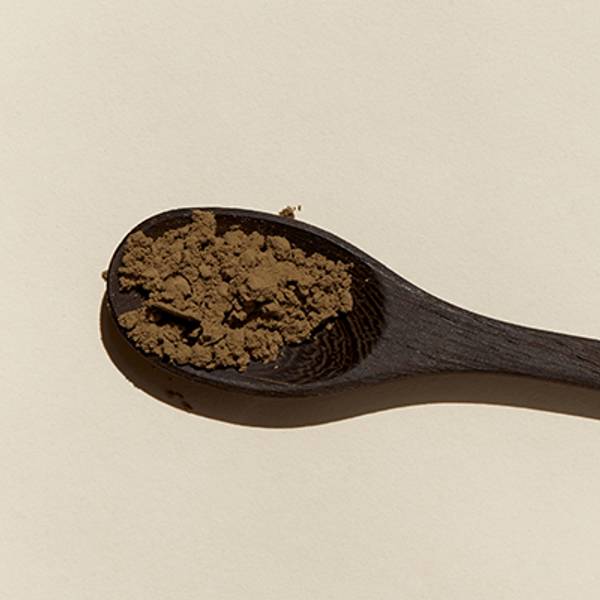 Description
Ashwagandha has been treasured for its ability to revitalise and rejuvenate for more than six thousand years; this Indian root strikes a delicate balance between strengthening and fortifying the body while bringing a calm, parasympathetic embodiment.

This potent herb is still a staple within the Ayurvedic system and by the general population as a tonic of India; it is considered one of the most important herbs in the tradition.

Ashwagandha is used in Ayurvedic medicine to promote healthy sleep patterns, support reproductive hormones and foster a healthy stress response in the body. As a Rasayana, ashwagandha is given to children (in milk) to support healthy development and the elderly as it helps to promote ease, calms the mind, and supports healthy ageing.

Ashwagandha's botanical name, Withania somnifera, provides a bit of a clue to its powers; the species name somnifera means 'sleep-inducing'. The Hindi name ashwagandha is derived from the word 'ashva', referring to the horse sweat-like smell of the root! This translates to granting the strength of a horse to those that use ashwagandha.

Ashwagandha holds a similar place in the Ayurvedic pharmacopoeia as ginseng does in the Traditional Chinese healing system, however, it has a softer energy.

Traditionally used in Ayurvedic medicine to:
Maintain/Support healthy reproductive hormones
Enhance/promote/increase healthy sleep patterns
Support healthy stress response in the body

Ingredients
AUST L 367872

Withania somnifera (Ashwagandha root)Equivalent to dry root 1.7ga170mg/250ml

10:1 extract powder
Sourcing
All herbs in this formula are sourced Dì Dào from herb-producing regions of China. Sourcing herbs from their spiritual homeland is born from the Taoist philosophy Dì Dào. Dì Dào poetically translates as 'the way of the Earth', and shows us where to harvest herbs if we wish to experience the herb's true Spirit. From its 'original place' or 'spiritual homeland', a method that results in a product that is both full spectrum and medicinally robust. 
SuperFeast Ashwagandha is a water extract, sourced Dì Dào in Northern India. We are very proud of the potency of our ashwagandha.
Contraindications
Not for use in pregnancy except under the supervision of a qualified healthcare practitioner. In Ayurvedic medicine, ashwagandha is traditionally used to promote lactation (Kapoor, 1990), though it is best to check with your healthcare provider to ensure there are no contraindications in your unique case. It is not recommended to consume ashwagandha if you are hyperthyroid, unless under the supervision of a practitioner.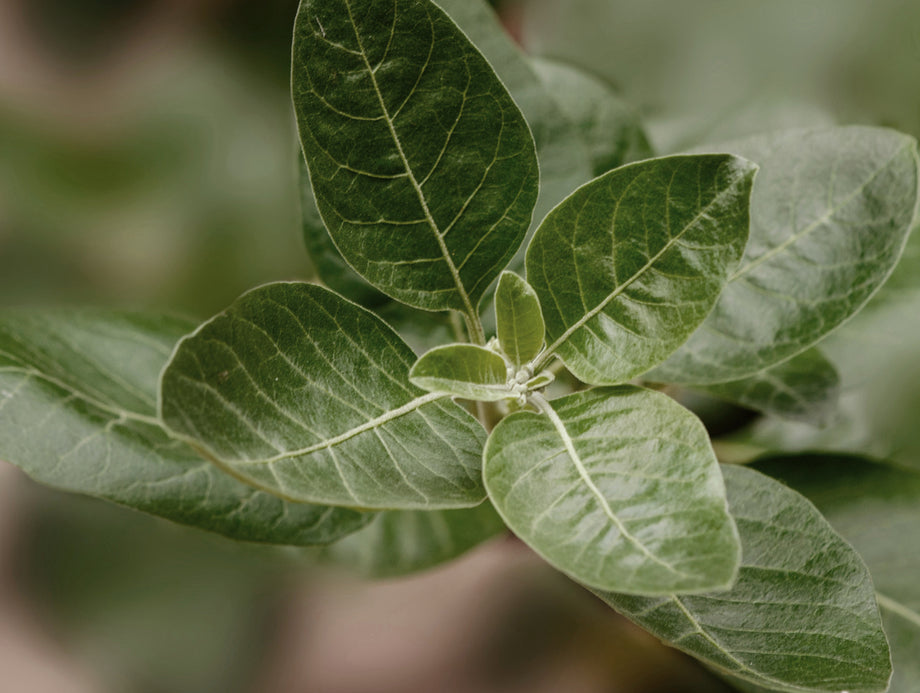 Ashwagandha, Adaptogens and Stress 
Stress is a daily occurrence and can be both positive and negative in its effects. Certain experiences require some stress for us to succeed and feel in control, however, issues arise when the body is not able to find equilibrium and come back to a state of 'rest and digest', this is when chronic stress emerges. 
In our Western lives, we downplay or are simply unaware of how everyday situations are stressful to our bodies and when these stressors are not met with a resilient and adaptable nervous system, they can begin to take a toll on our physical, mental and emotional wellbeing. 
There are a few mechanisms through which ashwagandha may promote a down-regulation of the nervous system, and a heightened ability to adapt to stressful experiences in our day-to-day lives. It is understood that some of the active constituents within the herb are able to modulate GABA neurotransmission (GABA is an inhibitory neurotransmitter, which essentially means that it works to block or inhibit activity in the nervous system, producing a calming effect). 
Adaptogenic in nature, Ashwagandha has been shown to support the modulation of the hypothalamic-pituitary-adrenal (HPA) axis. The HPA axis is a complex fusing of the central nervous system and the endocrine system that involves the hypothalamus, the pituitary gland, and the adrenal glands. This foundational support improves the body's ability to adapt to stress, working to counteract the effects of stress on the body. 
Through a herbal medicine lens, Ashwagandha is also considered a 'nervine', used to calm the central nervous system, allowing it to drop into a parasympathetic state, which leads to a deep restoration of the entire system.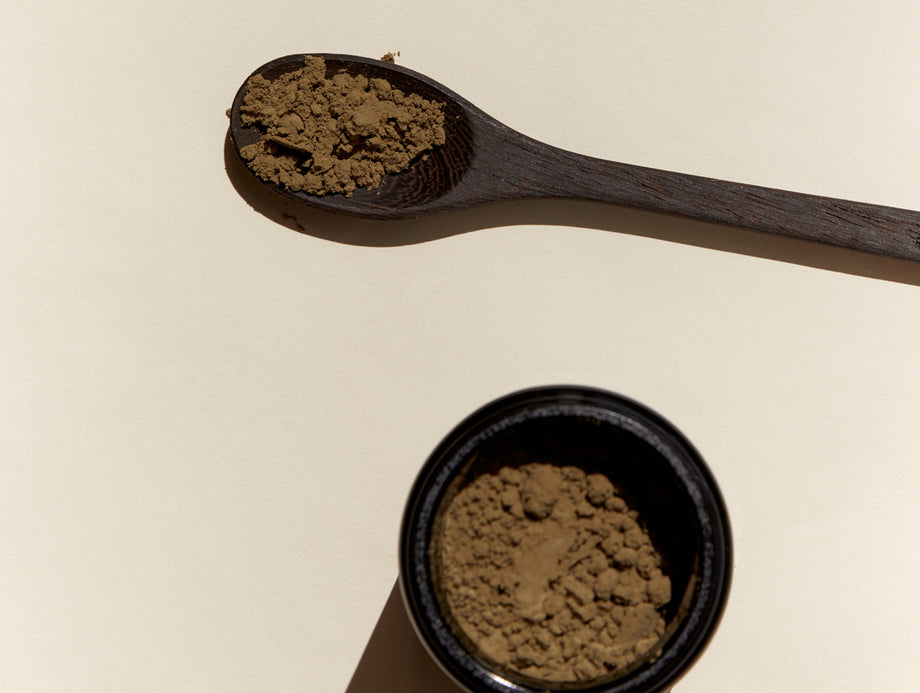 Tonification
In ancient Taoist medicine, tonic herbs and medicinal mushrooms were used to nourish and tonify specific systems within the body. These systems correlate with the natural elements, and their direct effect can be classified as either Major or Minor.
Major: Kidney Water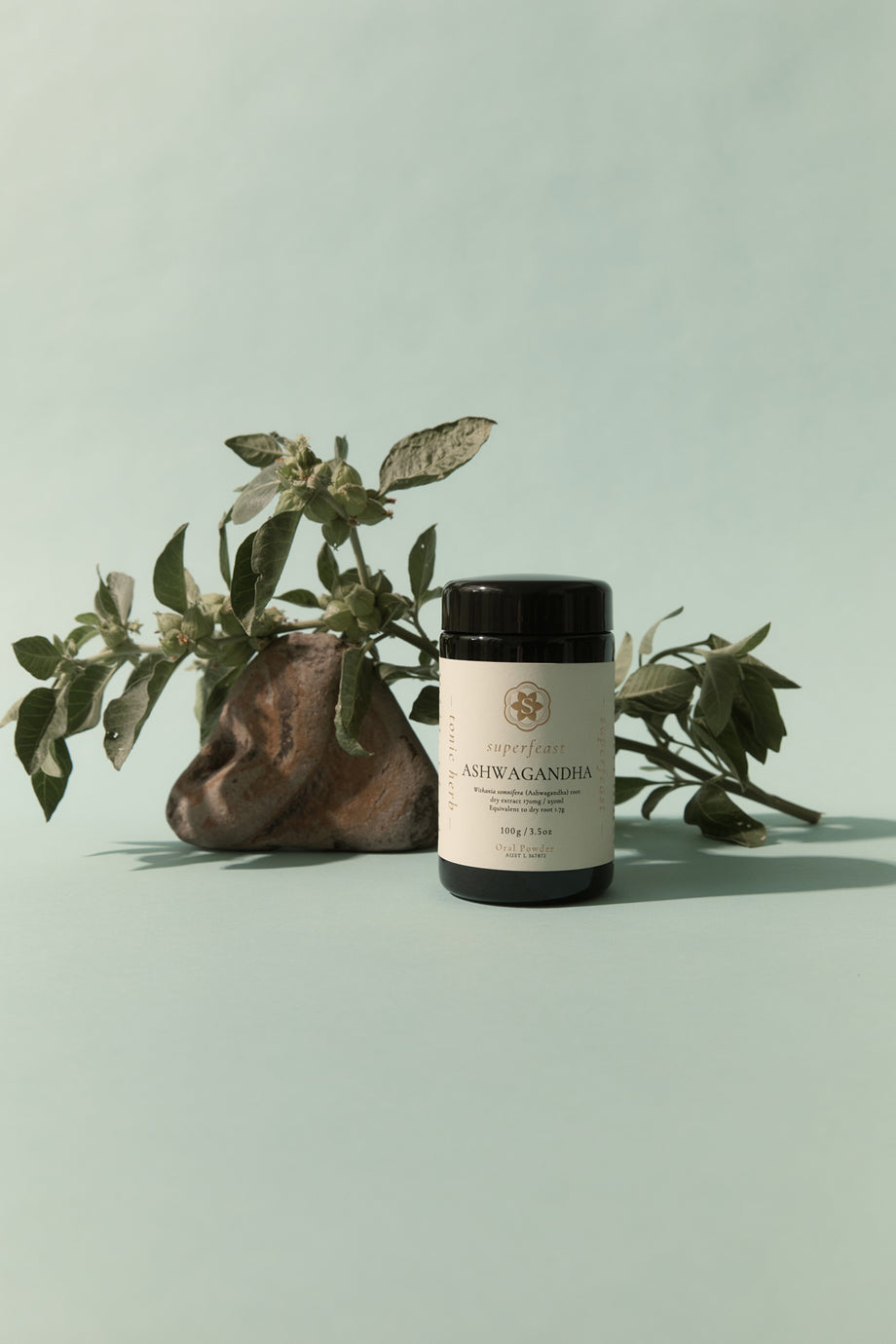 Treasures
When there is harmony between the body systems and elements, we cultivate the expression of health known as our Treasures. 
Major: Yang Jing/Blood
Serving Suggestion
Time of day
Whatever feels best for you!

You can enjoy Ashwagandhaany time throughout your day, we particularly love it in the evening to support deep, restful sleep.
Dosage
Generally, we recommend taking the herbs daily in small doses, to begin with. This allows you to develop an understanding and acknowledgment of how the herbs are unfolding their medicinal magic for you. Follow the dosage instructions on the package, or start with 1/8 - 1/2 teaspoon per day, adjusting the dose if you feel it necessary within your unique body system.
Doses can be taken as high as two teaspoons per day, however, most people find their sweet spot with 1/2 to one teaspoon per product, per day. We call this sweet spot your "lifestyle dose". We don't recommend taking more than two tablespoons of herbs a day. These extracts are potent, and you want to take care not to overload the body with too much of a good thing.
recipes
recipes
Sleepy Ashwagandha Milk
Ashwagandha, the King of the Herbs in India, is a wonderful herb for both males and females to rejuvenate the sexual functioning and modulate cholesterol levels. While this adaptogen has a rejuvenating effect, it actually is known as a stress...
Read more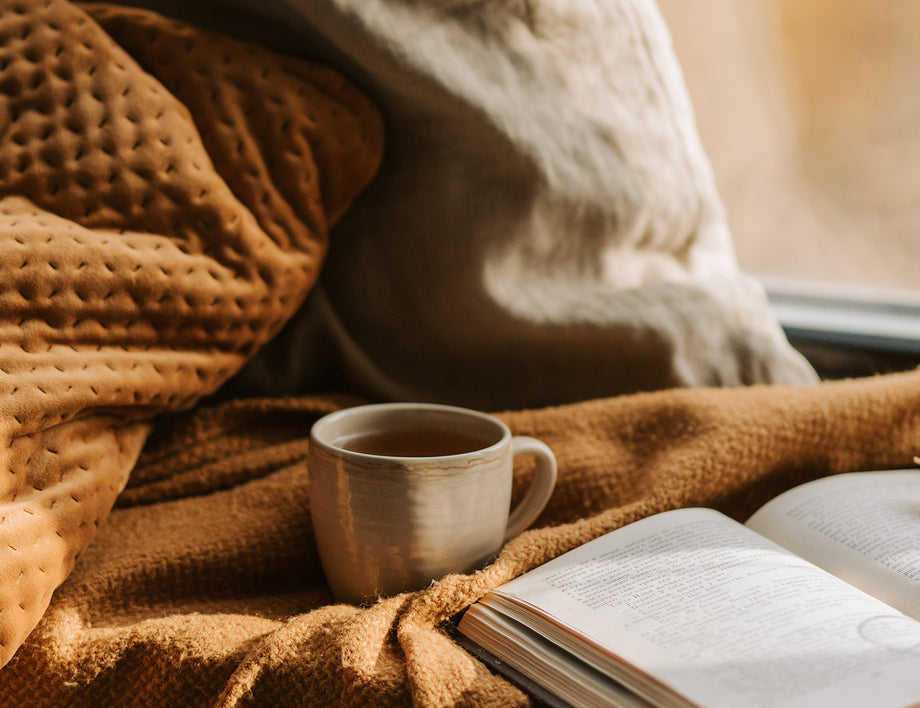 recipes
Adaptogenic Ashwagandha Curry
It's that time of year in the southern hemisphere, where the chill factor is getting high. This is a perfect, warming and very nourishing recipe with plenty of anti-inflammatory and punchy spices and herbs. Not to mention, this recipe trojan...
Read more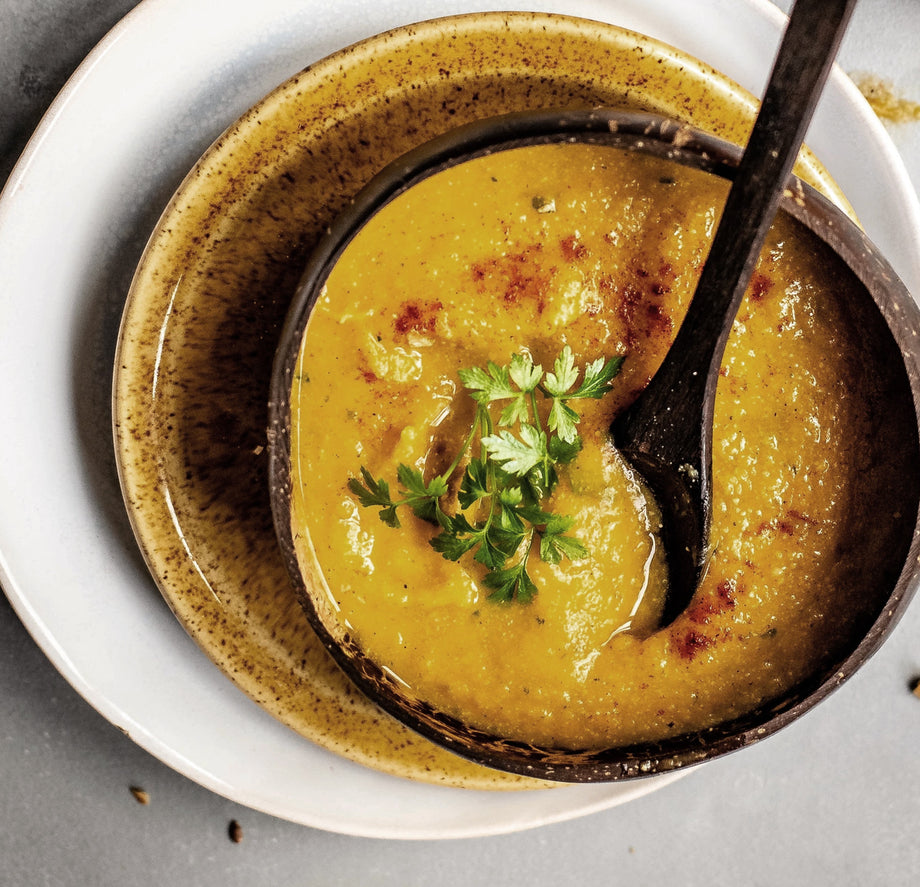 Frequently Asked Questions
Can I take Ashwagandha whilst pregnant?
Tonic herbs are generally warming, building, and nourishing. In the context of health optimisation and the Taoist tradition, tonic herbs are not directly used to treat individual symptoms, but instead to create harmony and strength within the system as a whole.
In this regard, we generally only recommend our Reishi and Eucommia Bark during pregnancy as there is quite a lot of empirical use of these herbs in pregnancy in Traditional Chinese Medicine and Taoist Tonic Herbalism. 
To learn more about the tonic herbs best to take during pregnancy, read this article
As pregnancy is a very individual journey, we recommend checking in with your healthcare provider when starting on any new herbs or supplements as they will have a more comprehensive scope of your medical history. 
Can I take Ashwagandha while breastfeeding?
Ashwagandha has been traditionally used in the Ayurvedic medical system to support women whilst breastfeeding, however, it is always best to check in with your healthcare provider before starting anything new at this time, as they will have a wider scope of your health history and be able to offer you more individualised assistance in regards to what is suitable for your unique body system.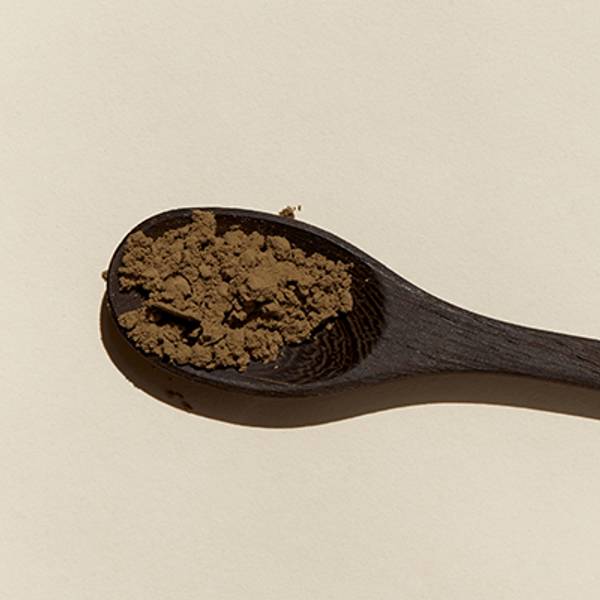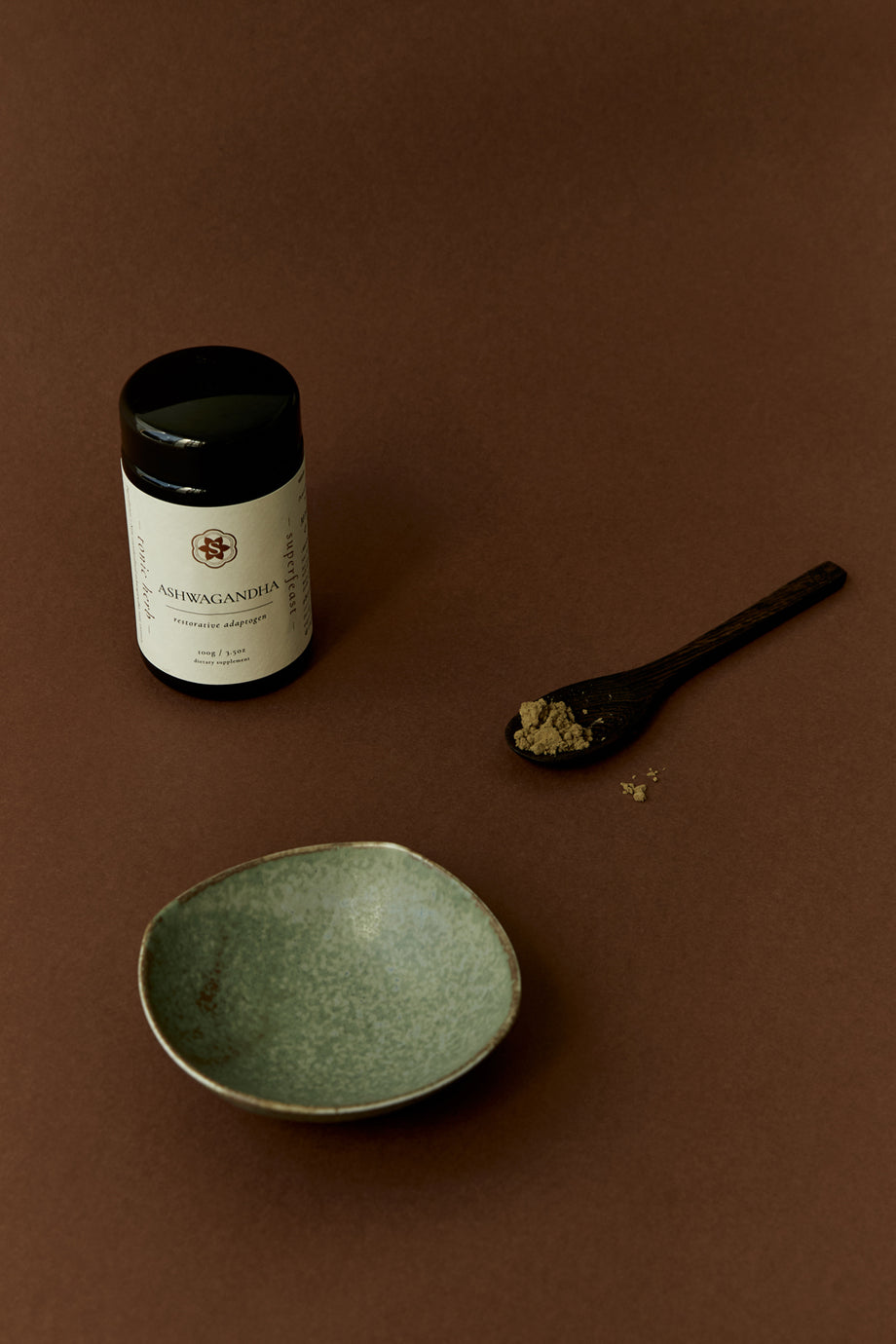 The Amazing Benefits of the Adaptogen, Ashwagandha
Read about how Ashwagandha is a potent herb that has been used for millennia as a staple within the Ayurvedic system and by the general population as a tonic of India.
Read Article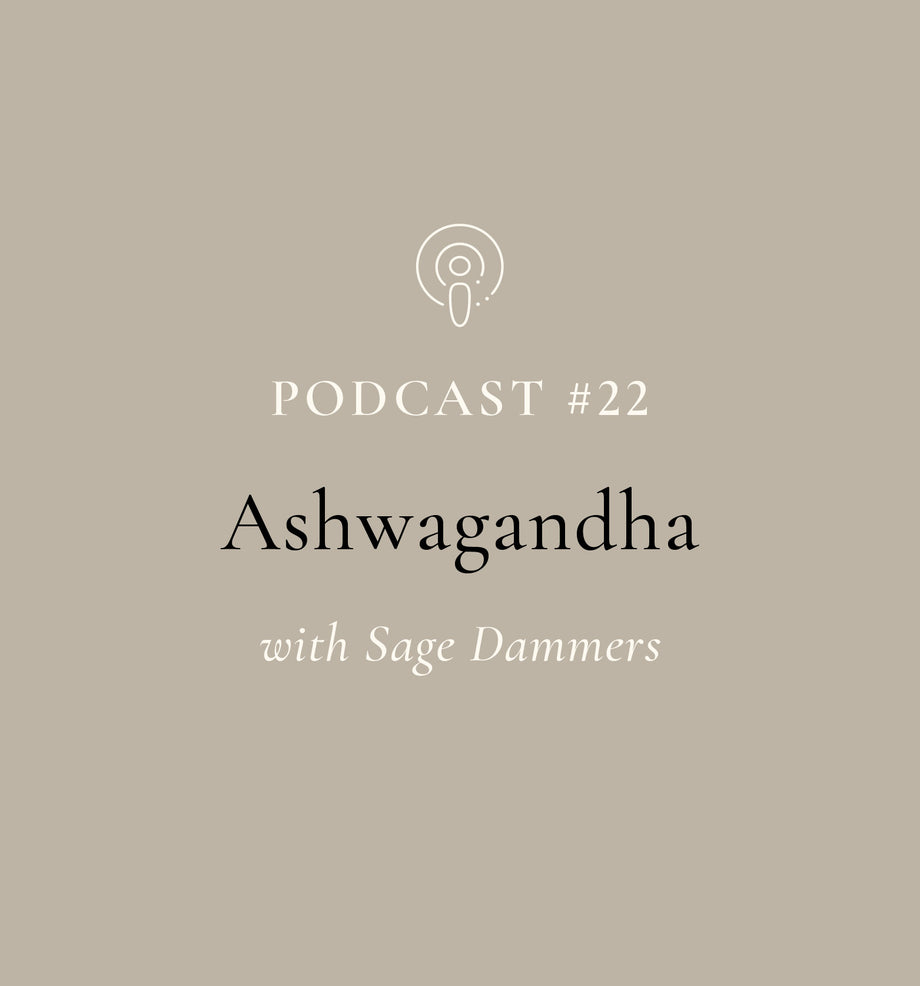 Ashwagandha with Sage Dammers (EP#22)
The countless benefits of this calming adaptogen range from dialing down the stress response, nourishing the nervous system, balancing hormones and providing reproductive system support.
Listen Now