FREE Standard Shipping December- 7TH-18TH - T's & C's Apply
Digestive Health
Energy & Vitality
Healthy Stress Response
Bestseller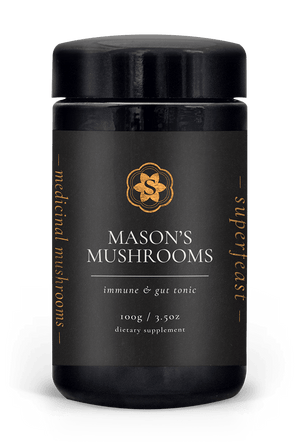 Medicinal mushrooms are intelligent immune boosters, gut healers, stress busters & hormone balancers. We invite you to welcome these potent herbs into your life.
Description
Mason's Mushrooms is a super-blend of the world's favourite medicinal mushrooms in a single product, hand-picked to support immunity, gut health, hormonal function, and the nervous system.

These eight mushrooms were some of the most revered and cherished by the traditional healers the world over, especially the Taoists.

Mason's Mushrooms is an immunological powerhouse and supports the body to return to harmony through normalising the nervous and hormonal systems as well as regulating the Qi of all major organs. This blend is both the perfect starting point for someone wanting to begin their journey towards radiant health, or for the well versed herbalist to maintain their daily dose of medicinal mushrooms.
The full benefits of mushrooms (immunity, gut health, general wellbeing) just keep getting better over time; this blend shows us why the Taoists considered mushrooms the 'great protectors' of the herbal kingdom.' Medicinal mushrooms typically work to strengthen the Spleen and Lung channels; this blend also works on the Liver, Kidney, and Heart channels making it a full-power formula to bring overall harmony and vitality to the body.
Ingredients
Inonotus obliquus (Chaga mushroom*) from dry sclerotia
Ganoderma lucidum (Reishi mushroom*) from dry fruiting body
Hericium erinaceus (Lion's mane mushroom) from dry fruiting body
Cordyceps sinensis (Cultivated CS-4 mycelium) from dry hyphae
Agaricus blazei (Agaricus mushroom) from dry fruiting body
Lentinula edodes (Shiitake mushroom) from dry fruiting body
Wolfiporia cocos (Poria mushroom) from dry fruiting body
Grifola frondosa (Maitake mushroom) from dry fruiting body
10:1 extract powders *dual extract.
Sourcing
Each mushroom is carefully sourced from traditional herb-producing regions of China and always grown on wood, with the exception of our CS-4 Cordyceps which is produced via liquid fermentation. Sourcing herbs from their spiritual homeland is born from the Taoist philosophy, called Di Dao (地道). Di Dao poetically translates as the 'way of the Earth,' and shows us where to harvest herbs if we wish to experience the herb's true Spirit. From its 'original place' or 'spiritual homeland', a method that results in a product that is both full spectrum and medicinally robust.
Contraindications
Not suitable for those with culinary mushroom allergies. If you are on blood thinners or blood pressure medication, please check with your prescribing doctor if a medicinal mushroom formulation is appropriate for you. Talk to a TCM practitioner / health professional if you are unsure if this medicine is right for you. If symptoms persist, talk to your health professional.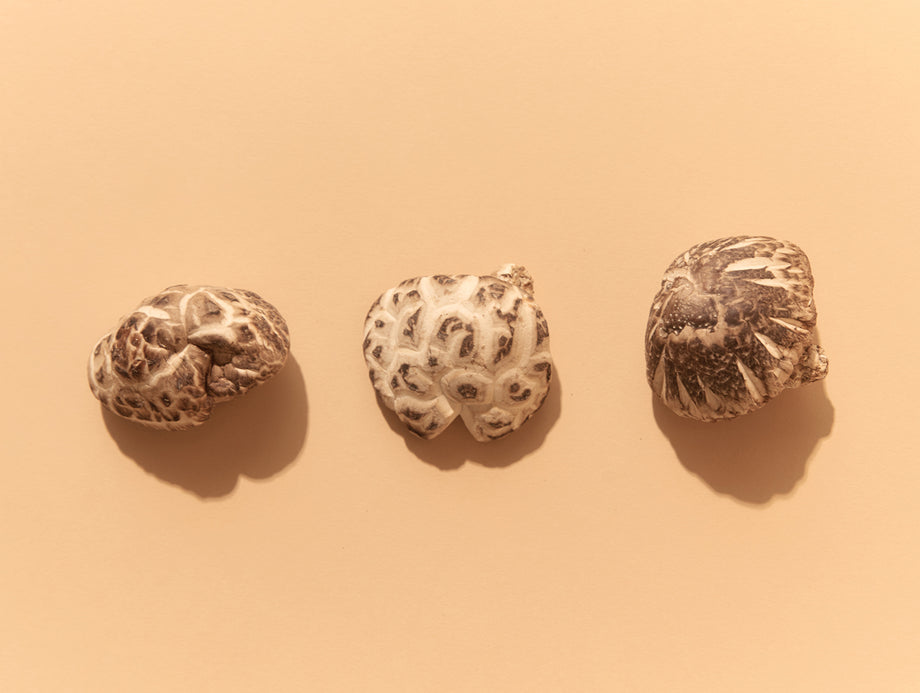 Immunity
Revered for thousands of years, medicinal mushrooms have the power to support immune function and increase our defences against viral, bacterial, fungal, and parasitic infections. The polysaccharide compounds contained in medicinal mushrooms bind to specific immune cell receptor sites in the body that increase T-Cell, NK Cell, Macrophage, and Neutrophil activity (the cells required for immune function).
Through a Taoist lens, the body's first line of defence or surface immunity is referred to as our Wei Qi. Think of it as an innate armour or protective barrier that resides on the surface of your body. Protecting us against external invasion, Wei Qi is Yang in nature, and circulates on the surface between the skin and muscles and works to warm the body, supplying the skin with the energy to defend the body against any climatic or pathogenic forces (viruses and bacteria) that would otherwise penetrate the skin and cause disharmony. In general, Qi and Lung tonics can be used to strengthen our Wei Qi, which is where medicinal mushrooms can be utilised for their Qi tonifying abilities.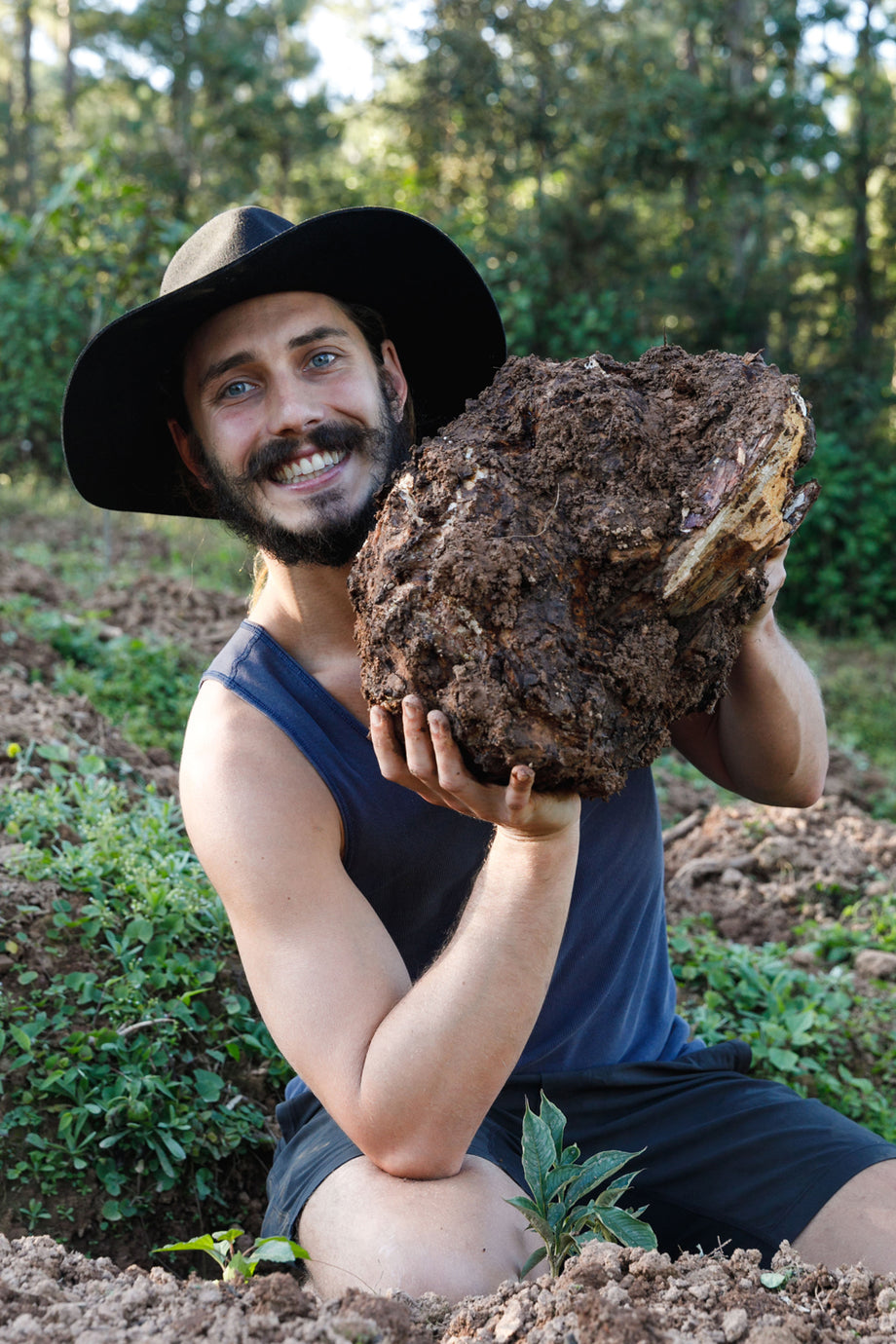 Energy, Vitality & Healthy Stress Response
Through a Taoist lens, medicinal mushrooms are classed as superior tonic herbs, and the Western translation of this is as an adaptogenic herb. Adaptogens enhance the body's ability to respond to stress and work to restore homeostasis within the body. The many forms of stress, whether physical, emotional, environmental, or energetic can lead to energy depletion (and the leaking of our Jing Essence). The modulation of specific stress hormones such as cortisol can further ensure that the nervous and endocrine systems with particular focus on the adrenal glands, don't become overly taxed as they attempt to counteract the dysregulation that can occur from prolonged stress within the body. 
One medicinal mushroom in particular, Cordyceps, has been revered for its energy producing and rejuvenating properties, more specifically after times of physical exertion and fatigue. It does this by supporting mitochondrial health and function, which in turn supports the production of the molecule ATP (adenosine triphosphate), which in simpler terms is the body's main energy supply. Therefore, the health of our mitochondria and specifically the production of ATP is vital to cultivating consistent energy and vitality.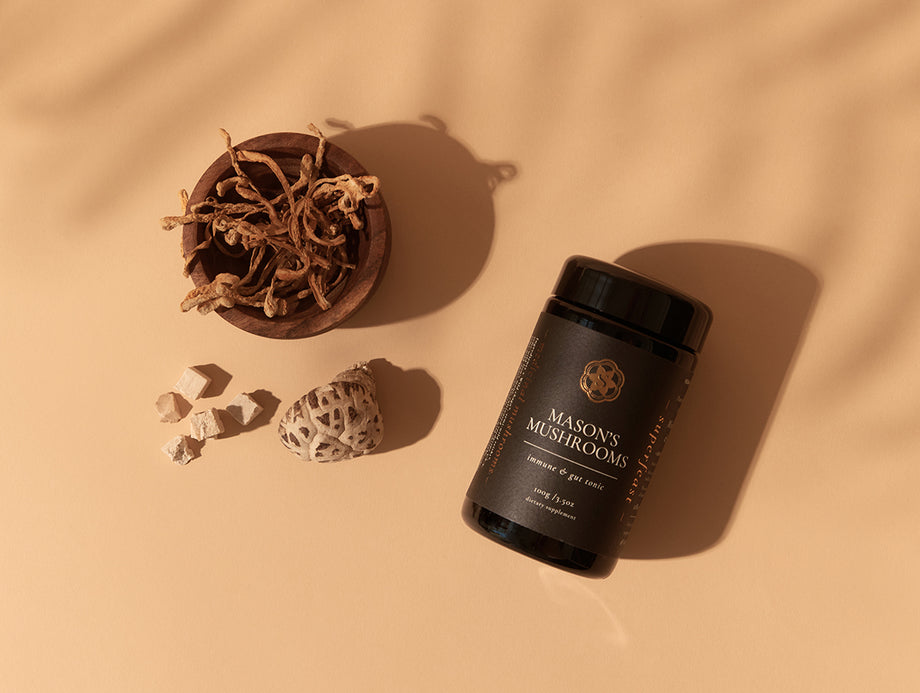 Digestive Health
The integrity of our gastrointestinal tract and the health of our microbiome are both integral to the harmonisation and function of multiple systems within the body. This innately intelligent, adaptive and complex ecosystem serves as the foundational focus in treating and preventing a wide variety of conditions and diseases ranging from immunological, nervous system, inflammatory and endocrine dysregulation.


There are very primordial immune receptors within the gastrointestinal tissue that specifically recognise the beta-glucan content of medicinal mushrooms, with their unique higher molecular weight. These polysaccharides are unable to be digested and broken down by our digestive enzymes, and thus, act as prebiotics to the bacteria that exist within our microbiome. From here a very complex activation of the immune system occurs including stimulation and activation of often atrophied aspects of the immune system, keeping in mind that up to 75% of the immune system is housed in our gut. 


This activation manifests itself in multiple ways, firstly the prebiotic action of the mushroom feeds the beneficial bacteria within the gut, enhancing nutrient absorption and assimilation. This also encourages the eradication of opportunistic bacteria, which when there is an overgrowth, can result in disharmony within the gut (such as Candida).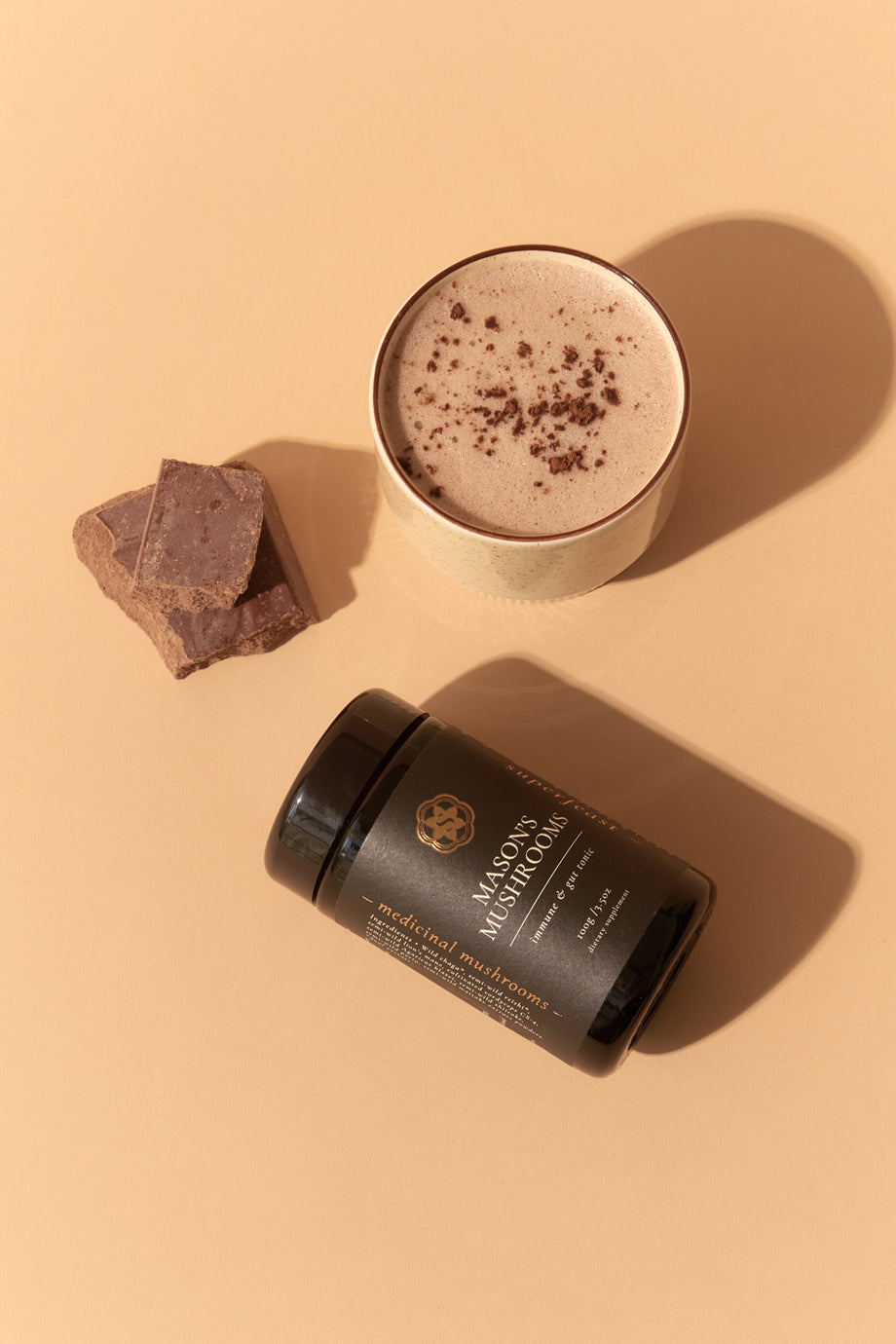 Hormonal Health
Hormones are compounds that affect every cell and system in the body, they are produced by various glands and organs and exert their effects across multiple systems including the endocrine, nervous and reproductive systems.
When we think of hormones, most people think of the sex hormones, specifically estrogen, progesterone and testosterone. They are of course crucial to the harmony of the reproductive system but are also required for sleep, energy levels, skin and digestive health and much more. This perspective can be reversed, in that many systems and organs of the body need to be functioning optimally to ensure harmonious hormonal balance.
Medicinal mushrooms can nourish and tonify the Liver, ensuring optimal hormonal detoxification, adaptogenic in nature they can bring regulation to the nervous system and adrenal glands, they support blood sugar regulation and insulin sensitivity and help to reduce inflammation, all of which when out of balance can greatly affect hormonal health.
Serving Suggestion
Time of day
Allow the Mason's Mushrooms to bring vibrancy and energy to your favourite hot tonic or morning coffee, or enjoy it as an afternoon pick me up. We love it mixed into a black tea with milk and honey, in our hot chocolates or on its own with hot water, in a broth or a meal.
Frequency
Generally, we recommend taking the herbs daily in small doses, to begin with. This allows you to develop an understanding and acknowledgment of how the herbs are unfolding their medicinal magic for you. Follow the dosage instructions on the package, or start with 1/8 - 1/2 teaspoon per day, adjusting the dose if you feel it necessary within your unique body system.

Dosage
Doses can be taken as high as two teaspoons per day, however, most people find their sweet spot with 1/2 to one teaspoon per product, per day. We call this sweet spot your "lifestyle dose". We don't recommend taking more than two tablespoons of herbs a day. These extracts are potent, and you want to take care not to overload the body with too much of a good thing.
Frequently Asked Questions
Can I take Mason's Mushroom whilst pregnant?
Tonic herbs are generally warming, building, and nourishing. In the context of health optimisation and the Taoist tradition, tonic herbs are not directly used to treat individual symptoms, instead to create harmony and strength within the system as a whole.

In this regard, we generally only recommend our Reishi and Eucommia Bark during pregnancy as there is quite a lot of empirical use of these herbs in pregnancy in Traditional Chinese Medicine and the Taoist Tonic Herbalism.

As pregnancy is a very individual journey, we recommend checking in with your health care provider when starting on any new herbs or supplements as they will have a more comprehensive scope of your medical history.

To learn more about the tonic herbs best to take during pregnancy, read this article.
Can I take Mason's Mushroom while breastfeeding?
Yes, you can use Mason's Mushrooms whilst breastfeeding.
We always suggest introducing new herbs slowly and in low doses, this allows the body to adjust and benefits to unfold at a pace relevant to your individual system.
Digestive Health
Energy & Vitality
Healthy Stress Response
Bestseller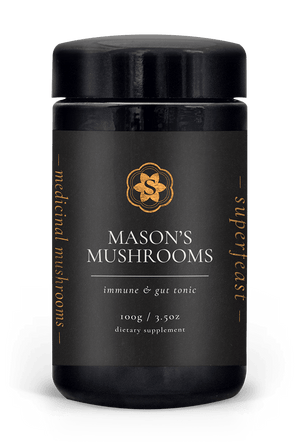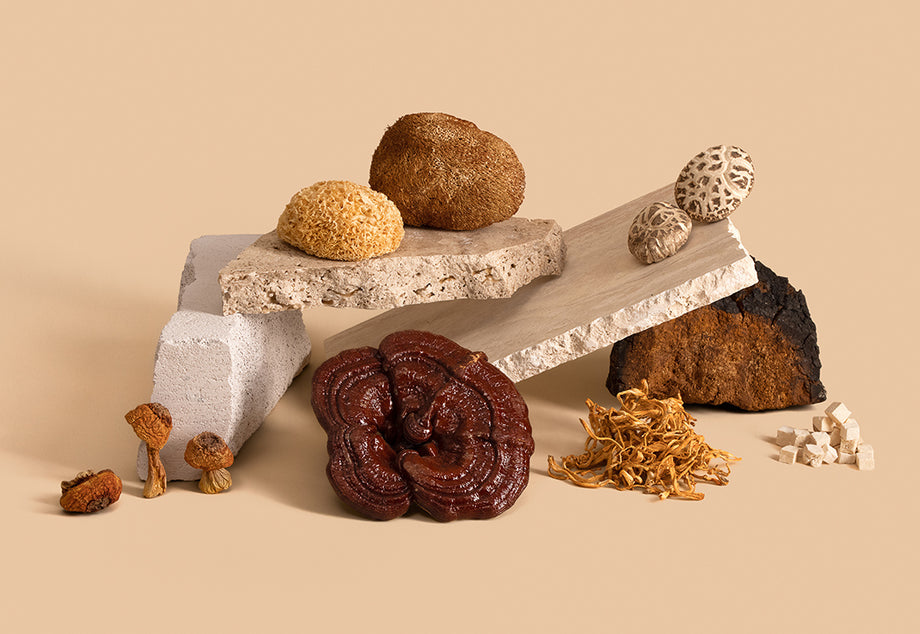 Medicinal Mushrooms: The 8 Most Powerful & Potent Mushrooms.
Read about how medicinal mushrooms are intelligent immune boosters, gut healers, stress busters & hormone balancers. Try inviting these potent herbs into your life.
Read Article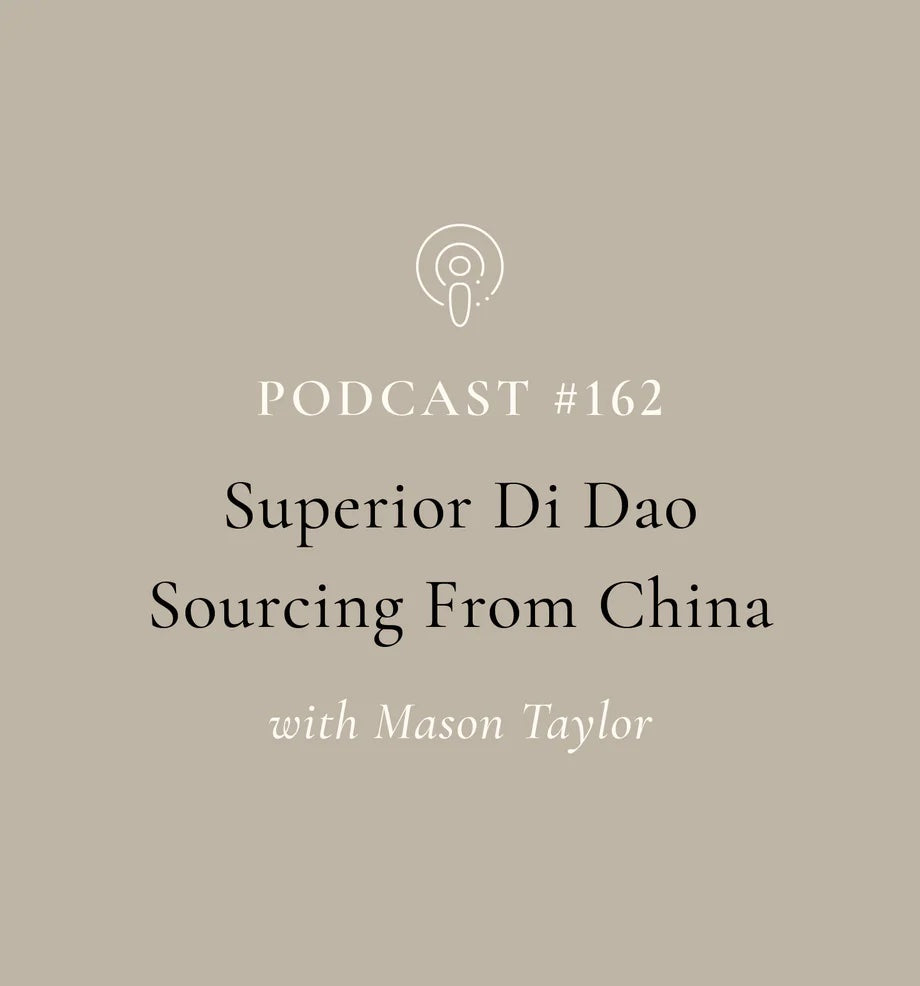 Superior Di Dao Sourcing From China with Mason Taylor (EP#162)
One of the most common questions we get from customers new to SuperFeast is, Why do we source our Mushrooms from China? The answer is simple and rooted in integrity and hundreds of years of ancient Daoist philosophy; Di Dao. 
Listen Now