FREE Standard Shipping December- 7TH-18TH - T's & C's Apply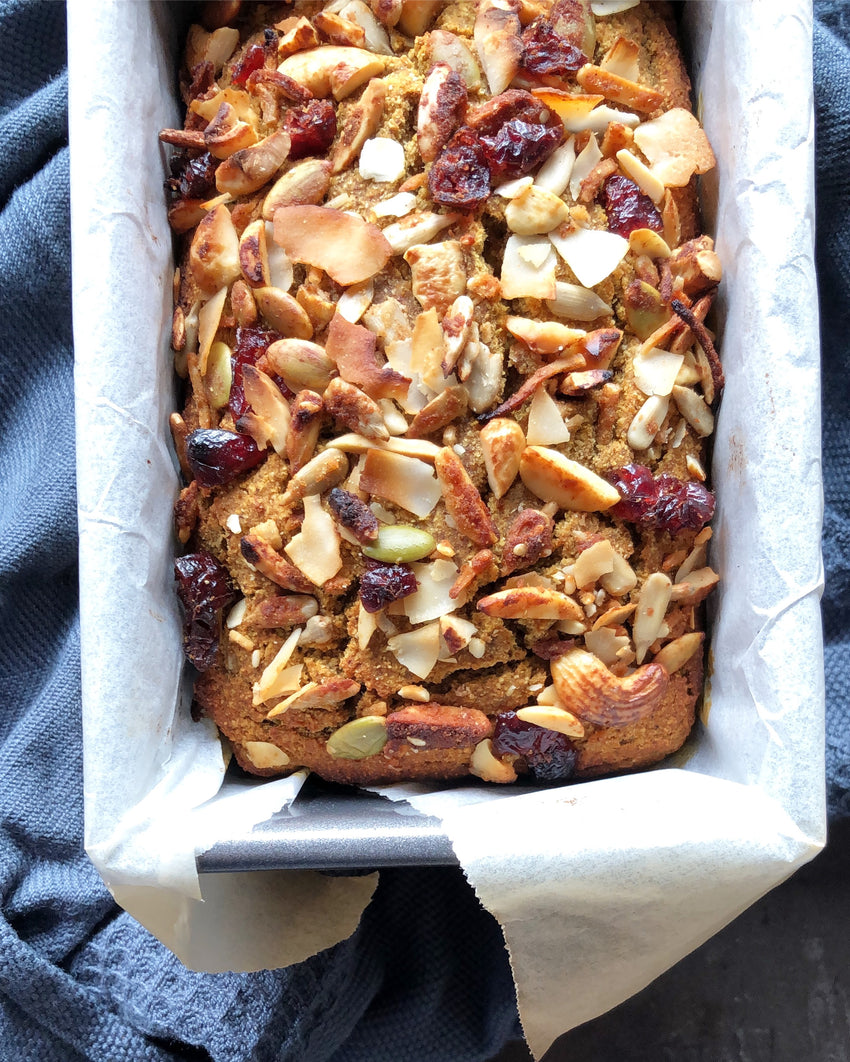 Beauty Boosting Breakfast Loaf
Description
Chaga is an anti-ageing, immune-boosting powerhouse, packed-full of beta glucans, adaptogenic betulinic acid, high levels of antioxidants and skin-protecting melanin. Plus the tremella mushroom (also known as the 'Dessert Mushroom') provides hydration and elasticity to the skin and internal organs. This powerhouse loaf will leave you feeling vibrant and radiant from the inside and out. 
Ingredients
Core Ingredients
Other Ingredients
2 over ripe bananas

3 eggs - vegan friends sub flax/chia egg

4tbsp cashew butter

1tsp vanilla

1tbs honey/maple syrup

1/2 cup coconut flour

1tsp turmeric

1tsp of cinnamon

1/4tsp each of ginger, nutmeg, cardamom & cloves .

1/2tsp baking powder

1/4tsp baking soda

1tsp maca - optional

1-2 scoops collagen or hemp protein - optional

1/2 cup of paleo hero "muesli" or the following individual items (for the topping)

2tbsp cashews

2tbsp almonds

2tbsp macadamia nuts

2tbsp coconut flakes

2tbsp dried cranberries
Method
Step 1
Blend / stir all ingredients except your toppings
Step 2
Pour into a lined / greased loaf pan
Step 3
Sprinkle with toppings
Step 4
Bake at 175'C / 350'F for 40 mins
Next Recipe
Mushroom Hot Chocolate Feat. Lucuma & Mesquite
We love a medicinal mushroom hot chocolate!
Read more