Free shipping to AU and NZ on orders from $150.
Beauty Bowl Feat. Beauty Blend
Description
Beauty Blend is a super-blend of beautifying herbs that nourish the body from the inside-out. Inspired by ancient Daoist herb-wisdom, the Beauty Blend brings vitality to skin, hair, nails and fascia. This beauty bowl is pretty as picture, you guys are going to love this one.
Recipe by the gorgeous @heidi.flora

Ingredients
Core Ingredients
Other Ingredients
1 tbsp Beauty Blend

3 medium frozen bananas

1 1/2 cups frozen pink dragon fruit

1/2 tsp vanilla powder

1/2 cup frozen berries

Pinch salt
Method
Step 1
Blend until smooth (not including the berries just yet)
Step 2
Spoon half of the mix out into a bowl
Step 3
Blend the remainder of the mix with frozen berries
Step 4
Swirl together in your bowl to create a magical night sky with your fave toppings
Featured in this recipe
Detoxification
Glowing Complexion
Hormonal Health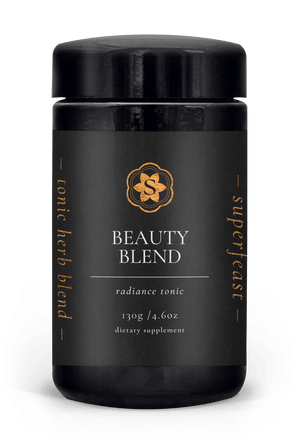 Next Recipe
Creamy, Curried Cauliflower Soup
This delicious bowl of goodness paired with our Mason's Mushrooms is sure to warm your heart and belly. Our Mason's Mushrooms is a great overall general health tonic, that helps to support the health of the nervous system, hormonal function, energy production, immunity...
Read more