Free shipping to AU and NZ on orders from $150.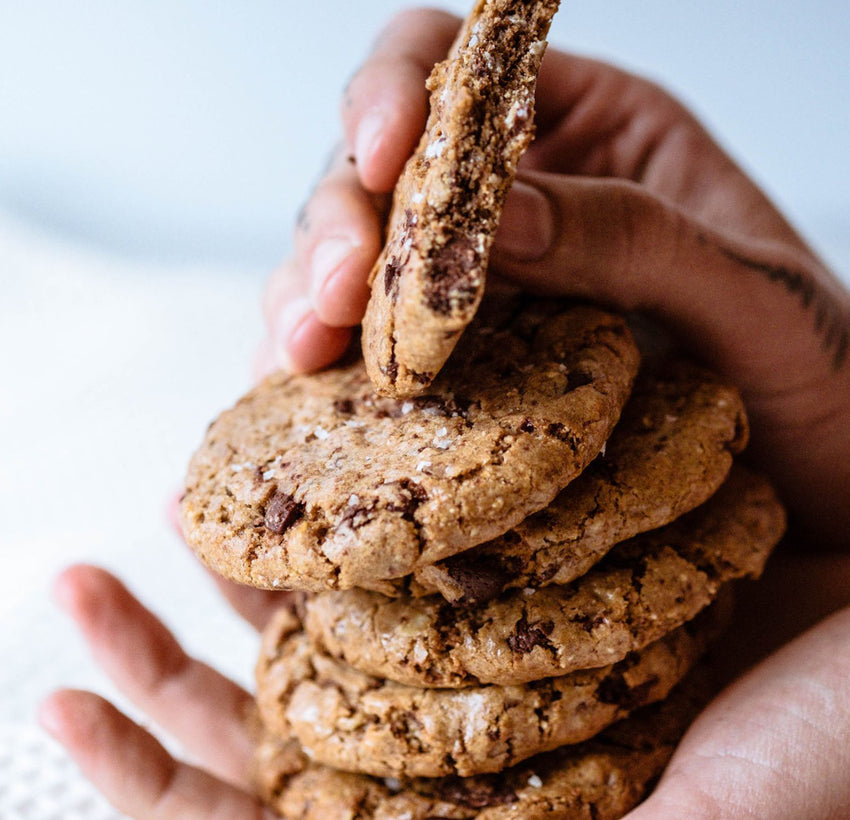 Crunchy Chaga Chocolate Cookies
Level:
Moderate
Time:
60 mins
Description
These vegan and gluten-free chocolate chunk cookies will be gone in two seconds, we promise. Which is both a blessing and a curse. We can't get enough of them at SuperFeast HQ. Chaga goes so well with chocolate. This recipe is from Oh She Glows with a few SuperFeast modifications.
Ingredients
Core Ingredients
Other Ingredients
WET INGREDIENTS

105 mL pure maple syrup

1/2 cup (120 g) natural smooth almond butter

3 tablespoons (45 mL) virgin coconut oil, softened but not hot

1/2 teaspoon pure vanilla extract

DRY INGREDIENTS

1/2 cup (50 g) gluten-free rolled oats

1/4 cup plus 2 tablespoons (50 g) gluten-free oat flour

1/4 cup (33 g) arrowroot flour/starch

1/4 cup (25 g) almond flour

1/2 teaspoon baking soda

1/2 teaspoon flaked sea salt

150g dark chocolate

2 tsp SuperFeast Chaga
Method
Step 1
Preheat the oven to 180°C and line a very large or two smaller baking sheet/s with parchment paper.
Step 2
In a large bowl, stir together the wet ingredients (almond butter, maple syrup, oil, and vanilla) until completely smooth.
Step 3
Stir the dry ingredients (oats, oat flour, arrowroot, almond flour, baking soda, chaga, and salt) into the wet mixture, one by one, until thoroughly combined. The dough will be a bit wet/oily, but this is normal.
Step 4
Chop the chocolate into small chunks. Set aside 3 tablespoons (for topping the cookie dough later), and stir the rest of the chocolate into the batter until combined.
Step 5
Using a spoon and your hands, scoop mounds of dough and form into cookies (about 2 tablespoons of dough per cookie). Add each onto the baking sheet, about 8 cm apart, as they'll spread a lot while baking.
Step 6
Press the remaining 3 tablespoons of chocolate onto the tops of the cookie dough mounds, evenly distributed. (Reshape the cookie dough mounds if they flatten a bit.)
Step 7
Bake for approx 12-15 mins depending on your cruch-factor preferences - longer cooking = crunchier cookies.
Step 8
Cool the cookies directly on the baking sheet for about 5 to 6 minutes. The cookies will be super delicate until they are cooled. Using a spatula, gently transfer each cookie directly onto a cooling rack for another 10 minutes, where they'll firm up even more. (It's normal to have a small amount of oil on the bottom of the cookies due to the almond butter. If this bothers you, simply place them on a couple sheets of paper towel.) Serve and enjoy! Allow the cookies to cool completely before storing.
Next Recipe
Cherry & Blackberry Sorbet
This Summer favourite will have you weak at the knees.
Read more