FREE Standard Shipping December- 7TH-18TH - T's & C's Apply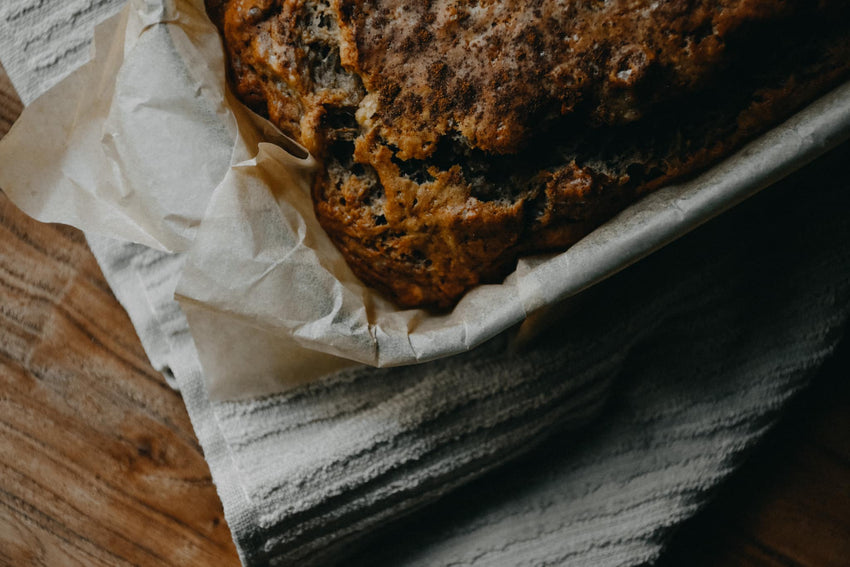 Lion's Mane & Reishi Banana Bread (by Iris Suurland)
Level:
Medium
Time:
80 mins
Serves:
4
Description
We love this beautiful recipe created by the talented Iris Suurland. Her lions mane + reishi banana bread recipe is sweet, warm, and nourishing, like a beautiful Autumn day. 

Get connected with Iris Suurland:

Website
Ingredients
Core Ingredients
Other Ingredients
1 1/4 cups walnuts or pecans

2 cups all-purpose or gluten free flour

1/2 cup honey

3/4 teaspoon baking soda

1/2 teaspoon salt

3 large overripe bananas, mashed

1/4 cup whole fat yogurt

2 large eggs, beaten lightly

6 tablespoons unsalted butter, melted

1 teaspoon vanilla extract
Method
Step 1
1. Preheat the oven to 350°F (175°C). Grease a loaf pan (9x5 inch loaf pan).
Step 2
2. Add the nuts on a baking sheet and toast until fragrant, 5 to 10 minutes. Let cool.
Step 3
3. In a large bowl, combine the flour, nuts, baking soda, lions mane, reishi and salt. In a medium bowl, stir the mashed bananas, honey, yogurt, eggs, butter and vanilla with a spoon. Lightly fold the banana mixture into the dry ingredients, mixing just until combined. The batter should be thick and chunky. Scrape the batter into the loaf pan.
Step 4
4. Bake the banana bread until the surface appears golden brown, about 55 minutes.
Step 5
And now the most difficult part of the recipe…let cool for 5 minutes before slicing and eating. Best served with a cup or herbal tea or tonic in your favourite mug alongside a good book. Enjoy!
Next Recipe
Reishi & Tahini Hot Chocolate
Let's make a decadent hot chocolate using the Queen herself - Reishi mushroom.
Read more