FREE Standard Shipping on all orders, December 7th-18th! T's & Cs Apply
FREE Shipping on all orders, December 7th-18th! T&Cs Apply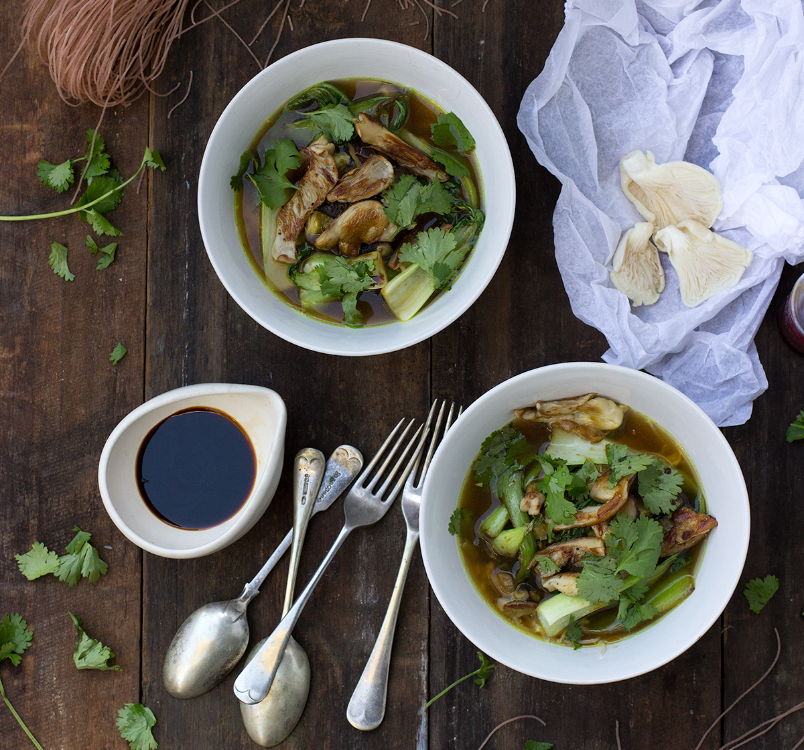 Mushroom, Chicken & Ginger Immune Boosting Soup (Recipe by Jessica Cox)
Description
Jessica Cox is the published author of e.a.t cookbook and qualified practicing Nutritionist with a Bachelor Health Science (Nutrition) with over 15 years of clinical experience. Jessica is the founder and owner of the successful, The JCN Clinic based in Brisbane, Australia.  
Ingredients
Core Ingredients
Other Ingredients
For the Chicken Soup

2 litres of water

1 free range whole chicken

1 large onion, chopped

1 leek, roughly chopped

3 celery sticks, roughly chopped

4 tablespoons lemon juice

1 bunch parsley

4 bay leaves

1 dessertspoon peppercorns

2cm knob of fresh turmeric, sliced

2cm knob ginger, sliced

3 cloves garlic

1 tablespoon peppercorns

1 teaspoon salt

For the Soup

10 dried shitake mushrooms + 1 cup boiling water

6 cups chicken stock (premade or a good quality bought option if needed)

4 cloves garlic, chopped

2 tablespoons ginger, grated

1 tablespoon turmeric, grated (or 4 teaspoons powdered turmeric)

1 tablespoon or tamari sauce (or regular soy sauce) + extra for serving

1-2 teaspoons sesame oil

1 cup spring onion, sliced

1 cup roughly sliced oyster mushrooms

2 bunches bok choy

chicken meat from stock (or 6 pre cooked chicken thighs, shredded if using bought stock)

1 packet brown rice vermicelli noodles

1 red chilli (optional)

1 cup fresh coriander leaves
Method
Step 1
For the stock (if making), otherwise please source a quality premade stock without sugar, msg and artificial flavourings. Place chicken in a large pot with water, lemon juice, vegetables, ginger, turmeric, bay leaves, parsley, peppercorns and salt. Bring to the boil, then reduce to a very low simmer and leave covered for 2 hours. After 2 hours, take out the chicken and pull the meat from the bones (careful as it will be very hot!). Sit the chicken meat aside and return the bones back to the pot. Leave this to continue simmering for another hour, however you can also leave it all day in a slow cooker for maximum flavour.
Step 2
Once the stock is ready, pour it carefully through a strainer into a large bowl, pressing firmly on the bones and vegetables to release all those juicy flavours. Your stock is now ready to use. Either continue on with the recipe, or place in a container in the fridge. Note that after cooling the fat will rise to the top of the stock. You can remove this if you like, personally, I think it adds more flavour.
Step 3
For the Soup. Soak the shiitake mushrooms and SuperFeast shiitake powder in the boiling water for approximately 10 minutes, or until softened through completely. Slice the mushrooms up when soft.
Step 4
In a large saucepan place your stock, garlic, ginger and spring onion. Bring to boil and add your shitake mushrooms with the soaking liquid. Turn to a low simmer and leave for around 30 minutes.
Step 5
While the soups is simmering away, prepare your oyster mushrooms, brown rice vermicelli and bok choy. For the oyster mushrooms, pop them in a hot pan with a lug of olive oil and season with salt and pepper. Cook them until they are nice and brown on both sides, then set aside. (If you are using chicken thighs instead of chicken from fresh stock, then use this same pan to cook your chicken till tender).
Step 6
Prepare the brown rice vermicelli noodles by placing them in a bowl and covering with boiling water from the kettle. Allow to soak for around 10 minutes (they will take longer than regular vermicelli noodles).
Step 7
Add the bok choy to the pan with a little olive oil and stir-fry for 2-3 minutes until it wilts. Add in a generous dash of tamari sauce and mix through. Finish with a dash of sesame oil, toss through then remove from the pan and set aside.
Step 8
Once you are ready to serve the soup place around 1/3 cup of brown rice vermicelli noodles in the bottom of each soup bowl, then top with the shredded chicken (set aside from your stock or pre cooked chicken thighs). Ladle over the hot soup ensuring you get plenty of the mushrooms, then finish by topping with the bok choy, oyster mushrooms, chili if using and coriander.
Next Recipe
Pimped Up Matcha Latte (Recipe by Jessica Cox)
For me this recipe is at its best made in a milk frother.    Jessica Cox is the published author of e.a.t cookbook and qualified practicing Nutritionist with a Bachelor Health Science (Nutrition) with over 15 years of clinical experience. Jessica...
Read more