FREE Standard Shipping December- 7TH-18TH - T's & C's Apply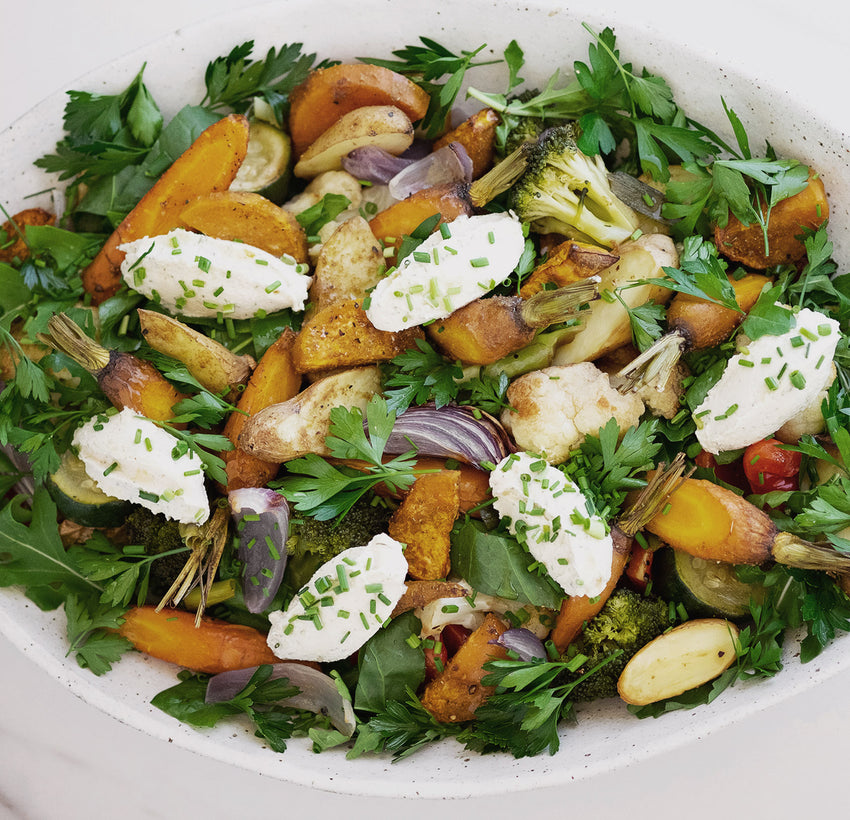 Ultimate Roast Veggie Salad With Mason's Mushrooms
Having a staple, go-to ultimate veggie salad is a must. This is a bright, nourishing and very wholesome meal for the whole family.
Description
Easy to whip together and beautifully spiced, we've added in Mason's Mushrooms for that extra magic touch. We love adding our adaptogenic tonic herbs to all our meals, we call it #trojanhorsing - give it a try.
Feel free to swap out the Mason's Mushrooms with any other mushie, the umami, savoury taste will work well. This recipe is vegan (with the option of adding your favourite protein) and gluten-free.
Heidi Flora is the goddess behind this beautiful recipe, check out her work here.
Ingredients
Core Ingredients
Other Ingredients
2 tsp SuperFeast Mason's Mushrooms

1 kg potatoes, washed (we like the skins on, but peel yours if you prefer) (we used Kipfler)

8 baby carrots, trimmed and peeled

1 large sweet potato, cut into wedges (again, we like the skins on, but peel yours if you prefer)

1 tsp cumin powder

1 tsp coriander powder

1 tsp garlic powder

sea salt and pepper

olive oil

2 large zucchinis

1 head broccoli florets

1 head cauliflower florets

1 - 2 large red or green capsicums, deseeded

1 - 2 red onions, skins removed

1 bunch shallots, trimmed

2 handfuls baby spinach or rocket

1 bunch fresh flat-leaf parsley

1 bunch fresh rocket

1 bunch fresh chives

1 jar cashew cheese (to serve)

1 lemon, cut into wedges (to serve)
Method
Step 1
Preheat oven 180 C (165 C fan-forced).
Step 2
Cut potatoes, carrots, sweet potatoes and onions into wedges. Put the chopped root vegetables and onions in a large baking tray, drizzle with olive oil, sprinkle with salt and spices and set the timer for 45 mins.
Step 3
Meanwhile, cut the zucchini, broccoli, cauliflower, capsicums and shallots into bite-sized pieces.
Step 4
Arrange the chopped vegetables on another tray and dress with olive oil, Mason's Mushrooms, salt and pepper. Mix with hands, then place in the oven when there is 25 mins left on the timer.
Step 5
While the vegetables are cooking, wash and roughly chop the rocket, parsley and spinach. Finely chop chives.
Step 6
After the timer goes off, remove the vegetables from the oven and allow to cool slightly.
Step 7
Arrange onto a platter or in a big serving bowl, top with cashew cheese, fresh herbs, a drizzle of olive oil and a squeeze of lemon juice.
Featured in this recipe
Digestive Health
Energy & Vitality
Healthy Stress Response
Bestseller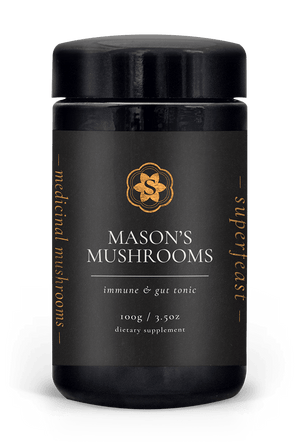 Next Recipe
Camp Jing
Here we have a wonderful recipe that is easy enough to take out on the trail with you. You can put all the ingredients into your backpack and head out on  to the mountain, set up your campsite, sleep to...
Read more