Free shipping to AU and NZ on orders from $150.
Zucchini Flower, Ricotta and Beauty Blend Pasta.
Level:
Moderate
Time:
20 mins
Serves:
4
The ultimate feel-good pasta to enjoy all Summer long.
Description
A zesty and floral pasta dish to brighten up the table and to nourish the body from the inside out. This feel-good pasta incorporates a super-blend of beautifying herbs that brings vitality to skin, hair, nails, and fascia. 
Ingredients
Core Ingredients
Other Ingredients
500 grams of dried or fresh pasta

3 heaped Tbsp fresh ricotta

10-15 zucchini flowers (stems and flower separated)

Zest and juice of a lemon

1 clove of garlic, diced super fine

Handful of fresh basil leaves, reserve a few for garnish

A good glug of olive oil

A cup of reserved pasta water

Parmesan, for grating
Method
Step 1
Remove the zucchini flowers from its stems and blanch the stems in salted pasta water until tender. About 2 minutes should do. Keep aside.
Step 2
When you remove the stems, add the dried or fresh pasta to that same water until cooked al dente. Reserve some of the pasta water.
Step 3
Whilst the pasta is cooking, mix ricotta with beauty blend and garlic in a large mixing bowl.
Step 4
Once cooked, add the pasta to the bowl with zucchini stems, zucchini flowers, basil, zest and juice of 1 lemon, a tablespoon or two of olive oil, salt and pepper to taste. Add some reserved pasta water if you need to emulsify the pasta more.
Step 5
Grate over some parmesan, cracked pepper, more basil and olive oil to finish.
Featured in this recipe
Detoxification
Glowing Complexion
Hormonal Health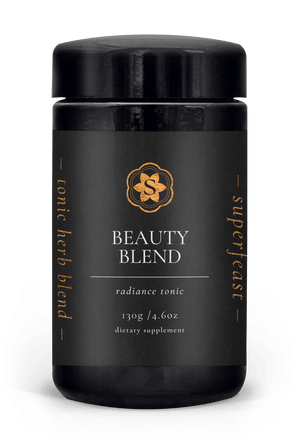 Next Recipe
Lion's Mane & Reishi Banana Bread (by Iris Suurland)
We love this beautiful recipe created by the talented Iris Suurland. Her lions mane + reishi banana bread recipe is sweet, warm, and nourishing, like a beautiful Autumn day. 
Read more