FREE Standard Shipping December- 7TH-18TH - T's & C's Apply
Detoxification
Glowing Complexion
Hormonal Health
After all true beauty doesn't come from makeup, rather it is a portrayal of the internal health of the organs. When one's organs are youthful, clean and buoyant, their external representation will personify this.
Description
Inspired by ancient Taoist tonic herbal wisdom, the Beauty Blend brings vitality to skin, hair, nails, and fascia. A combination of the Orient's most revered beautifying tonic herbs, traditionally used to promote both inner and outer radiance by preserving youthfulness, Beauty Blend enlivens the body's purification pathways, organ systems, and meridian channels, this stunning blend allows vitality to flourish.
This is a superior liver-loving formula, enhancing the ability of the Liver system to cleanse the Blood, increasing the body's capacity to eliminate toxins, and cultivating vibrancy and lightness. The Liver in Chinese medicine is responsible for the health of the skin, nails, hair (with the Kidneys), and ligaments/tendons, as well as the quality and movement of the Blood and Qi in the body.
This formula is designed to support the Yin of the Liver, to help restore harmony and the herbs in this formula have been used in combination for thousands of years. We've added mineral-rich pearl powder, a beautiful Shen tonic that also supports the integrity and healthy skin, hair, and nails.
The SuperFeast Beauty Blend was crafted by founder Mason, essentially as an act of defiance! 
An act of defiance against the external portrayal of beauty through many of our contemporary social media platforms. Essentially this beauty formula allows you, the modern human, to inquire and gain your own unique distinction of what 'beauty' is and what it truly means to you.
Ingredients
Schisandra chinensis (Schisandra berry) From dry fruit
Lycium barbarum (Goji berry) From dry fruit
Dimocarpus longan (Longan berry) From dry fruit
Peteria(pearl*) From micro ground freshwater pearl

10:1 extract powders
*non extract
Sourcing
All herbs in this formula are sourced Dì Dào from herb-producing regions of China.
Sourcing herbs from their spiritual homeland is born from the Taoist philosophy Dì Dào. 
Dì Dào poetically translates as 'the way of the Earth' and shows us where to harvest herbs if we wish to experience the herb's true Spirit. From its 'original place' or 'spiritual homeland', a method that results in a product that is both full spectrum and medicinally robust.
Contraindications
Use with caution when taking Tacrolimus, blood thinners and using medications in which cytochrome P450 2C9 and cytochrome P450 3A4 enzymes are involved.
Care must be taken when pregnant or breastfeeding; use only under the guidance of an experienced healthcare provider.
SuperFeast Beauty Blend contains pearl powder; some vegans may wish to avoid this product. Note that oysters are not harmed to produce pearl powder.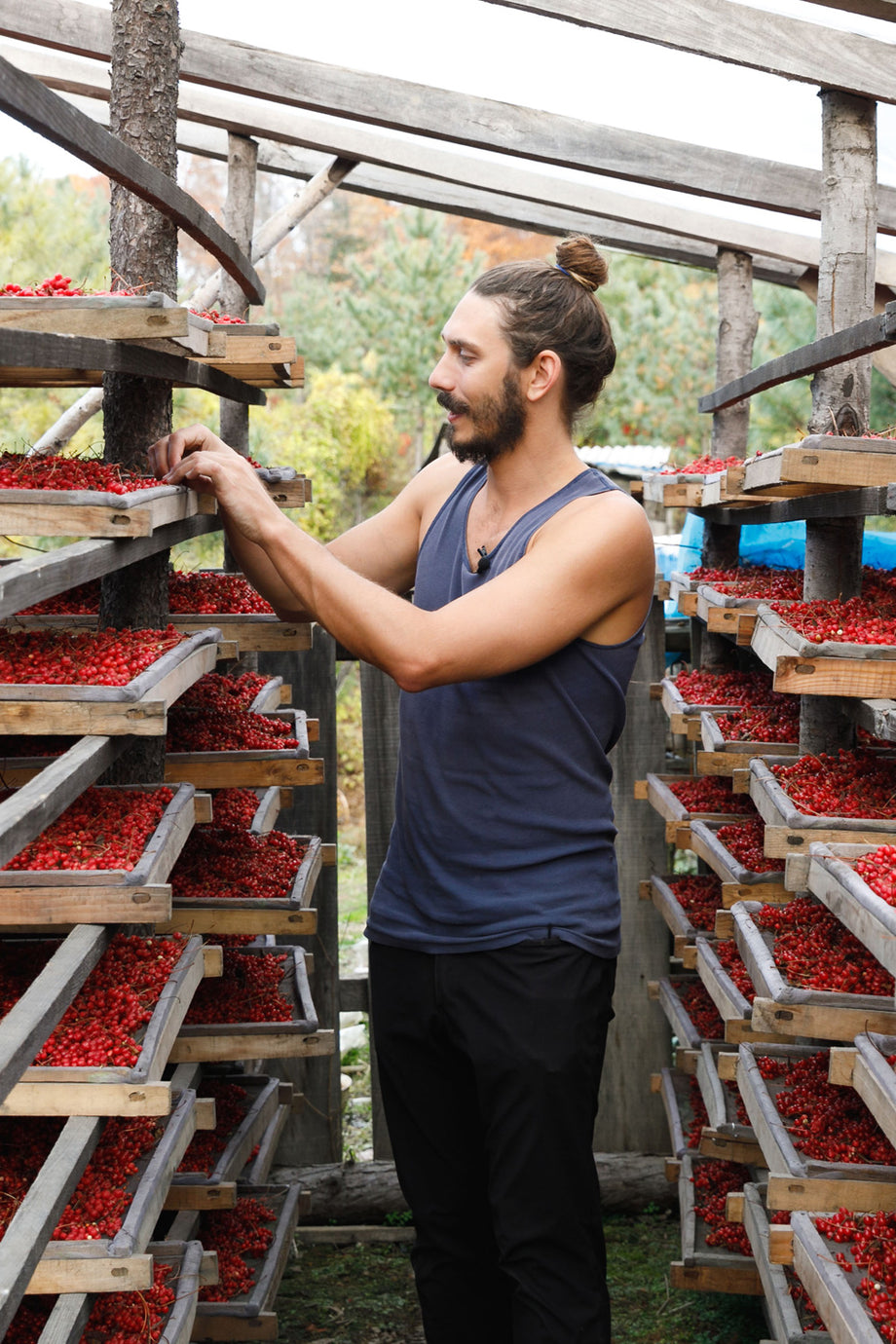 The World of Tonic Herbalism
Tonic herbs do not force the body to change, but rather work with it to adapt, allowing a measured, nourishing and normalising effect to unfold within the body and its systems. Traditionally consumed daily to promote longevity and prevent illness, these remedies offer nourishment to the vital organs, strengthen essential functions and improve quality of life, without negative side effects. Tonic herbs are further categorised as Yin, Yang, Qi and Blood tonics.
For a herb to be classified as an adaptogen it must embody certain characteristics; Its consumption must not cause harm or place additional stress on the body. It must promote healing within the body via a non-specific action, providing support for all of the body's vital systems, including the nervous system, endocrine system and immune system. It must be adaptive in nature, assisting the body to overcome any physical, psychological or environmental stressors. The herbs in the SuperFeast Beauty Blend are classified as a tonic and embody the characteristics mentioned above, it really is a little beauty. 
The Four Powerhouse Herbs in the Beauty Blend
Beauty Blend is certainly a sum of its potent parts. The four ingredients (Schisandra, Goji, Longan and Pearl) work synergistically to nourish the Liver, cleanse and build the Blood, replenish Yin Essence and promote deep detoxification. The high antioxidant content of the herbs in this carefully crafted blend act to preserve the protein structures of the skin (collagen and elastin), supplying the potent mineral and phytonutrient nutrition the body requires to rebuild and preserve itself. A wonderful Shen tonic, the blend encourages you to feel your beauty rather than just project it superficially.
Schisandra Berry
Schisandra translates to "five-taste fruit", a name that illustrates the herb's capacity to influence the five Yin organs of the body; the Liver, Lungs, Kidneys, Heart and Spleen. Schisandra carries all five tastes, salty, sweet, sour, bitter and pungent, with each taste corresponding to the Essence of an energetic element within the body;  including Wood, Fire, Earth, Metal and Water. This bright red berry is adaptogenic, an immune tonic, antioxidant-rich, anti-inflammatory and hepatoprotective.
Also known as a 'beauty berry' of the Orient, schisandra was used by ancient Chinese royalty to preserve youthfulness, enhance physical radiance, boost desire, and as a potent reproductive tonic.
This nourishing highly adaptive herb helps balance the nervous system, improves brain function, elevates immunity, and through its effects on the overall harmony of the body, assists those who consume it in remaining youthful, both in appearance and physiology. 
Goji Berry
Goji is used throughout Asia as a potent longevity herb and Blood tonic, to assist the cultivation of Yin Jing, bring strength and vigour to the legs, bring brightness to the eyes and improve vision. As a sexual tonic for both men and women, this berry wonder potentiates the sexual fluids, enhancing fertility. Traditionally used to fortify the entire system, goji is believed to protect against disease and provide the energy needed to overcome obstacles. 
Longan Berry
The longan berry, (also named 'dragon eyes') is a powerful Qi tonic used to tone the Blood, increase physical stamina, nourish the heart, rebuild energy and add lustre and radiance to the skin. Longan is celebrated as a potent sexual tonic for both men and women. The herb is believed to promote peripheral circulation to the hands and feet and bring a deep sense of calm to the entire body system. Longan helps to potentiate the action of other Blood building herbs, helping to deepen feelings of tranquillity when combined with Shen tonics.
Pearl
Pearl is considered a powerful Shen tonic, meaning the herb may help relieve uneasiness in the heart and mind. Shen (Spirit) tonics (like pearl and schisandra) encourage the body to release stress and tension on the physical, emotional and spiritual levels, relieving the burden on our nervous systems. When Shen is disturbed we may experience disturbed sleep, nervousness, fatigue and disconnection. Consistent use of pearl is said to help one harness and maintain energy and vitality while remaining in a tranquil state.
We love pearl for its ability to pacify Heat in the Liver, treat facial acne, reduce heat and redness in the face, stiffness in the neck and shoulders, and brighten the eyes. It really is a perfect addition to the Beauty Blend. Extremely high in minerals like calcium, magnesium and iron, pearl has traditionally (and still today) been used in China to support the health of the musculoskeletal system and improve the health of the bones and teeth.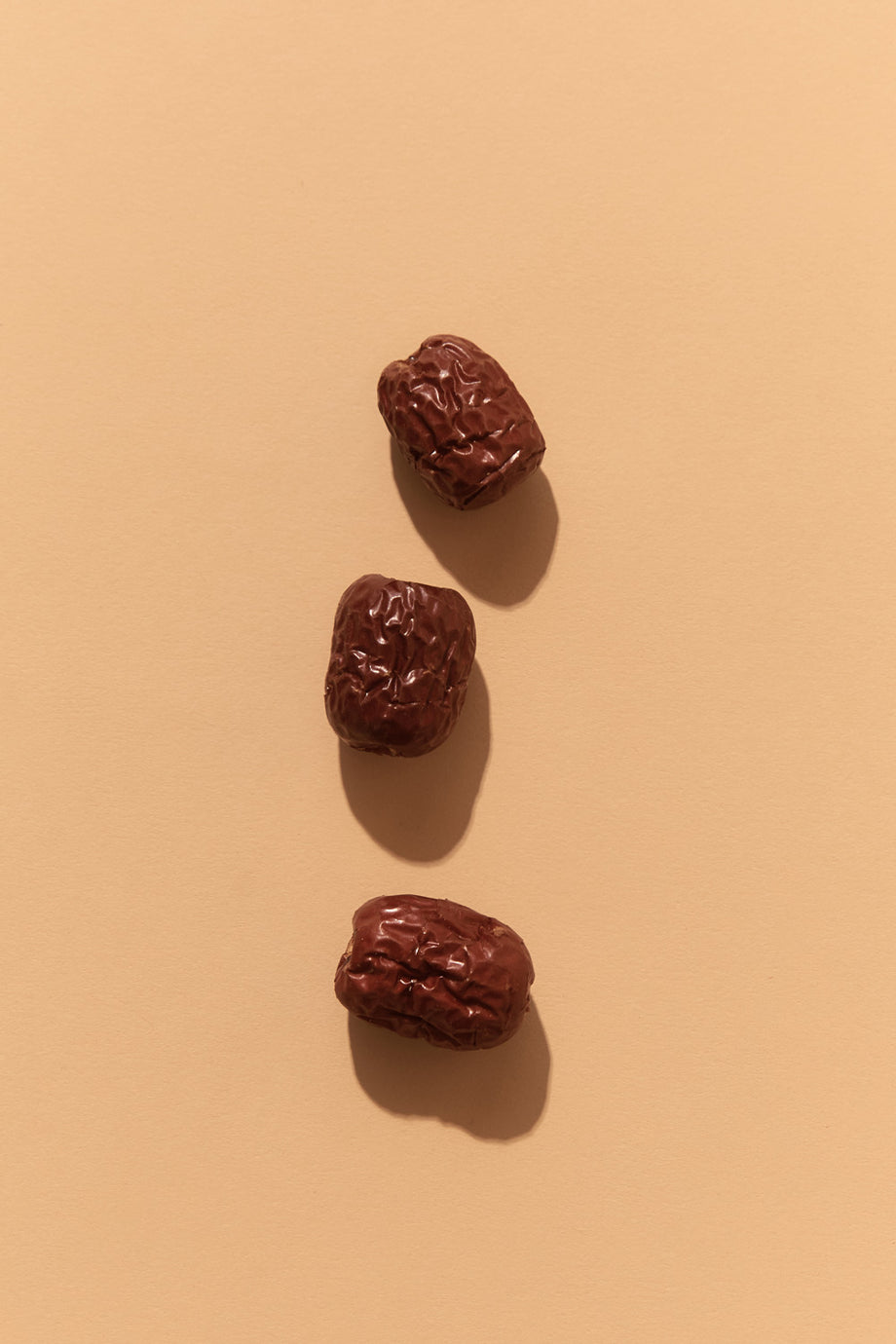 Tonification
In ancient Taoist medicine, tonic herbs and medicinal mushrooms were used to nourish and tonify specific systems within the body. These systems correlate with the natural elements, and their direct effect can be classified as either Major or Minor.
Major - Liver Wood, Kidney Water
Minor - Spleen Earth, Lung Metal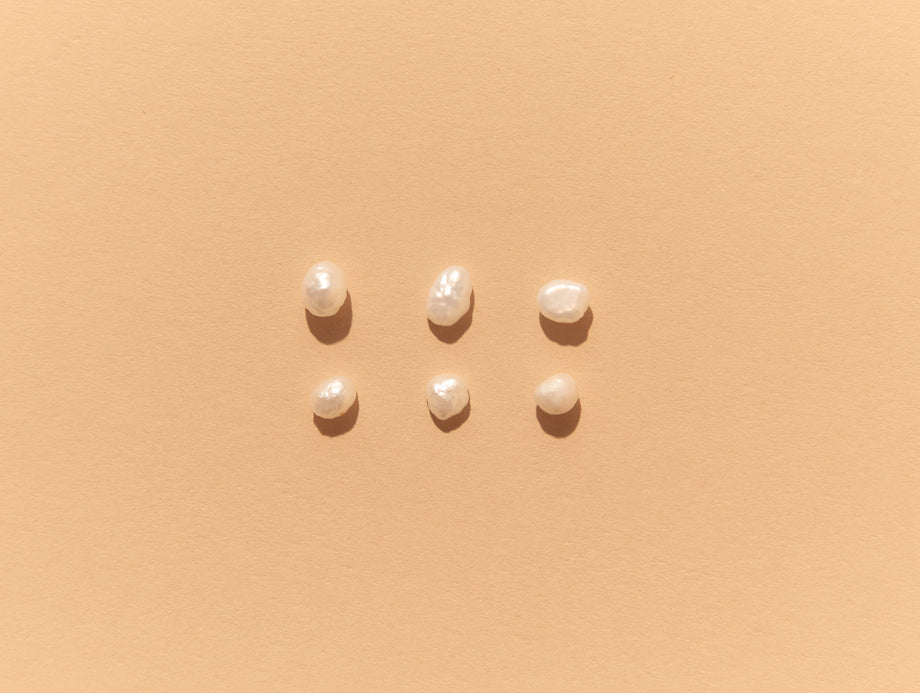 Treasures
When there is harmony between the body systems and elements, we cultivate the expression of health known as our Treasures. 
Major - Yin Jing, Qi 
Minor - Blood, Shen
Serving Suggestion
Time of day
Whatever feels best for you!
You can enjoy Beauty Blend any time throughout your day.
Dosage
Generally, we recommend taking the herbs daily in small doses, to begin with. This allows you to develop an understanding and acknowledgment of how the herbs are unfolding their medicinal magic for you. Follow the dosage instructions on the package, or start with 1/8 - 1/2 teaspoon per day, adjusting the dose if you feel it necessary within your unique body system.
Doses can be taken as high as two teaspoons per day, however, most people find their sweet spot with 1/2 to one teaspoon per product, per day. We call this sweet spot your "lifestyle dose". We don't recommend taking more than two tablespoons of herbs a day. These extracts are potent, and you want to take care not to overload the body with too much of a good thing.
Frequently Asked Questions
Can I take Beauty Blend whilst pregnant?
Tonic herbs are generally warming, building, and nourishing. In the context of health optimisation and the Taoist tradition, tonic herbs are not directly used to treat individual symptoms, but instead to create harmony and strength within the system as a whole.
In this regard, we generally only recommend our Reishi and Eucommia Bark during pregnancy as there is quite a lot of empirical use of these herbs in pregnancy in Traditional Chinese Medicine and Taoist Tonic Herbalism. 
To learn more about the tonic herbs best to take during pregnancy, read this article. 
As pregnancy is a very individual journey, we recommend checking in with your healthcare provider when starting on any new herbs or supplements as they will have a more comprehensive scope of your medical history.
Can I take Beauty Blend while breastfeeding?
We do not recommend Beauty Blend at this time as these herbs influence the body's detox pathways, especially through the Liver. Mobilising toxicity while breastfeeding is not ideal. If intuitively you feel the Beauty Blend is relevant to use at this time, please do so in small quantities or under the guidance of your healthcare provider.
Detoxification
Glowing Complexion
Hormonal Health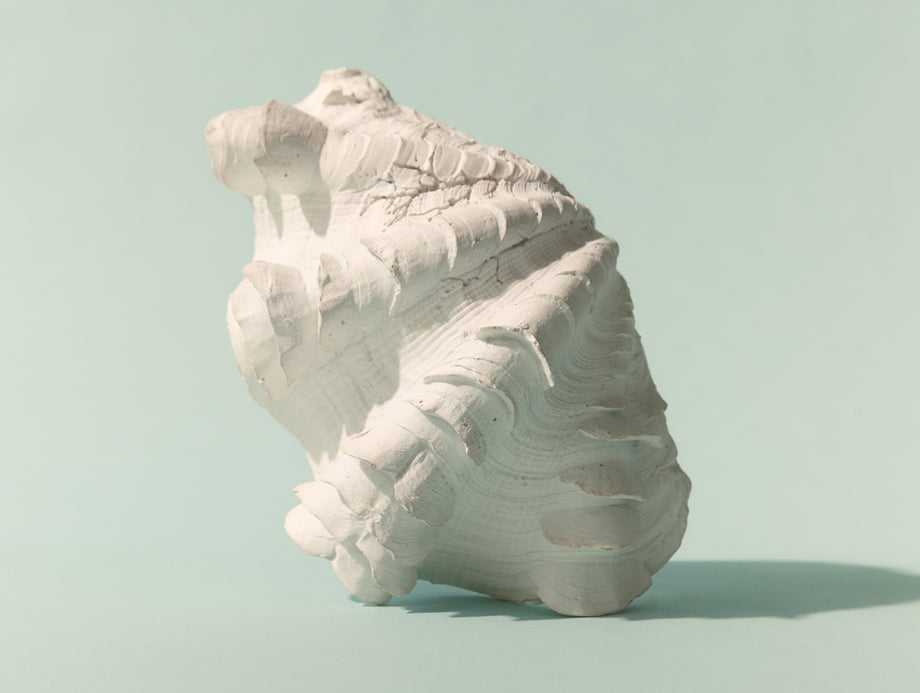 Beauty Blend: It's Amazing Health Benefits
Read about how Beauty Blend enlivens the body's detoxification pathways, organ systems and meridian channels, this stunning blend allows the vitality of the hair, skin, nails and fascia to strengthen and flourish. 
Read Article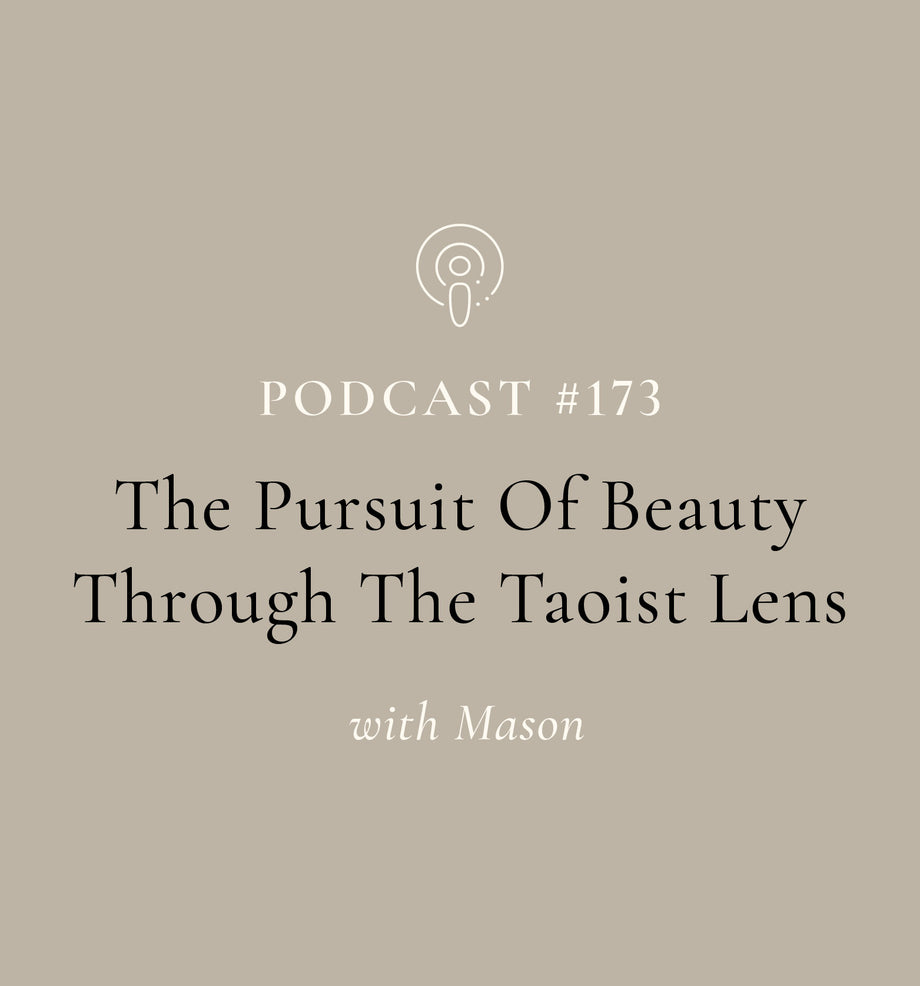 The Pursuit Of Beauty Through the Taoist Lens with Mason (EP#173)
What are the Taoist teachings and herbs that deliver sparkly eyes, glowing skin, luminous Shen, animated Qi and well cultivated Jing? 
Listen Now